Starting your charcuterie board business from home can be a great way to find out if it's going to be a profitable venture. However, once you've achieved a baseline, it's time to take that crucial next step: looking into commercial kitchen rental.
While the idea of making the leap into the world of commercial rental might initially seem complicated, it's actually pretty straight forward once you get your feet wet. In this article we will demystify the entire process including highlighting different kinds of commercial kitchens, additional ways to generate potential revenue, common costs involved, vital commercial lease terms and how to possibly have the landlord pay for upgrades!
TIP: Join us for our free, live training about how to start, grow and get more customers with your charcuterie brand! Click here to read more >
Table of Contents [CLICK HERE TO OPEN]
Why You Should Rent A Commercial Kitchen:
Before diving into this next section it is important to keep in mind you DO NOT need to check every box we have listed below! At the end of the day YOU get to decide what kind of business YOU have. Keep it super simple or shoot for the stars. It's always your call!
Connect with Suppliers & Save Money
Once you've locked down commercial kitchen space, you now have a real business address. This means you can connect with suppliers to get much better pricing on your cost of goods. As you probably know, lower costs can lead to more profit for your business. Another benefit to connecting with distributors is many delicious items can only be sourced this way as opposed to visiting local stores.
Increased Visibility
You've probably heard the phrase "location, location, location", and there's a good reason. While in the beginning, much of your business can come from social media and word of mouth, IF you choose rent a more prominent location on a main street, it could lead to increased visibility. People passing by will see your business and decide to check it out. This can lead to A LOT more customers. While high visibility spaces like this can sometimes cost a bit more, the boost in business can be very worth it.
Increased Storage Space
Renting a commercial kitchen provides you with a great place to store your foods in the best way possible. You won't have to worry about taking up space in your home or finding alternative storage solutions.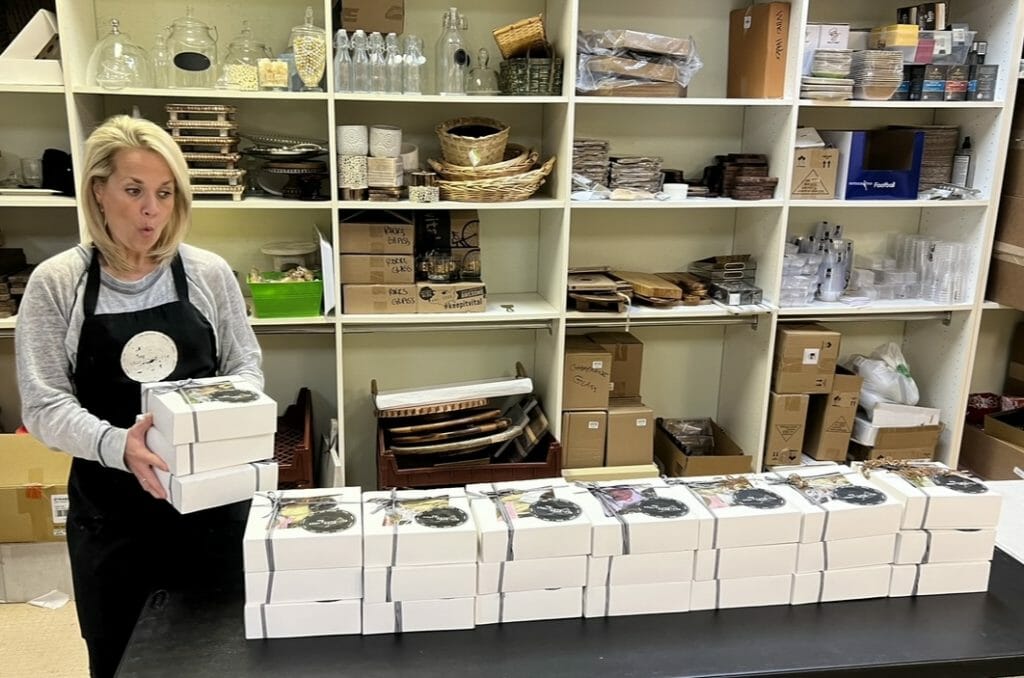 Liquor License Profits
While clearly optional, leasing/renting a commercial kitchen can open the doors for you to apply for a liquor license. Make sure to check your local laws, but as everyone in the food business knows, liquor sales can be the key to delicious profit margins!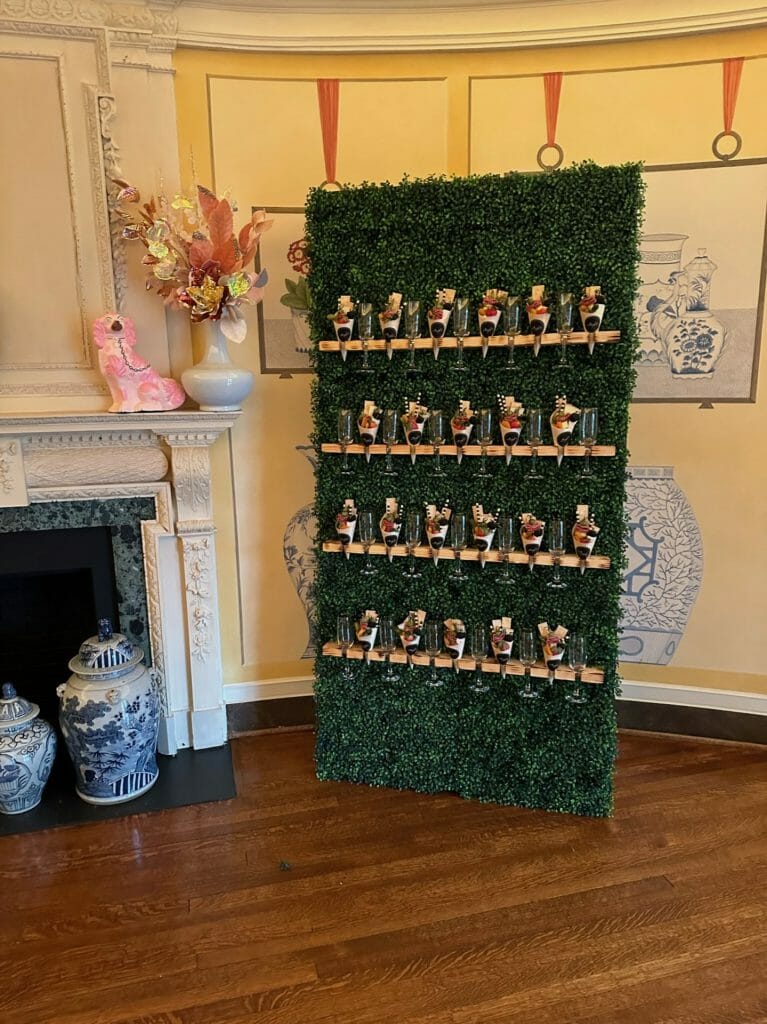 Potential Sit-Down Dining & Retail Customers
Depending on the sort charcuterie business you want to have, many commercial kitchen rentals come with an upfront area you can use for serving and/or retail space. It's important to keep in mind this is optional as these perks can bring along regulations you'll want to consider. However, the sales generated by featuring things like this can often more than make up for any potential hassles.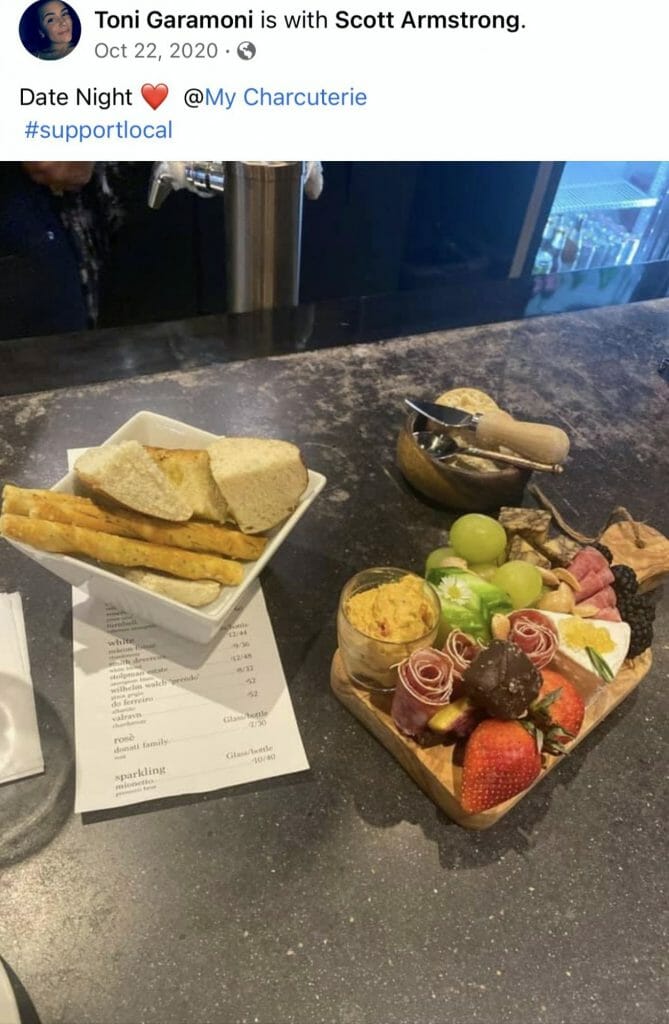 Have A Dedicated Space For Classes
Offering virtual as well as in-person charcuterie classes can be an amazing way to generate even more sales. Depending on what type of location you decide to go with, you can now have a dedicated space where you host these high-profit engagements!
In many cases you can be your standard "charcuterie caterer" by day and become a fun "learn to make charcuterie" teacher by night!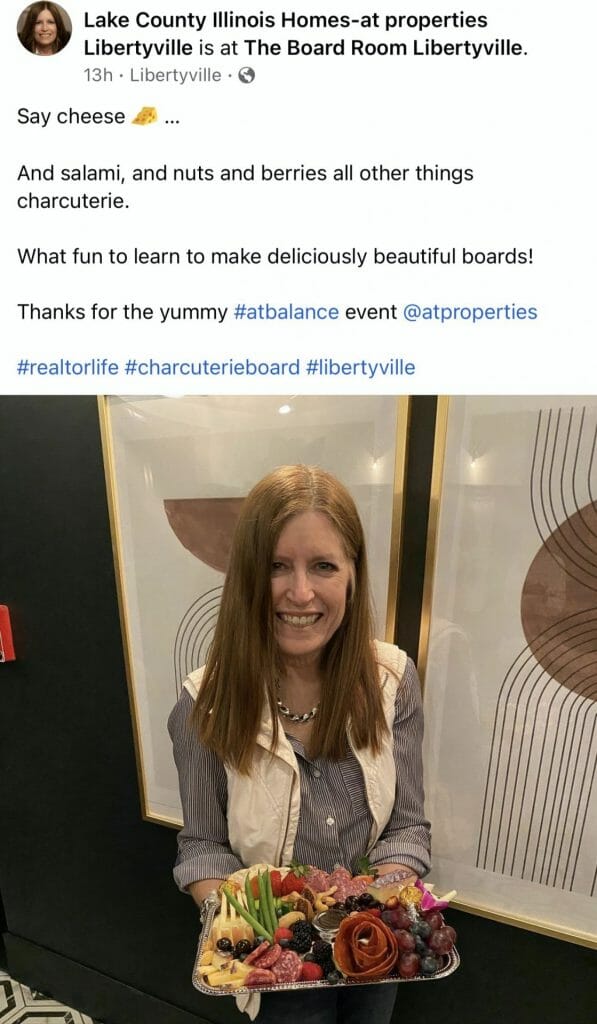 Better Work/Life Balance
Having a dedicated space where you work and a dedicated space where you live, can make a word of difference in your peach of mind. Many entrepreneurs don't consider this at first, but having that physical separation can give you those vital moments to breathe and remember you're a person and not just a working machine!
Access To Massive Corporate Orders
In many cases, as much as 95% of your potential sales will come from corporate clients. All it can take to see your revenue jump by a massive scale, are a small number of these who place a few orders throughout the year. But in most cases you won't be able to even think like this until you're in a commercial kitchen and have all your ducks in a row.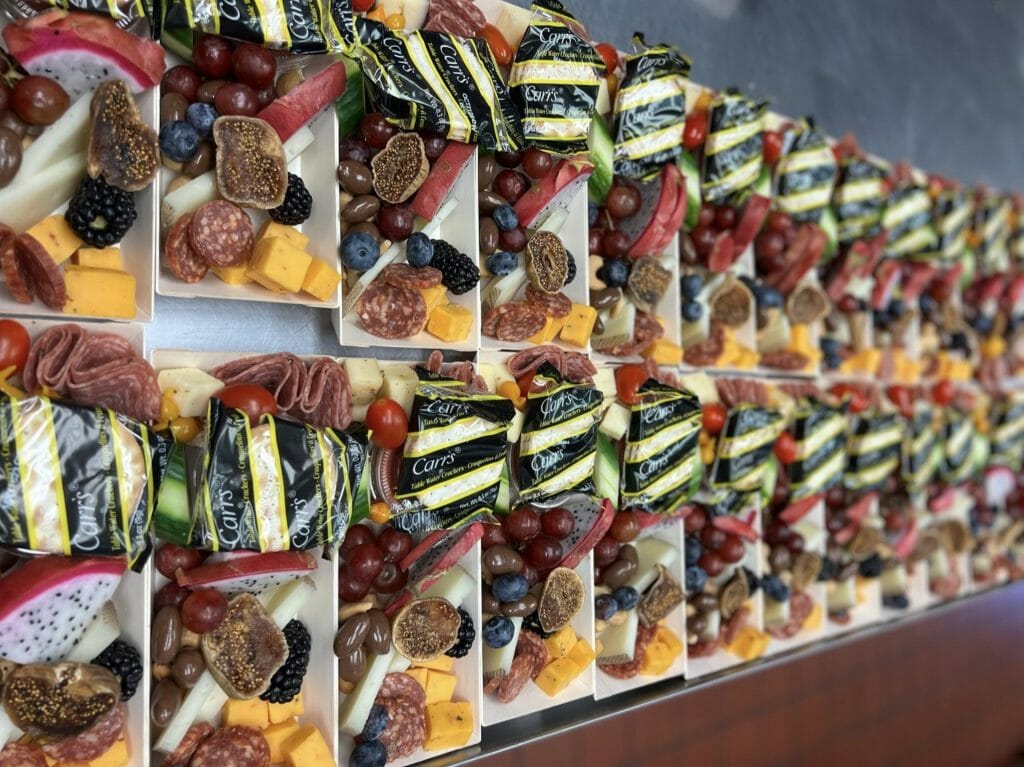 Different Commercial Kitchen Rental Options
With the many options available, choosing the right commercial kitchen can often feel like a challenge. We will simplify everything by highlighting the various options you'll want to consider. These include: hourly rental vs. long-term leases, kitchen sizes, amenities, pricing, any needed updates and more.
Hourly Kitchen Rental
Depending on your area, shared kitchens and commissary kitchens may offer hourly rentals. In most cases this will be a short-term option where you pay only by hours you use. This type of rental is ideal if you need a temporary space to complete larger orders like those that come from special events.
Pros:
Cost-efficient. The average price is $15 – $35 per hour depending on location.
Commitment-free flexibility. No long-term leases!
Save on appliances – they're usually already included!
Option to rent storage space only (refrigeration, shelving, etc.) if you want to keep using your home kitchen but just need extra storage.
Rent specialty equipment – need a specific tool or appliance but only going to use it once? A commissary kitchen might already have it!
Avoid the responsibility of ownership – No need to worry about maintenance or upkeep of the building, grounds, broken equipment, etc. Leave that mess to the owners.
Gain access to other specialized services such as on-site cold storage and waste disposal.
Cons:
Schedule conflicts can arise when booking by the hour, especially during peak business hours. If the time slot you need is already full, you're often out of luck.
No privacy – Commissary kitchens are often a shared space with many different chiefs and companies coming in throughout the week. This can potentially result in stolen items and messy work spaces.
Limitations – The amount of space is limited, and taking up any extra space with your personal equipment or employees is frowned upon. The faster your company grows, the sooner you'll become frustrated with these limits and need a space of your own.
No permanent commercial address – Because you are only renting by the hour you won't be able to establish relationships with vendors and distributors.
Month-By-Month Rental
This type of rental option is similar to hourly rental, but you pay a monthly fee for the use of the kitchen. (a "pop-up" shop can often fall into this category) This type of rental is ideal for businesses needing a commercial kitchen on a regular basis but perhaps are thinking of transitioning into a different or larger space over the long term.
Pros:
No long-term commitments or large overheads.
Save on appliances and maintenance.
No scheduling issues – by renting a month at a time, you avoid the scheduling issues that can happen with hourly rentals. Rested assured that the space is available when you need it.
Enjoy a little more space – By committing to a monthly feel, you'll find your options open up a little more as far as space and layout, which can take the anxiety and frustration out of a crowded hourly rental.
An established commercial address – In many cases, even if you're on a month to month lease, you now have a verifiable location and can start working with suppliers and distributors. Now you can save money on your overall cost of goods.
Cons:
Appliance limitations – While the kitchen will always be clean and up to code when you get it, often times the appliances are old and outdated.
Growing pains – Once your charcuterie business reaches the point of needing a permanent full-time space, renting month to month starts to get expensive and stops making sense.
Long-Term Commercial Lease
This is a more permanent option where you lease the commercial kitchen for an extended period of time. You would normally work out a set number of years with the landlord with an option to renew under the same or similar terms.
This type of rental is exactly what you want if your plan is to build a long term, local brand over an extended period of time.
Pros:
Security & piece of mind – If you're staying a while, a long term lease will ensure the space is yours to use, and no one else's. It'll always be there, day after day, when you need it.
More options for space, layout, and amenities become available. As you can imagine, a long-term lease has benefits for the building owner too, so you're likely to find more of them in your area, which gives you more locations and options to choose from.
Lower overhead cost and less responsibility than owning.
Branding and customization options are better because you can usually post bigger signs outside or in the window (check your lease for permissions and regulations first) and can allow for more foot traffic, bigger events, and so on.
Just about everything you can think of is up for negotiation when you're working out the lease terms. A HUGE perk can often be requesting the landlord pay for reasonable repairs and even upgrades.
Cons:
Incremental rent increases over the years is standard practice in commercial leases. Depending on what's happening with rates (typically prime) this can potentially be a problem when you reach the end of your lease and need to renew.
You're at the mercy of your landlord whenever things go wrong. Hopefully you get along with your landlord, but a bad relationship can be frustrating as you will be reliant on them for the upkeep of the grounds, building, and any broken appliances.
Limitations – As you are not the owner, you'll be limited in options as far as updating appliances, remodeling and especially any adjustments to the outside of the building.
Longer commitment – If your business out-grows the space before your lease ends, you'll either have to deal with it, sublease to another tenant, or you'll have to pay some hefty fines for breaking your lease early.
Additional Fees – While this isn't always the case, sometimes a longer lease comes with a few additional financial responsibilities that are not included in the rent. These can include utilities, waste disposal fees, and so on. Make sure you know what you will be responsible for and everything is in writing.
Incubator Kitchens
Incubator kitchens (also known as culinary incubators) fall under the hourly-rental category and are a growing trend that's starting to get a lot of notice.
Incubator kitchens are often large, shared-use kitchens that can have several chefs, caterers, bakers, etc. using the space at the same time – BUT, their main purpose is to help new fledgling food businesses to grow, develop, and refine their business model by providing them with support and mentorship. This makes incubator kitchens a potentially great option for the charcuterie business owner who might be a little apprehensive about taking that next step.
To be clear, incubator kitchens operate on the assumption that you're there to learn the best way to operate a kitchen (i.e. how to use the equipment, how to best organize food assembly, etc. ) and not how to increase clientele.
Ghost Kitchens
Also called Dark Kitchens, Cloud Kitchens, Black-Box Kitchens and so on, these are commercial kitchen that do not include any dine-in component. Instead, all of the food production is delivered directly to the customer via delivery service such as Grub Hub, DoorDash, Deliveroo and so on.
A ghost kitchen can be a shared kitchen space or not, and can fall under any of the above rental options. It's a good option for charcuterie business owners to consider as a traditional dine-in model rarely applies to charcuterie – unless there is a specific out of the box reason your business requires that extra space.
Working With A Commercial Realtor
Rather than going all in on your own, it's often best to work with a commercial realtor who has experience in the food industry. They can help you find a space that fits your needs and budget, negotiate lease terms, and handle any other legalities involved in the process.
Here are some steps you can take to locate and work with a commercial kitchen real estate agent:
Get Online
Start by doing some research online to find commercial kitchen real estate agents in your area. You can use search engines like Google or Yelp, or real estate directories like LoopNet to find agents that specialize in commercial kitchen spaces.
Do Your Research
Once you have a list of potential agents, do some research to find out more about their experience and expertise. Look for agents who have experience working with food-related businesses, and who have a strong understanding of the local market.
Reach Out
Reach out to a few different agents to set up initial consultations. During the consultation, ask the agent about their experience working with food businesses, and see if they have any properties that might be a good fit for your needs.
Be Prepared
Be prepared to discuss your specific needs and requirements for your commercial kitchen space. This might include things like the size of the kitchen, the type of equipment you need, and your budget.
Stay In Touch
Once you've found an agent you feel comfortable working with, be sure to stay in touch and keep them updated on your search for a commercial kitchen space. They can help you find the right property and negotiate the terms of your lease.
Costs And Other Important Questions To Ask Your Realtor
Square Foot Costs
Commercial kitchen rental costs vary widely depending on location, size, and type of space. Before signing a lease, make sure you understand the square foot cost and how it compares to other spaces in the area. It's also important to understand if the rent is based on net or gross square footage and if there are any additional fees, such as common area maintenance (CAM) charges.
Figuring out how much this means to your each month is actually quite simple. Take your price per square foot, multiply it by the number of feet (this gives you your yearly cost) and divide by 12.
Example: 1,500 square foot kitchen listed for $12/sqft
$12 x 1,500 = $18,000/12 = $1,500/mo
Utilities
Some commercial kitchen spaces include utilities in the rent, while others require tenants to pay for their own utilities. Make sure you understand what utilities are included in the rent, and which ones you will be responsible for paying. This can help you accurately estimate your monthly costs.
Taxes
As a commercial tenant, you may be responsible for paying property taxes, either directly or indirectly through your lease agreement. Make sure you understand how property taxes are calculated, and how they will be incorporated into your lease agreement.
Commercial Lease Terms
Commercial leases are often more complex than residential leases, and can include a variety of terms and provisions that can impact your costs. Be sure to read your lease carefully and ask questions about anything you don't understand. It's also important to understand the potential for yearly rent increases, and what options you have for negotiating or renewing your lease when the time comes.
The amount of information can feel like a juggling act, but if you narrow it down to a simple list of questions, it's easier to manage. We've put together this handy list below to get you started.
What is the monthly rent, and how is it calculated?
What utilities are included in the rent, and which ones will I be responsible for paying?
How are property taxes calculated, and how will they be incorporated into my lease agreement?
What is the length of the lease, and what options do I have for renewing or terminating the lease?
Are there any common area maintenance (CAM) charges or other fees that I will be responsible for paying?
What is the potential for yearly rent increases, and how are they calculated?
Are there any restrictions on how I can use the space or what equipment I can bring in?
What is the security deposit, and when will it be returned to me?
If improvements are being made, can the monthly rent be stalled until everything is complete and I am open for business?
Negotiating With Your Landlord
The last thing anyone wants is to be stuck in a bad relationship with their landlord. To that end, it's important to understand what you can reasonably ask for and expect. Be sure to have the following conversations with any potential commercial kitchen owners before you sign on the dotted line.
Clarify Your Responsibilities
Discuss with the landlord who is responsible for improvements, upgrades, and maintenance for the grounds (i.e. lawn care, snow removal), the building itself (roofing, pluming, electric), any appliances or tools that come with the space (oven, refrigeration) and anything else you can think of. Make a list and keep it for your records.
Identify Problem Areas Ahead Of Time
An official inspection should be done by a licensed property inspector, but it's a good idea to inspect the property yourself and make a list of anything that will need modifying or upgrading right away. For example, if the building doesn't have good enough lighting for food prep, this is something you will have to solve before you can adequately use the space.
Remember That Everything Is Open For Negotiation
Some landlords will be willing to cover the cost of certain improvements, while others may require the tenant to pay for any upgrades. Be sure to clarify these responsibilities before signing a lease. If you're handy and don't mind doing the upgrades yourself, you can use this information to negotiate a lower rent, omit a down payment, or even wave the first month's rent, or get a deal on utilities.
Other reasons to negotiate rental cost can include the market. If the property is relativity more expensive than other similar properties in the area, the landlord may see reason to match the average asking price. You can also use other incentives such as agreeing to a longer lease. The more you are willing to offer in exchange, the more your landlord will be willing to negotiate. Include your real estate agent in your negotiation plans. They can help you get a fair deal.
Get It In Writing
Once you have negotiated the terms of your lease, make sure to get everything in writing. This includes any agreements about upgrades or improvements, as well as the rent and lease term. Having a written agreement can help prevent misunderstandings or disputes down the road.
Be Curious And Respectful
Negotiating a lease for your commercial kitchen does not have to be an adversarial experience. In many cases it can be a fun win/win for everyone. While you never need to agree to something that's unreasonable or doesn't make sense for your business, remember to always keep everything respectful and civil.
Taking Your Charcuterie Business To The Next Level
In conclusion, making the decision to rent a commercial kitchen is essential for expanding your charcuterie business. While it can seem intimidating at first, once you get your feet wet it's not only simple, it can be fun experience. (remember to get your ultimate charcuterie business blueprint here free)
It doesn't take much, but with the right setup, equipment, and location, you can dramatically increase your visibility, expand your brand and start landing lucrative corporate clients, all of which lead to increased customers, sales and profits.