We are thrilled to introduce you to Maribel Ortiz, a rising star in the charcuterie universe. While managing a full-time job as a director for a retirement community and teaching Zumba classes, Maribel has also found the time to turn her love for charcuterie into a thriving business. From a chance event that sparked her entrepreneurial spirit to the challenges of breaking into a fresh market, Maribel's story is as flavorful as her boards. Get ready to dig into a narrative that proves sometimes the best business ideas are the ones you stumble upon.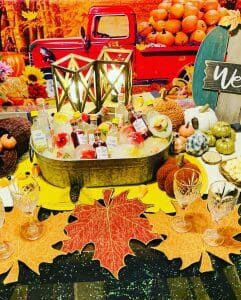 ICA: Maribel, you have a fascinating journey that led you to the charcuterie business. Please share that moment making you realize this was more than just a hobby.
Maribel: Absolutely, Jonny. Everything started because I had organized a Zumba event. There were going to be almost 100 people attending, and the caterer called 2 hours before saying a personal issue had come up and she had to bow out. You can probably imagine what sort of crazy scramble everything became. I remember standing in the grocery store when it hit me—why not make my own charcuterie boards? So, that's exactly what I did.
ICA: Wow, that's a pretty high-pressure situation. What happened?
Maribel: It was more than a little nerve-wracking. Until that moment I had never done this for this many people. But the response was overwhelming. So many people at the event asked for my "charcuterie card," as if I was a seasoned pro. That was the lightbulb moment for me. I realized this was the opportunity I had been waiting for.
ICA: That's incredible! What did you do first?
Maribel: I was really pumped after that event but other business, charcuterie is still pretty new, it's only been around since 2019 (in it's current form)—so there's no playbook for it. At first figuring out what licenses were needed was a headache, but I worked through it. Now I've got my LLC, my food handler's license, and I'm insured.
ICA: You said earlier you always had a passion for cooking but never saw yourself creating a business in the restaurant industry. Why not?
Maribel: It's true I've always loved cooking, but the restaurant business can be filled with a lot of hurdles—long hours, high stress, and a lot of overhead. It never felt like the right fit for me.
ICA: That's fantastic, Maribel. And it seems like all your hard work is paying off. How's business now?
Maribel: I'm thrilled to say that I'm fully booked for October and November. It's a testament to the love and effort I've poured into this venture. The journey has had its challenges, but moments like these make it all worthwhile.
ICA: Maribel, you have a background in the hospitality industry. Has that experience influenced how you approach your interactions with customers?
Maribel: My years in hospitality have been invaluable. They taught me the importance of customer satisfaction and how to create memorable experiences. I've carried those lessons into my charcuterie business, and they've been key to my success.
ICA: It's evident that your people skills and drive are key factors in delivering excellence. Can you share more about this?
Maribel: People skills are at the heart of any service industry, and charcuterie is no different. I take the time to understand my clients' needs and preferences, which allows me to create boards that not only look beautiful but also resonate on a personal level. My drive ensures that I'm always striving for perfection, whether it's in the quality of the ingredients I choose or the presentation of the final arrangement.
ICA: You really are the epitome of commitment and passion when you set your sights on something. What traits do you believe are essential for someone thinking about starting their own grazing business?
Maribel: Hard work is non-negotiable. Many people think technical skills are the starting point, but that's not it. You can learn the technical things along the way —like crafting salami roses—it's your love for people and commitment to excellence that set you apart. These qualities not only drive you to learn but also help you turn a satisfied customer into a lifelong client.
Click An Icon Below To Follow Charcuterie Finest of Naples