Looking back it seems that everything started In late October, 2019, after posting a photo of a charcuterie board she made for a friend.  Less than a year later, Liz Turnbaugh stepped away from her high-powered career to focus on her love of food artistry.
With the pandemic creating anxiety and uncertainty everywhere, Liz put her nose to the grindstone and focused on delivering excellence.  It seems that all the hard work paid off.  Within her first year My Charcuterie became one of the most talked about and requested caterers in town. 
In this chapter of "ICA Charcuterie Spotlight" we will take you behind the scenes to see how she creates her gorgeous food art catering, which styles and flavors are her favorites & what's next for this hard-working founder.
ICA: Liz, welcome! Your success is really stunning. What you're doing can be a HUGE inspiration to anyone looking to start or grow their charcuterie business as well as enthusiasts who want to excite party guests.  How did you get started with My Charcuterie and why? We would love to know your "origin story".
Liz: I was working full time as head of Sales and Marketing for a large company and making charcuterie boards just for fun. At the start it was really just about sharing with friends when entertaining. I posted a photo of one I made (since if it isn't on social media, did it even happen? LOL) After that, friends started asking if I could make boards for them and their parties. The rest is meat and cheese history.
ICA: You mentioned you were only dabbling with charcuterie at first, doing grazing tables and boards for friends.  What made you decide to take that huge leap from a safe, steady paycheck to running your own catering business?
Liz: I left corporate America in 2020, at the start of the pandemic so I could be home in the evenings with my family and get out of the rat race I was in which included heavy business travel. If you are innovative and willing to pivot, you can be successful, even in the midst of a global pandemic. I quickly decided to offer boxes, which was a different proposition than the larger boards I was doing originally. I then decided to offer contactless delivery to appeal to customers during the shutdowns. At times, this meant my husband, parents and friends were helping me deliver orders to ensure our pivot was successful. The work paid off and we now offer boards, boxes and grazing tables!
ICA: When did you know this was a real thing and it was time to expand out of your home kitchen?
Liz: I get this question a lot. It became pretty obvious right away that until I got into a commercial location I'd be paying retail prices for everything.  Access to real wholesale and commercial distributors and pricing is only available if you're working out of a commercial location.  
From day one I had my eyes open for an opportunity to grab a commercial spot.  At the same time, getting a space was a matter of making sure sales were at a level where it made sense.
My advice for anyone starting out is to keep your eye on your sales goal, keep an eye out for cute spots AND make plenty of phone calls to commercial realtors!  Most of all, DO NOT let yourself get down if your sales aren't where you want them to be right away..  These things take time, lots of hard work and a bit of patience.
Focused On Delivering Excellence
ICA: Another reason customers LOVE My Charcuterie is because of your fantastic selection of flavors!  How do you find all your unique meats and cheeses? 
Liz: We are just South of Wisconsin, aka cheese country, which helps us source from small farms, gourmet shops and a lot of unique vendors. Also, being in a commercial kitchen for a while has allowed us to develop great relationships with our distributors.  They know us and what we are looking for.  They will make suggestions based on what they think customers might like or what's trending. 
Also, my entire team shops A LOT.  Everyone is constantly tuned in for unique offerings that are fresh, fun and on trend!
ICA: What's the most interesting/exciting charcuterie project you've ever done? 
Liz: That's a hard one! There have been so many!
I would say my first grazing table was a challenge. It wasn't that laying everything out was difficult, it was trying to estimate how much food would be needed without going way over or way under.
In the beginning grazing tables were a work in progress.  Because each is unique, until we nailed the process, it was always an interesting effort making sure there was little or no waste or surplus.  
NOW we have a process as well as checklists for ensuring everything is prepped and ready to go on time!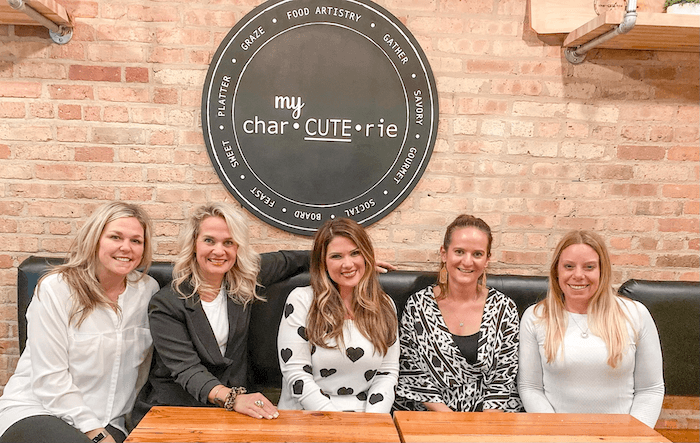 3 Vital Tips For Making Stunning Charcuterie Boards & Home
ICA: You're saying word of mouth drove your initial success? What came next? I'm sure you did a lot more to hit multiple 6 figures in sales your first year!
Liz: I created a Facebook and Instagram page for my business which is free. I asked friends to follow and share my pages. I kept taking pictures of each charcuterie I made. I learned how to use apps like Canva and Lighthouse. I posted pictures all the time. This fueled our growth! I also looked for local mom or local community FB pages to join and posted there which generated a lot of new customers. All of this was FREE!
Once I was happy our customers were happy, then we began growing using advertising. Because cash was always tight, it was important we were as confident as possible an idea would sell before we invested a lot of money into promotion.
ICA: Our members are both professional charcuterie caterers as well as practicing at home enthusiasts.  For the ones practicing at home, what are your top 3 tips for WOWing party guests and making amazing charcuterie at home?
Liz: There are so many ways to make your charcuterie special. Definitely pay attention to having a diverse range of colors and shapes. Use your fruits and veggies to pop color in-between meats, cheeses and crackers. Also, follow other Charcuterie companies for inspiration and ideas! Pinterest is your friend! Spend LOTS of time there and fill up with tons of ideas. You can even check out what we've been creating on our Instagram!
Click An Icon Below To Follow My Charcuterie