Charcuterie boards are one of the hottest food trends of recent years, and for good reason: they're beautiful, delicious, and incredibly versatile. Whether you're hosting a party, looking for a romantic date idea, or simply want to indulge in a tasty treat, a charcuterie board is the perfect choice. But not all charcuterie boards are created equal – for a truly stunning and mouth-watering experience, you need a rustic charcuterie board.
Rustic charcuterie boards have a special charm that sets them apart from other types of charcuterie boards. With their warm, natural materials, rugged designs, and earthy color palettes, these boards are the embodiment of rustic elegance. They're perfect for outdoor summer gatherings, cozy winter nights by the fire, and everything in between. But how do you make a rustic charcuterie board that's as beautiful as it is delicious? In this article, we'll take a deep dive into the world of rustic charcuterie boards, exploring everything from materials and design to content and serving tips. So grab a glass of wine, put on your favorite playlist, and let's get started!
TIP: Thinking about starting or growing your own grazing business?  Join us for our FREE, on-demand training that will show you exactly how to start today! Click here to read more >>
Table of Contents [CLICK HERE TO OPEN]
Materials for Rustic Charcuterie Boards
When it comes to rustic charcuterie boards, the material you choose can make all the difference in the final presentation. There are a variety of materials available, each with their own pros and cons.
Wood: One of the most popular materials for a rustic charcuterie board is wood. Wood boards come in various types, including bamboo, acacia, and olive wood. They offer a warm and natural look, but may require more maintenance and can absorb odours.
Slate: Slate boards offer a sleek and modern look and are great for showcasing vibrant coloured foods. They are durable and easy to clean but can be heavy and may break if dropped.
Marble: Marble boards add an elegant touch to your charcuterie spread and keep food cool for longer. However, they can be heavy, slippery, and prone to scratches and stains.
Glass: Glass boards provide a clean and contemporary look, and are easy to clean and sanitize. However, they can be fragile and may not be the best choice if you plan on using sharp knives.
Acrylic: Acrylic boards are lightweight, easy to clean, and affordable. They are available in various colours and designs, but may not offer the same natural feel as wood or stone.
When choosing a material, it's important to consider factors such as durability, maintenance, safety, and overall aesthetic. You may also want to consider purchasing multiple boards to mix and match textures and materials for a more dynamic and interesting display.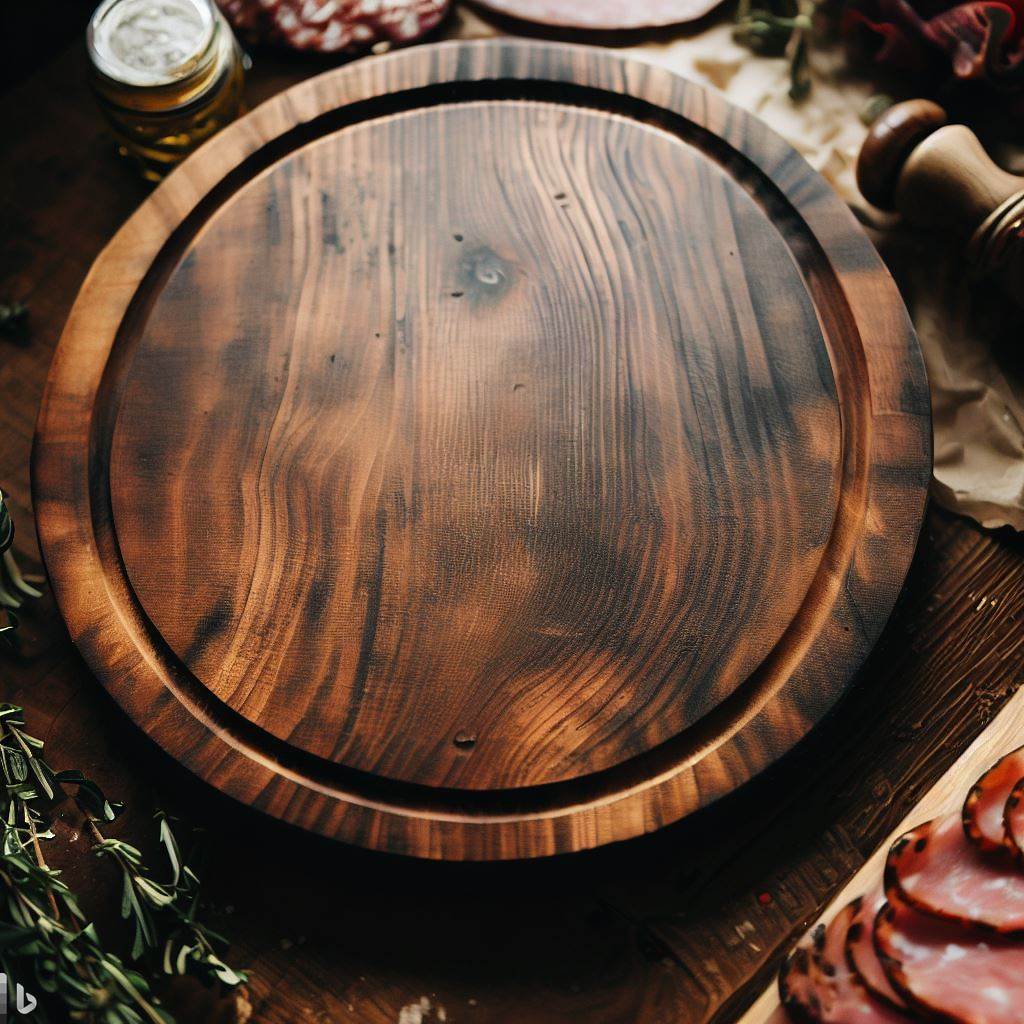 Design and Style for Rustic Charcuterie Boards
When it comes to designing a rustic charcuterie board, there are countless possibilities to choose from. DIY charcuterie board ideas are a popular choice for those who want to personalize their board with unique designs and finishes. From reclaimed wood to live-edge slabs, there are many materials that can be used to create a rustic look.
If you prefer a more polished look, custom-made charcuterie boards are a great option. You can work with a local artisan to create a board that meets your specific design and size requirements, and choose the type of wood, finish, and hardware that suits your taste.
To enhance the rustic charm of your board, consider adding charcuterie board decor and accessories. This can include items like cheese knives, serving utensils, and bowls for dips or nuts. These accessories can add a touch of elegance and style to your board, while also making it more functional.
If you want to fully embrace the rustic theme, consider using a board that is specifically designed for a rustic look. These boards often have unique finishes and designs that are perfect for a casual, country-style gathering. Whether you prefer a traditional wooden board or a more contemporary slate or marble surface, there are plenty of options available to create a rustic charcuterie board that is both functional and stylish.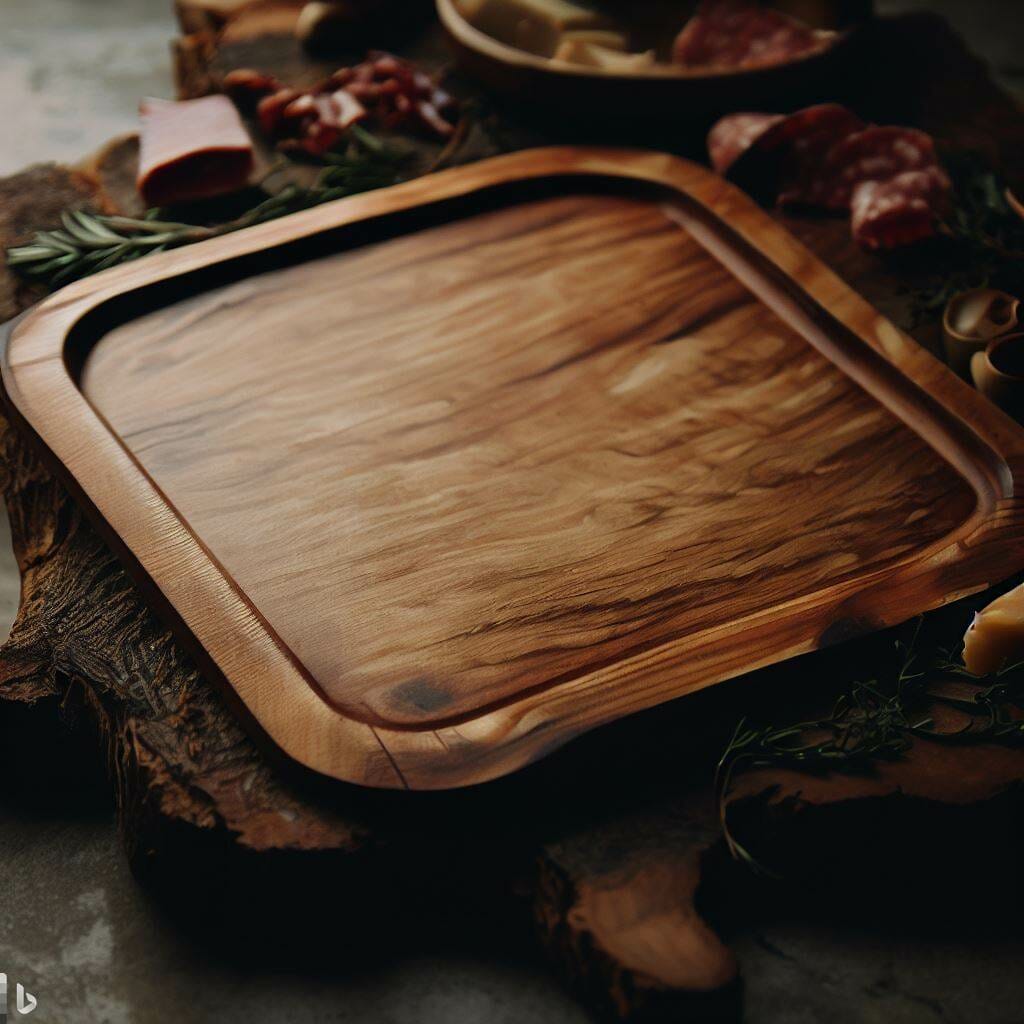 How to Make a DIY Rustic Charcuterie Board
Making your own rustic charcuterie board is an easy and fun way to add a personal touch to your next gathering. With a few simple steps, you can create a beautiful and functional board that will impress your guests.
Step-by-Step Guide:
Choose the right wood: For a rustic look, choose a natural wood board with visible grain patterns. You can find pre-cut boards at your local home improvement store or use a saw to cut your own.
Sand and smooth the board: Use a sandpaper block to smooth the edges and surface of the board. Make sure to remove any rough spots or splinters.
Stain or oil the board: Apply a coat of wood stain or oil to the board, using a cloth or brush. This will protect the wood and bring out the natural grain pattern.
Add handles (optional): If you want to make your board easier to carry, you can add handles. Use a drill to make two holes on either side of the board and attach handles with screws.
Arrange the charcuterie items: Once your board is complete, it's time to arrange the charcuterie items. Start with a variety of cheeses, meats, fruits, nuts, and crackers. Use small bowls or ramekins to hold dips, olives, or spreads.
Add some decor: To give your board a rustic feel, you can add some decorative items like small vases of wildflowers or greenery, a small chalkboard sign with the name of the cheese or meat, or some antique silverware.
Making your own DIY rustic charcuterie board is a great way to show off your creativity and impress your guests. With just a few simple steps, you can create a beautiful and functional board that will be the highlight of your next gathering. So, why not give it a try? Your guests will thank you!
Buying A Rustic Charcuterie Boards
If you're not interested in making your own rustic charcuterie board, there are many places you can buy one.
Local Markets: One of the best places to find rustic charcuterie boards is at local markets or artisan fairs. Local artisans often create unique and beautiful charcuterie boards using high-quality materials. Not only will you be supporting a local business, but you will also have a one-of-a-kind board.
Online Stores: Another option is to search online for charcuterie boards. There are many online retailers that specialize in kitchen and dining products, and they often have a large selection of rustic charcuterie boards. When searching online, be sure to read customer reviews and product descriptions carefully to ensure you're getting a high-quality board.
Home Decor Stores: If you prefer to shop in person, many home decor and kitchen stores also sell charcuterie boards. Stores like Crate and Barrel, Williams-Sonoma, and Sur La Table often have a variety of rustic charcuterie boards in different materials and styles.
Discount Stores: If you're on a budget, you can also find rustic charcuterie boards at discount stores like Marshalls or HomeGoods. While the selection may not be as extensive, you can still find high-quality boards at a more affordable price.
No matter where you choose to buy your rustic charcuterie board, be sure to choose a board that is high-quality and suits your personal style. With the right board, you can create a beautiful and delicious charcuterie spread for any occasion.
Factors To Consider When Buying A Rustic Charcuterie Board
When buying a rustic charcuterie board, there are several factors to consider to ensure you find the perfect board for your needs. Here are some things to keep in mind:
Size: Consider the size of your charcuterie board in relation to the size of your group. If you plan on entertaining large groups, you may want to opt for a larger board, but if you're just making a snack for a few people, a smaller board may be sufficient.
Material: As discussed earlier in the article, the material of the board can impact its durability and aesthetic appeal. Consider the pros and cons of each material and which one will best suit your needs.
Style: There are many different styles of rustic charcuterie boards available, from sleek and modern to more traditional designs. Think about the overall aesthetic of your space and choose a board that complements it.
Maintenance: Different materials and finishes require different levels of maintenance. Consider how often you'll need to clean and care for your charcuterie board and choose one that fits your lifestyle.
Price: Charcuterie boards can range in price from affordable to quite expensive. Set a budget for yourself and stick to it, but keep in mind that a higher-quality board may be worth the investment in the long run.
Brand: Consider the reputation and reviews of the brand before making a purchase. Look for brands with a proven track record of producing high-quality charcuterie boards.
By considering these factors, you'll be able to find a rustic charcuterie board that is perfect for your needs and will enhance your next gathering.
Rustic Charcuterie Boards Best Picks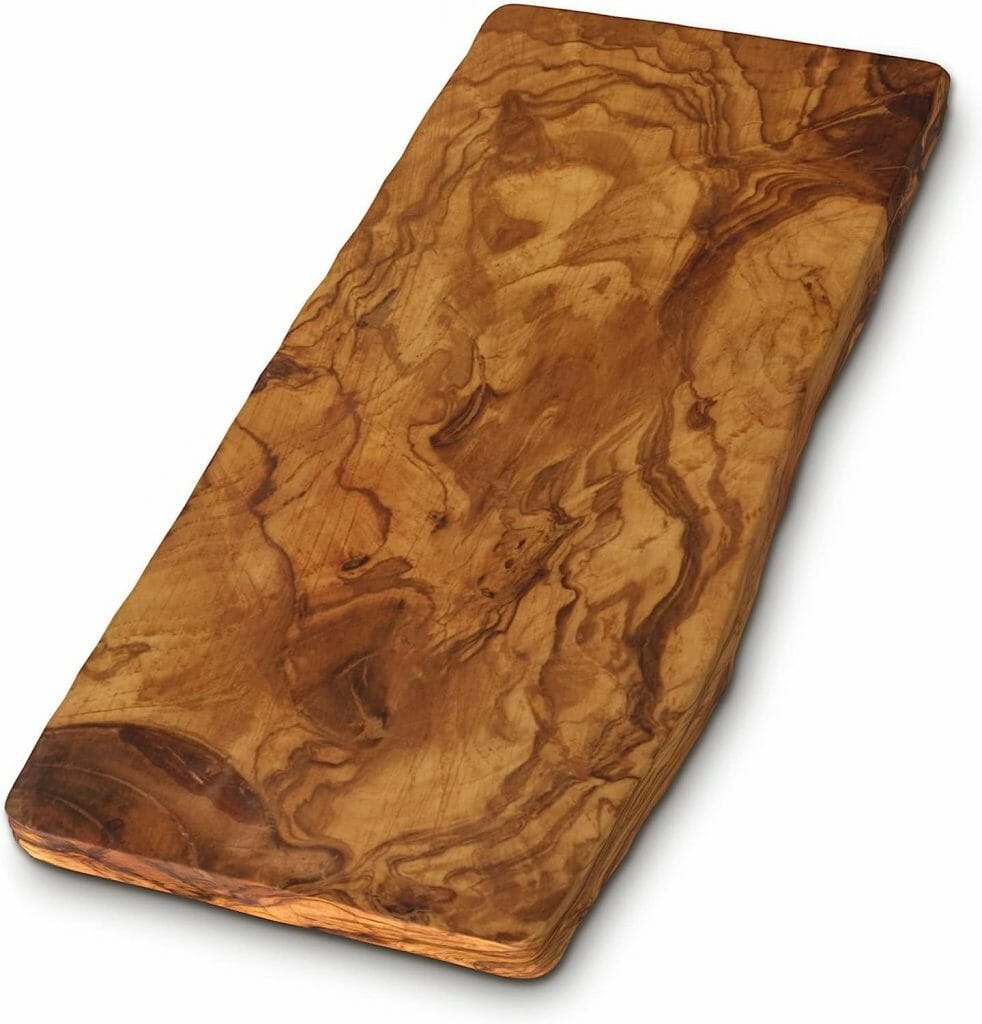 LIVE EDGE Charcuterie Cutting Board: Handmade and crafted from high-quality olive wood, this rustic board features a live edge that adds natural charm and character. Measuring 16 inches x 6.75 inches, it's perfect for serving appetizers, cheese, and charcuterie. Its compact size makes it easy to store when not in use.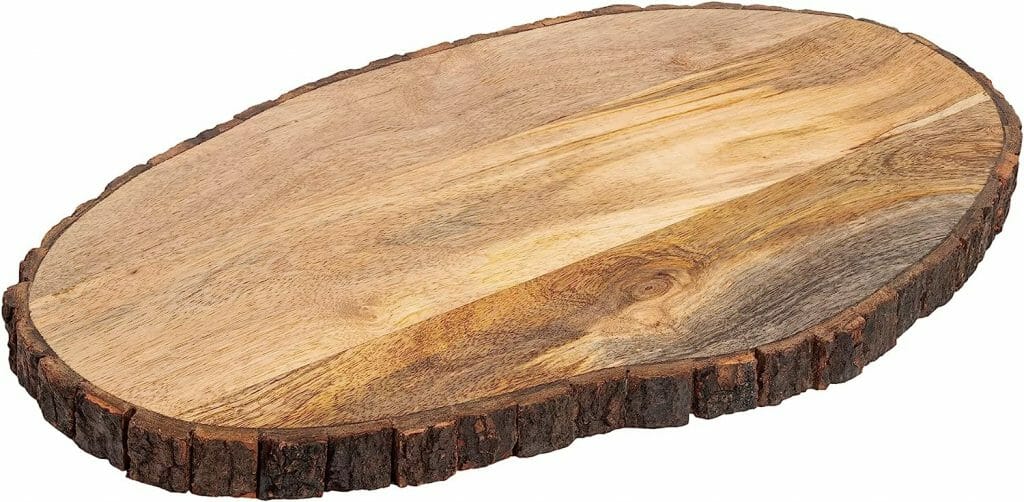 This GoCraft Charcuterie Board is a handcrafted piece made of high-quality wood. Its unique shape and design make it a perfect addition to any home. With its durable and sturdy construction, it can withstand heavy use and makes for an ideal serving platter for all kinds of foods. It's also easy to clean and maintain, making it a practical and stylish addition to any kitchen.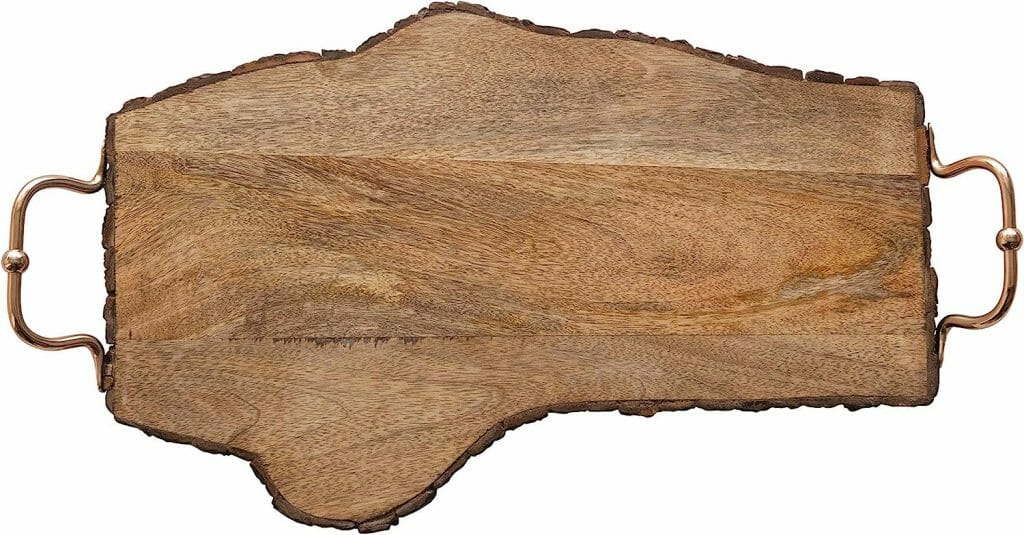 Looking for a stylish and functional way to serve your favorite cheeses, meats, and fruits at your next gathering? Look no further than the Creative Co-Op Serving Board with Handles. This beautifully crafted board is made from natural mango wood, known for its durability and attractive grain patterns. The board features two handles for easy carrying and serving, making it a versatile addition to your kitchen or entertaining arsenal.
Not only is this board practical, but it also adds a touch of rustic charm to your presentation. The natural wood finish complements any decor, while the unique shape and design make it a statement piece in its own right. Whether you're hosting a dinner party or just enjoying a casual snack, the Creative Co-Op Serving Board with Handles is the perfect way to showcase your culinary creations.

This extra-large charcuterie board is perfect for entertaining guests. It is made from high-quality acacia wood, giving it a stylish and elegant look. With its large size, it offers ample space for arranging an assortment of cheeses, meats, fruits, and other snacks. The board comes with a built-in handle, making it easy to transport from the kitchen to the dining table or outdoor space. Its sleek and modern design is sure to impress your guests, making it an ideal choice for parties, gatherings, and housewarming gifts.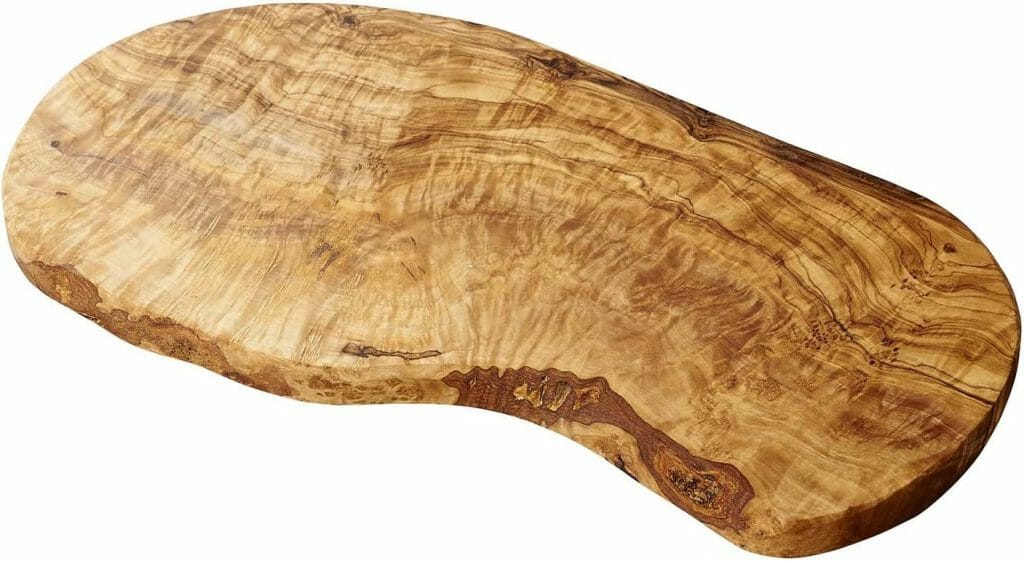 This stunning hand-crafted wooden charcuterie board is made from olive wood. Decorative as well as practical, this board is colored and patterned by the natural grain of the wood, making it a truly beautiful piece of art. As a result of this charcuterie board being hand-crafted, the size and shape may vary slightly with each product.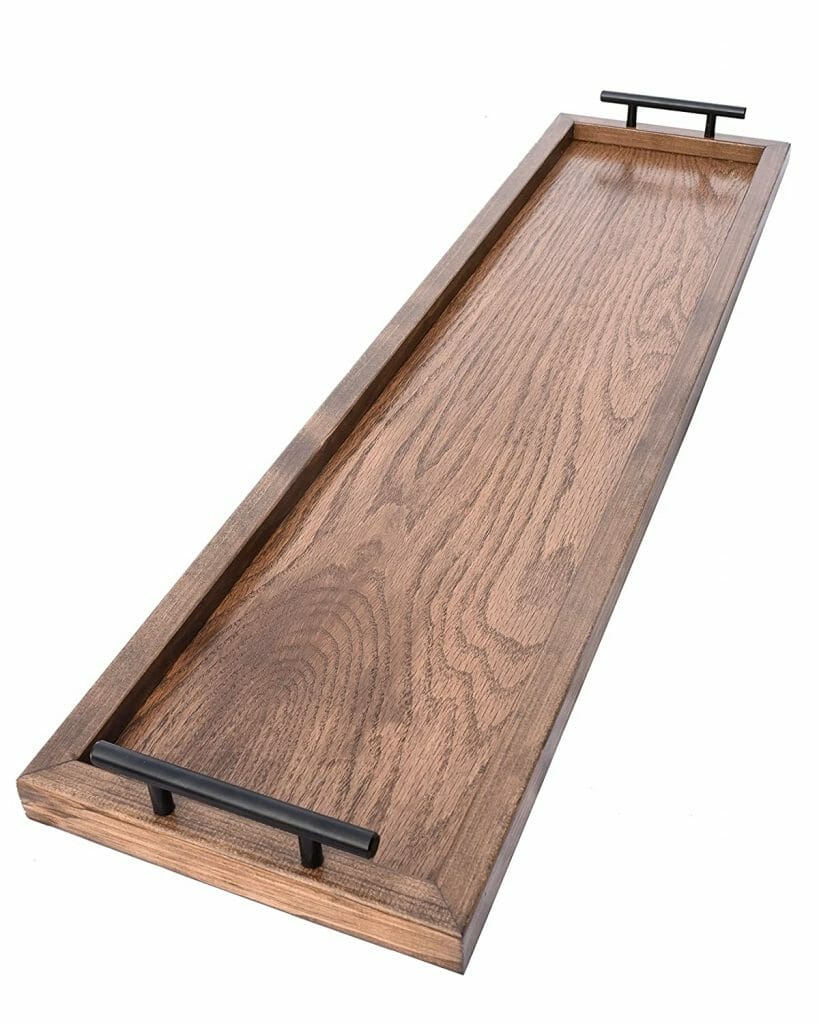 Get ready to impress your guests with the perfect New Year's Eve charcuterie board! This hand-crafted wooden tray is the ideal serving platter for an assortment of delicious appetizers. Besides using it as a charcuterie board, this versatile piece can also be used as a decorative item for a multitude of areas. It's perfect for a buffet table or kitchen table and can be decorated for every season and occasion.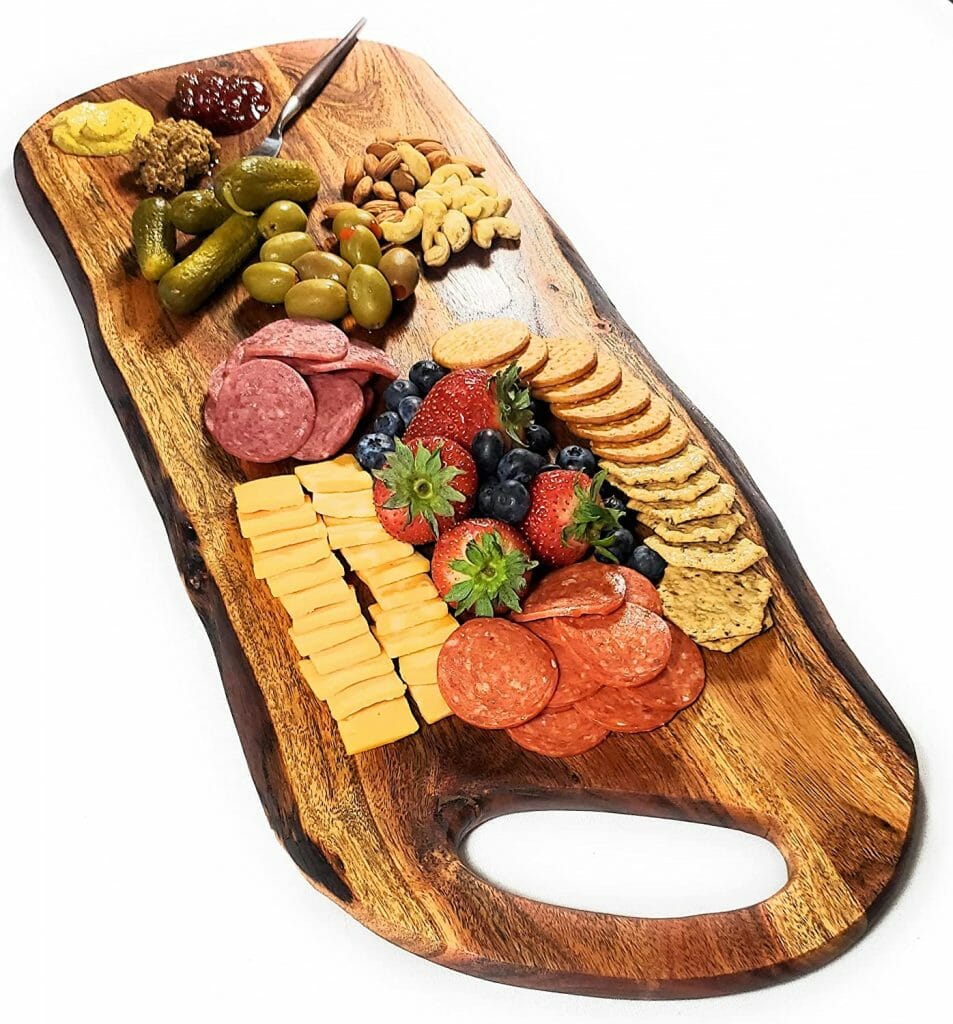 Experience the rustic charm and elegance of this unique cutting board, made from natural acacia wood that boasts rich grained dark hues and unique patterns. Each board is one-of-a-kind, highlighting the natural beauty of the wood. It has been seasoned with an all-natural, carefully selected olive oil, making it both durable and food-safe. Perfect for gifting, this cutting board is a great choice for Valentine's Day, Christmas, weddings, bridal showers, anniversaries, Mother's Day, birthdays, or housewarming parties.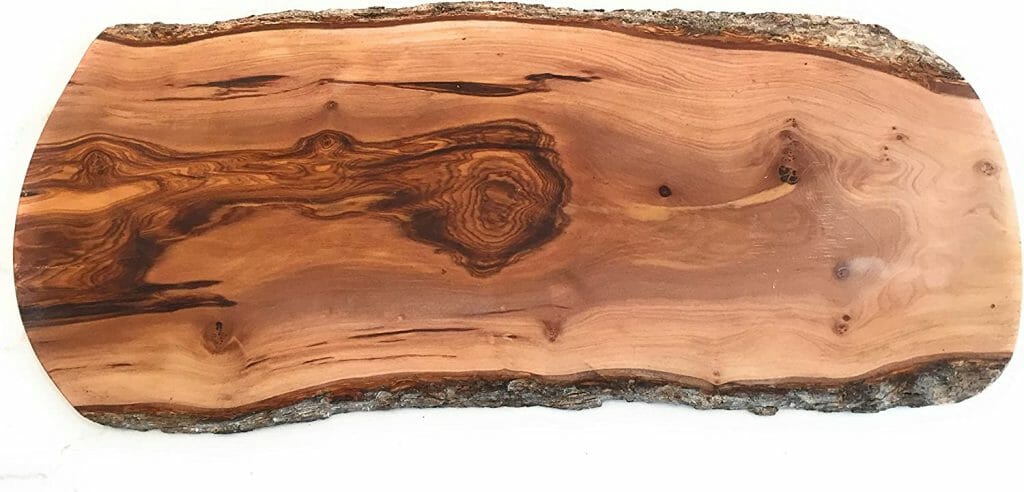 These rare decorative olive wooden boards from Orchard Hardwoods are truly one-of-a-kind, handcrafted from a single 0.8″ thick slice of solid olivewood, sustainably harvested from aged olive trees in the Southern Mediterranean, typically aged between 200-300 years old. Each board features exotic burl grains with natural olive wood colors, a unique natural shape, and live bark edge. Beautifully hand finished with five successively finer grains of sandpaper and sealed with olive oil, these boards, bowls, and accessories are all crafted, reclaimed and sustainably produced under fair trade agreements.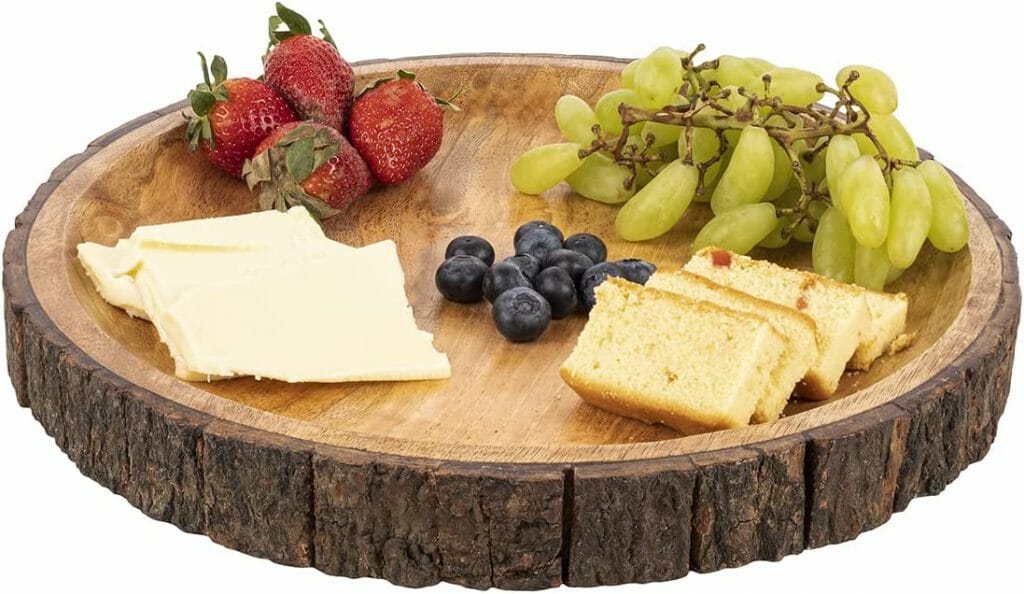 This beautiful mango wood platter boasts a unique natural tree bark edge, adding a rustic charm to any tabletop. Crafted with unparalleled high quality, this platter showcases vivid wood colors and contrasting patterns that are sure to impress. With a diameter of 13″ and a width of 1.5″, this paddle-shaped table server is the ideal addition to any kitchen or dining room. To keep this stunning piece in pristine condition, simply handwash with warm water.

The board is perfect for assembling and serving a variety of cheeses, meats, fruits, and veggies for parties or special events. It adds a warm rustic touch and a Mediterranean flair to your table setting. The board is versatile and can be used for family breakfasts, outdoor barbecues, or romantic dinner parties. It is made from premium olive wood, a sturdy and durable material that can withstand regular use. The large serving platter makes a memorable gift for birthdays, housewarming parties, and weddings that can be enjoyed year after year.
Content for Rustic Charcuterie Boards
When it comes to rustic charcuterie boards, the possibilities are endless when it comes to what to include. Here are some ideas to get you started:
Cheese: Go for a mix of soft, hard, and blue cheeses. Some great options include brie, gouda, cheddar, and goat cheese. Cut them into different shapes and sizes for variety.
Meat: Charcuterie boards are all about cured meats. Some popular options include prosciutto, salami, and chorizo. Consider adding in some pâté or rillettes for a decadent touch.
Fruit and vegetables: Add some color to your board with fresh fruits and vegetables. Grapes, figs, berries, and apples are all great options. Cut up some carrots, celery, and cucumbers for a crunchy and refreshing addition.
Bread and crackers: You'll need something to eat all that cheese and meat with. Breadsticks, crostini, and sliced baguette are great options. For crackers, choose a mix of plain and flavored varieties.
Wine and beer: Don't forget to pair your charcuterie board with the perfect wine or beer. A light-bodied red like Pinot Noir or a crisp white like Sauvignon Blanc pair well with most charcuterie boards. For beer, a saison or sour are great choices.
With these ideas, you can create a beautiful and delicious rustic charcuterie board that's sure to impress your guests. Don't be afraid to get creative and add your own personal touches to make it truly unique.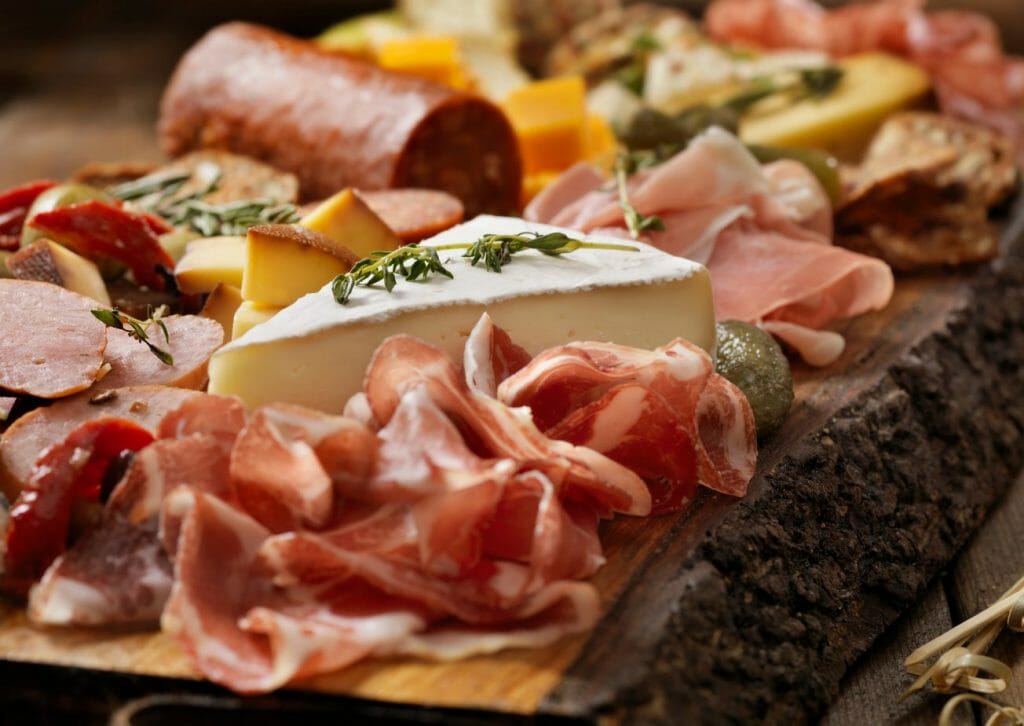 Serving Tips for Rustic Charcuterie Boards
When it comes to serving a rustic charcuterie board, there are a few things to keep in mind to make sure it looks beautiful and is enjoyed by all. First, it's important to have a variety of options available, such as different types of cheeses, meats, fruits, vegetables, breads, and crackers. This not only makes for a visually appealing board but also allows guests to choose their favorites.
When assembling the board, start by placing the larger items first, such as cheese and meat, and then fill in the gaps with smaller items like berries and nuts. This creates a balanced and aesthetically pleasing arrangement. It's also important to provide small serving utensils, such as cheese knives or toothpicks, to make it easy for guests to serve themselves.
When it comes to temperature, cheese and meat should be served at room temperature for optimal flavor. Remove them from the refrigerator at least an hour before serving. It's also important to have enough of each item for all guests to enjoy, and to consider serving sizes and portions. A general rule of thumb is 2-3 ounces of meat and 1-2 ounces of cheese per person.
Finally, when serving a charcuterie board, it's important to consider etiquette and manners. Encourage guests to use the serving utensils provided to avoid using their hands, and remind them to not double-dip or put partially eaten items back on the board. With these tips in mind, serving a rustic charcuterie board will be a breeze, and your guests will be impressed by your hosting skills.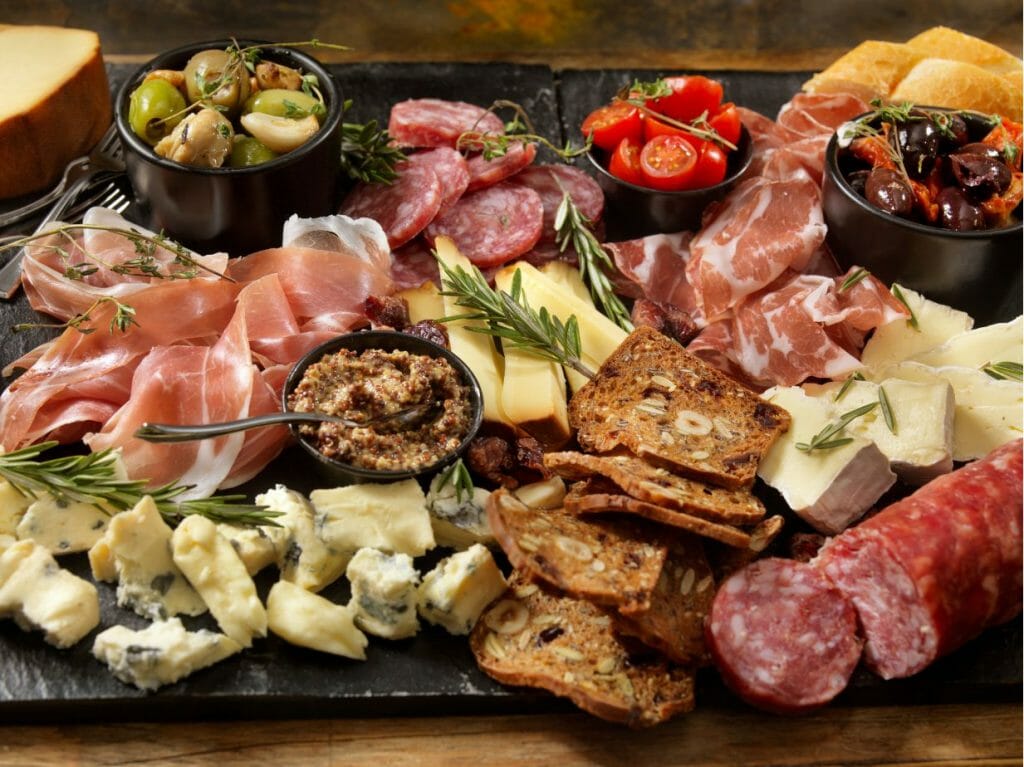 Maintenance and Care for Rustic Charcuterie Boards
Rustic charcuterie boards are not only functional but also a beautiful addition to any kitchen or dining room. With proper care and maintenance, they can last for years and continue to add warmth and character to your space. In this section, we'll explore some tips on how to maintain and care for your rustic charcuterie board.
Cleaning
The first step in maintaining your charcuterie board is to clean it properly after each use. Depending on the material of your board, different cleaning methods may be required. For wooden boards, you should avoid using harsh detergents or soaking the board in water as it can cause warping and cracking. Instead, use a damp cloth and mild soap to wipe down the surface, and then dry it immediately with a clean towel. To disinfect the board, you can use white vinegar or a mixture of lemon juice and salt.
Slate and marble boards can be cleaned with a damp cloth and mild soap, but you should avoid using abrasive cleaners that can scratch the surface. For glass and acrylic boards, you can use a mild dish soap and warm water to clean the surface, and then dry it with a soft cloth.
Storage
In addition to regular cleaning, it's important to properly store your charcuterie board to prevent damage. Wooden boards should be stored in a dry and cool place away from direct sunlight or heat sources. You can also apply mineral oil to the surface every few months to prevent the wood from drying out and cracking.
Accessories such as cheese knives, forks, and spreaders should also be cleaned and stored properly. You can hand wash them with warm water and soap, and then dry them thoroughly before storing them in a dry place.
Overall, taking proper care of your rustic charcuterie board is essential to maintain its beauty and functionality. By following these simple cleaning and maintenance tips, you can enjoy your charcuterie board for years to come.
Trending and Seasonal Themes
When it comes to rustic charcuterie boards, the possibilities for seasonal and themed variations are endless. For example, a fall-themed board might include roasted root vegetables, warm spices, and hearty cheeses. In the winter, consider incorporating cured meats like prosciutto and soppressata, along with nuts and dried fruits for a cozy and comforting vibe.
For summer, fresh and juicy fruits like strawberries, cherries, and peaches make a perfect addition to a rustic board, along with lighter cheeses like goat cheese and feta. You can also add seasonal herbs like basil or mint to bring a refreshing taste to the board.
When it comes to decoration and presentation, the rustic theme is all about simplicity and natural elements. Wooden boards, burlap or linen napkins, and natural greenery like eucalyptus or rosemary can all contribute to the rustic feel of your charcuterie board.
Whether you're serving guests for a special occasion or just enjoying a casual evening with family, a rustic charcuterie board is a beautiful and delicious way to bring people together. So, don't be afraid to get creative and have fun with different ingredients, themes, and presentations to make your rustic charcuterie board truly unique and memorable.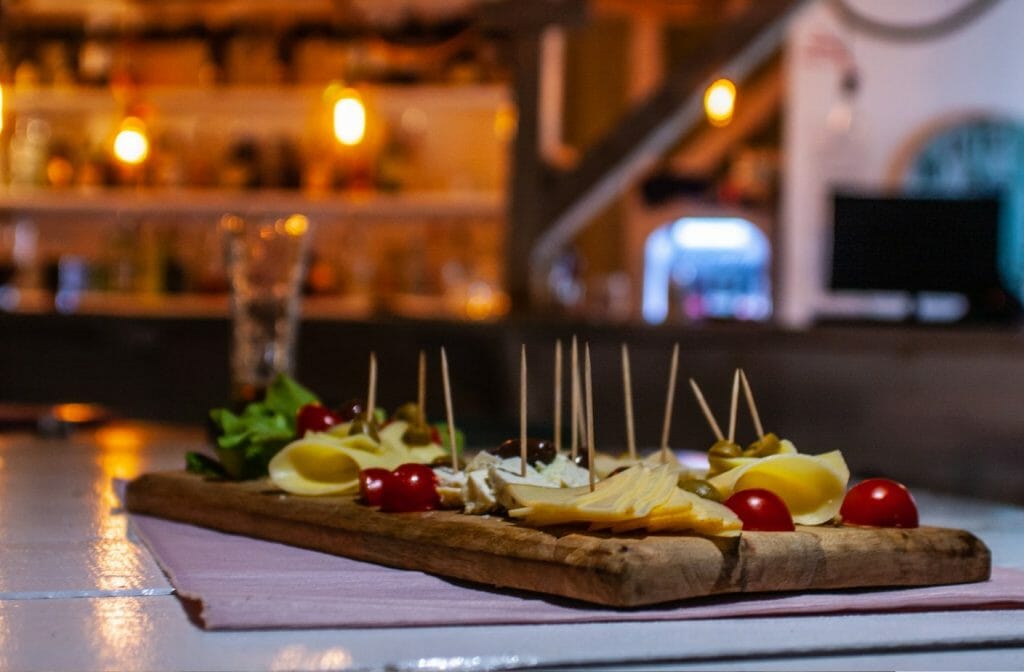 Wrapping It Up
In conclusion, a rustic charcuterie board is an excellent way to entertain guests, whether you are hosting a large party or an intimate gathering. With its versatility and endless options for customization, it's easy to create a charcuterie board that fits any occasion or personal preference.
Overall, the popularity of charcuterie boards continues to grow, as it's a simple and sophisticated way to showcase a variety of delicious foods. With a little creativity and imagination, you can create a charcuterie board that is both aesthetically pleasing and mouth-watering. So, whether you're celebrating a special occasion or simply enjoying a casual night in, a rustic charcuterie board is always a great choice.
---
Frequently Asked Questions
How do you make a rustic charcuterie board?
To make a rustic charcuterie board, start with a wooden board or platter. Choose a variety of meats, cheeses, fruits, nuts, and crackers to arrange on the board. Arrange the larger items first, then fill in the empty spaces with smaller items. Add fresh herbs or flowers for a finishing touch. Remember to balance the colors, textures, and flavors for an appealing presentation.
What is the best wood to use to make a charcuterie board?
The best wood to use to make a charcuterie board is a hardwood that is non-toxic and non-porous, such as maple, walnut, cherry, or acacia. These woods are durable, long-lasting, and won't absorb bacteria or odors, making them ideal for food preparation. It's important to avoid softwoods like pine or cedar, which can release harmful chemicals and have a rough texture that can harbor bacteria. When choosing a wood for your charcuterie board, make sure it is properly seasoned and treated with food-safe finishes like mineral oil or beeswax.
What does a traditional charcuterie board have?
A traditional charcuterie board typically includes a variety of cured meats such as salami, prosciutto, and ham, as well as various types of cheeses, such as brie, cheddar, and gouda. It may also include crackers, bread, nuts, fruits, and spreads like honey or jam. The key to a great charcuterie board is to have a good mix of flavors and textures. Some people also like to include olives, pickles, or other savory snacks to complement the meats and cheeses.
---

---
Share Your Creations:
We'd love to see the charcuterie boards you create using our guide! Feel free to share your own creations in the comments or on social media, and tag us for a chance to be featured. And if you have any other ideas or tips for creating the perfect charcuterie board, we'd love to hear them.
---