As food art continues to grow, a broad range of unique charcuterie boxes has fast become a popular option. Likely inspired by low/no-contact practices during the pandemic, these boxes can feature all your favorite gorgeously arranged treats, presented in a self-contained box. Whether you're making them for fun or as a service through your charcuterie business, these 31 ideas will help spark your creativity! You'll also discover resources to help you save money and access to our charcuterie boxes near me directory so you can find professionals who can help cater an experience your guests will never forget!
Table of Contents [CLICK HERE TO OPEN]
Tackle Boxes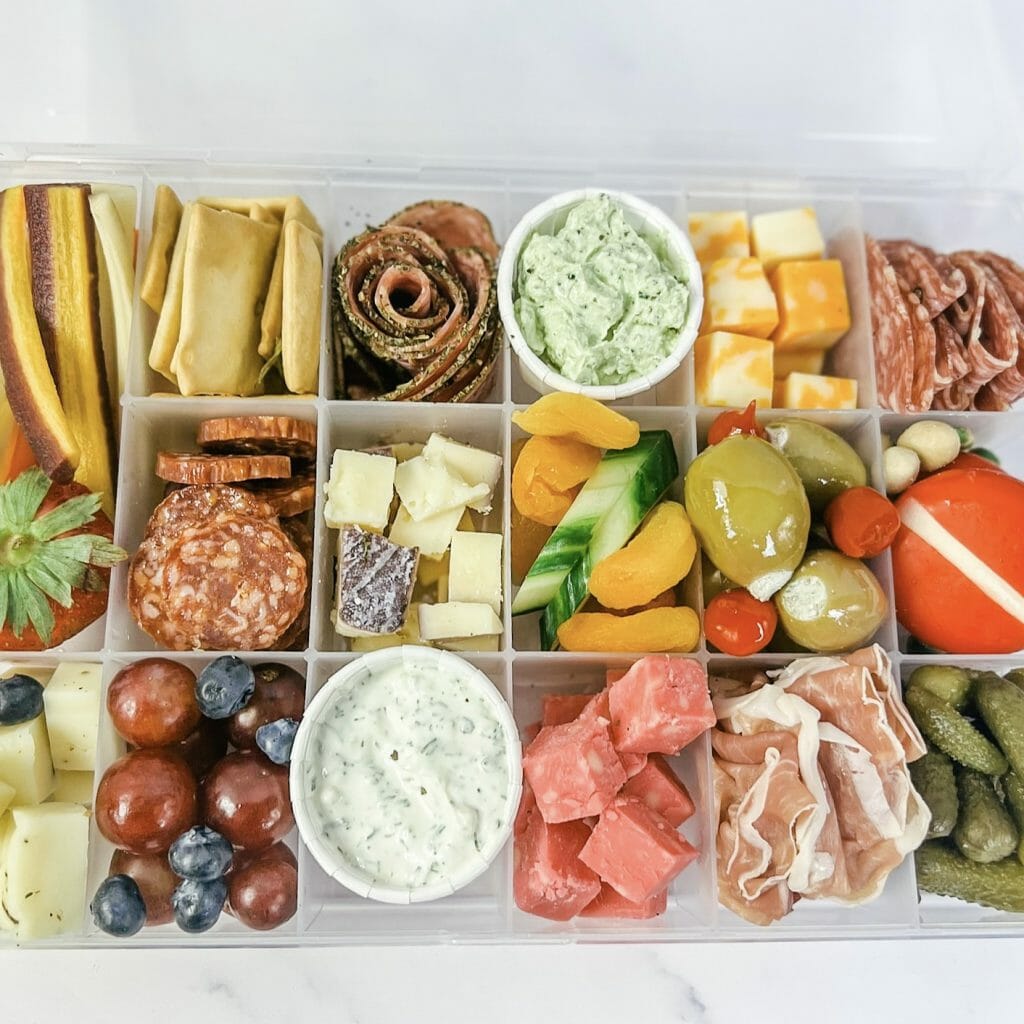 Tackle, also known as a "Snackle box", have become so popular we've written an article to help you explore even more from the world of Snackle/Tackle charcuterie boxes!
The tackle charcuterie boxes are a fun mashup. Created by mixing the traditional charcuterie board with the style of the Japanese bento box. It is made by filling the compartments of a tackle box with your favorite snacks. The snackle box is a fun play on words. One that combines "snack" and "tackle," offering a unique and convenient way to enjoy charcuterie on the go.
Friendly Tip: You probably already guessed this but you'll enjoy it A LOT more if you use NEW tackle boxes rather than trying to repurpose one your grandfather took fishing back in the day ;).
Individual Boxes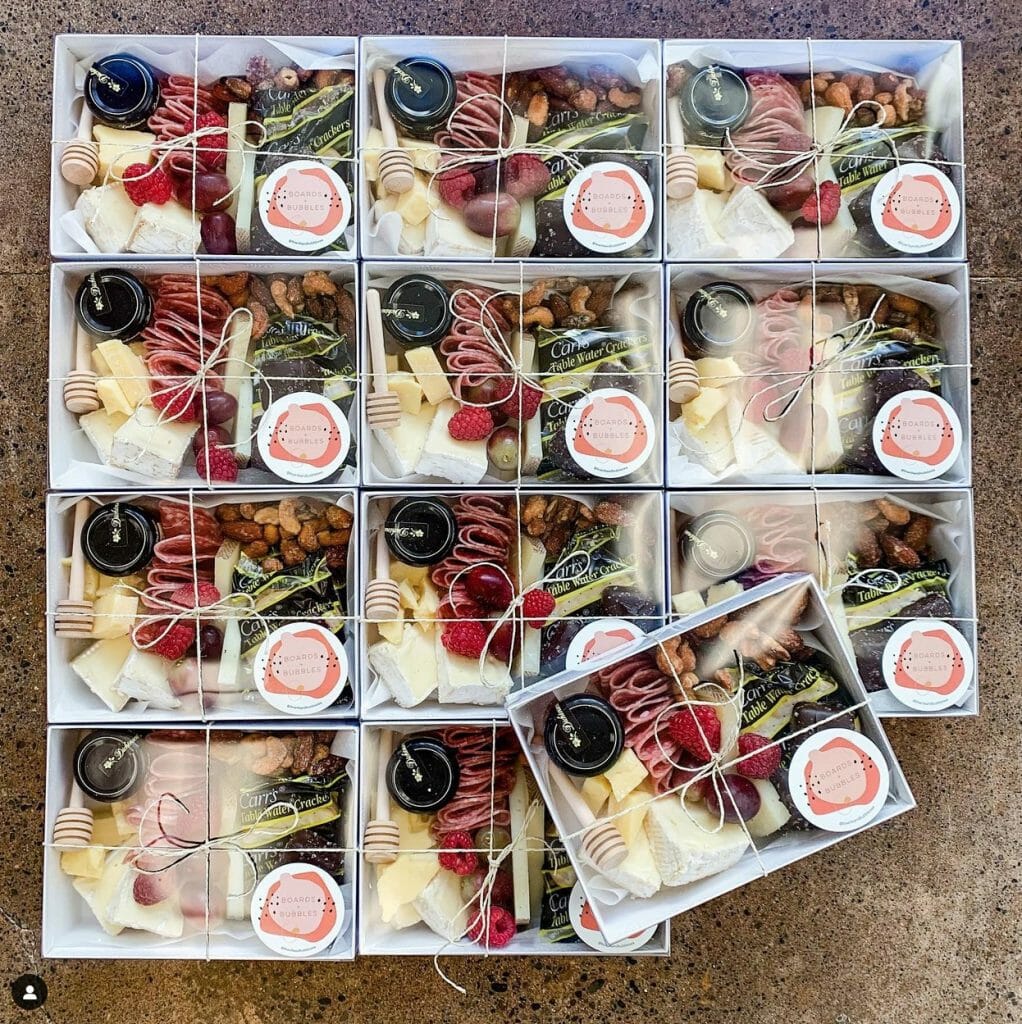 Individual charcuterie boxes, commonly referred to as grazing boxes, are a great way to enjoy your favorite snacks without the hassle of being forced to share. While any theme can be used, they often include an mix of sweet and savory morsels tailored for single servings. These charming boxes make for tasty gifts, bringing joy to any event.
Mini Boxes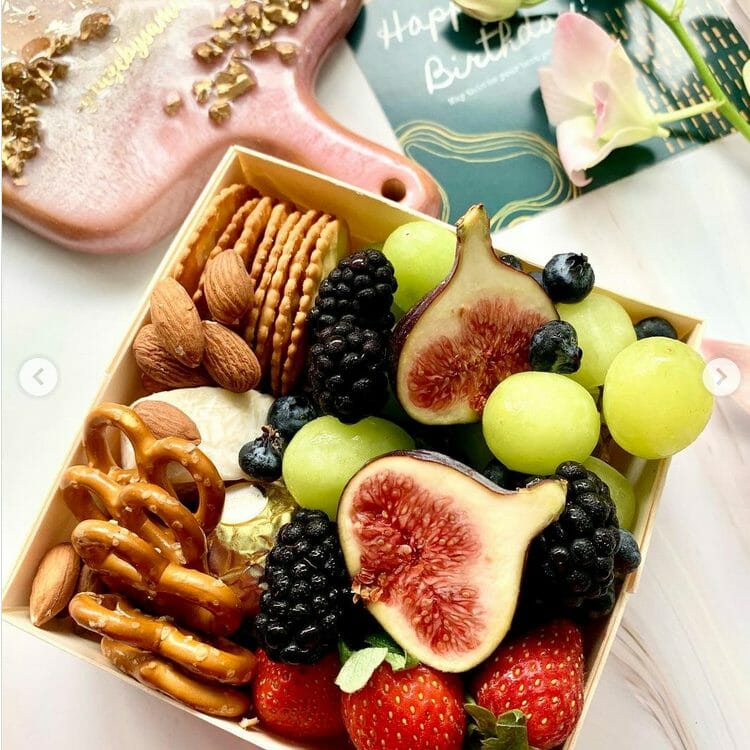 A mini charcuterie box is a fun, bite sized version of the classic charcuterie experience. Just like larger sizes, these petite boxes feature traditional charcuterie flavors or even dedicated desserts. One perfect occasion for displaying these tiny treats is as fun wedding favors placed at each place setting as guests sit down for their meal.
Letter Boxes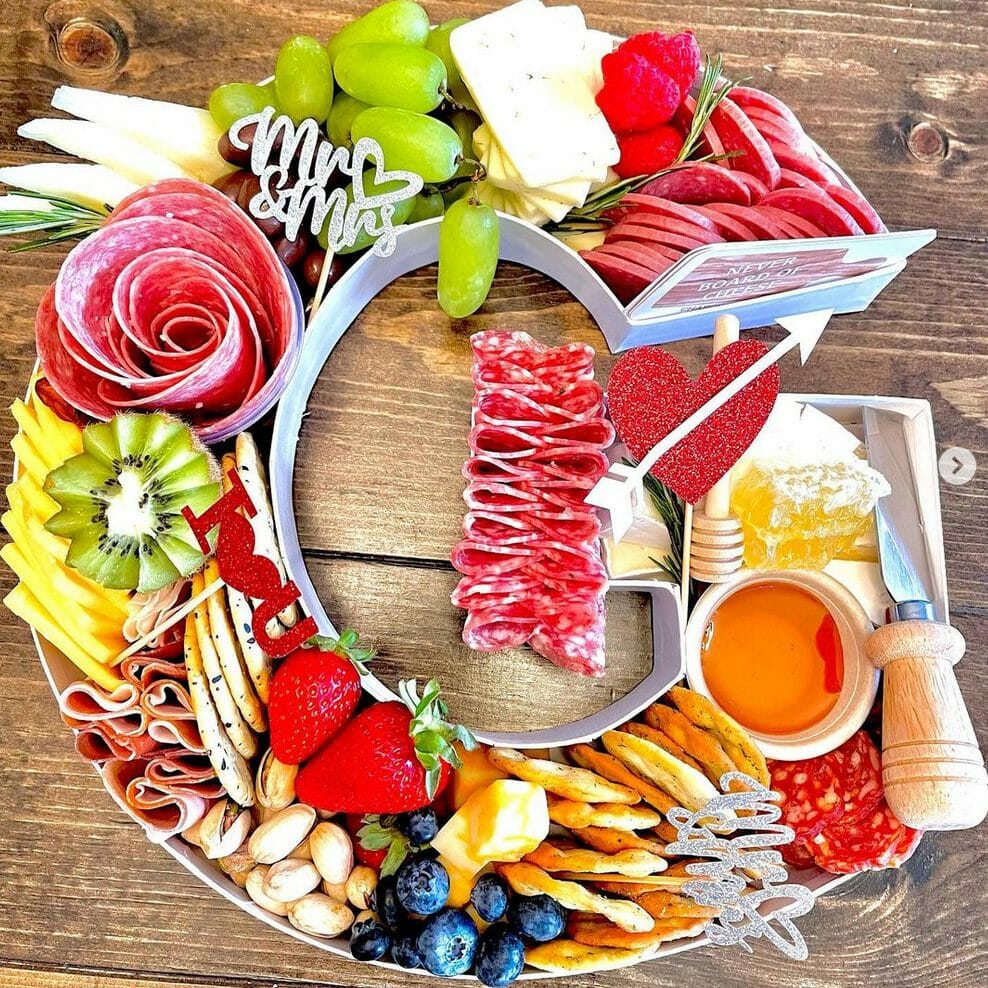 Charcuterie letter boxes are often used to celebrate birthdays and anniversaries. They're an exciting and personalized twist on the traditional charcuterie experience. These creatively arranged boxes spell out letters, numbers or even entire words using a variety of artistically laid out gourmet treats. Perfect for special occasions, gifting, or simply elevating your snack game. Charcuterie letter boxes blend artistry with mouthwatering flavors to create a memorable and enjoyable culinary adventure.
Lunch Boxes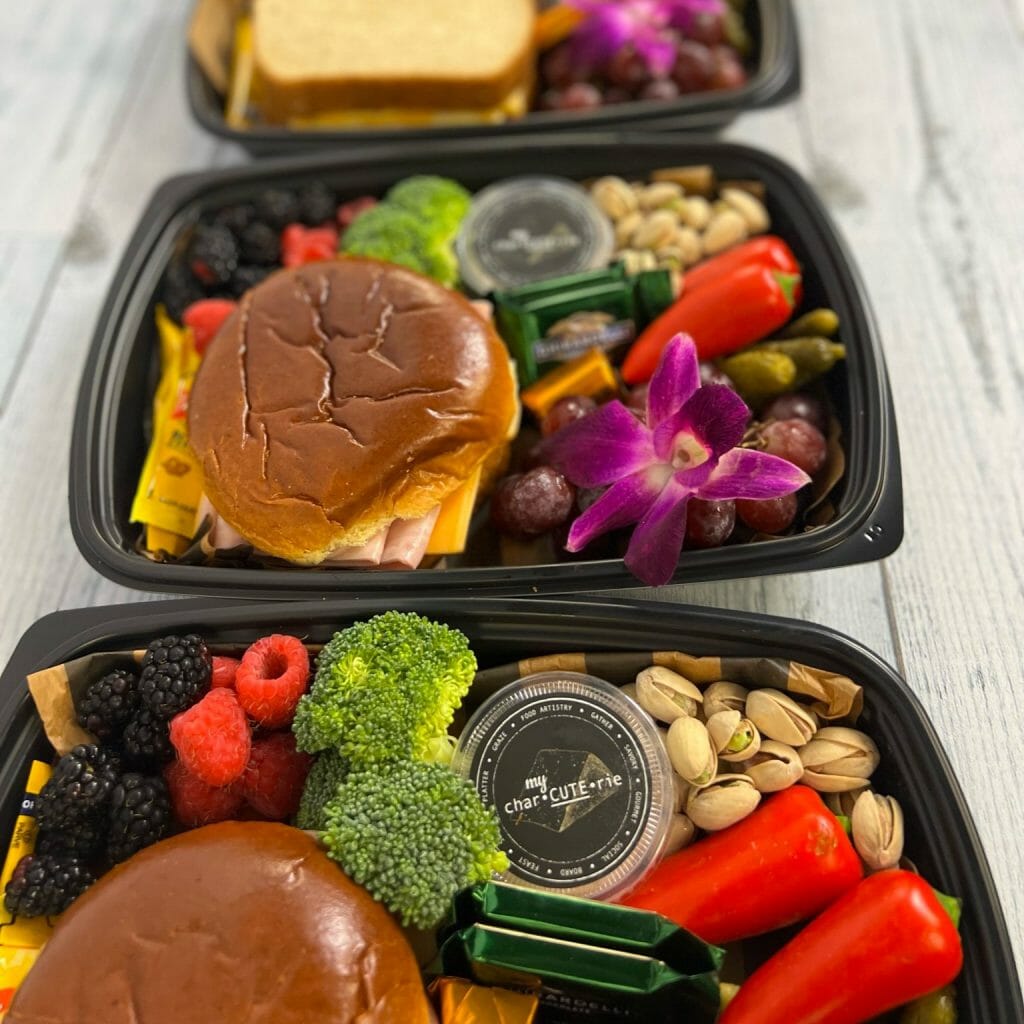 A charcuterie lunch box offers a delicious gourmet meal on the go with an exciting assortment of standard charcuterie elements. Additionally, it may also include more substantial treats such as a fresh salad or even a small sandwich. The main difference between the charcuterie lunchbox vs an individual box is that lunch boxes tend to provide a more filling, meal oriented experience and are often served in plastic rather than cardboard.
Small Boxes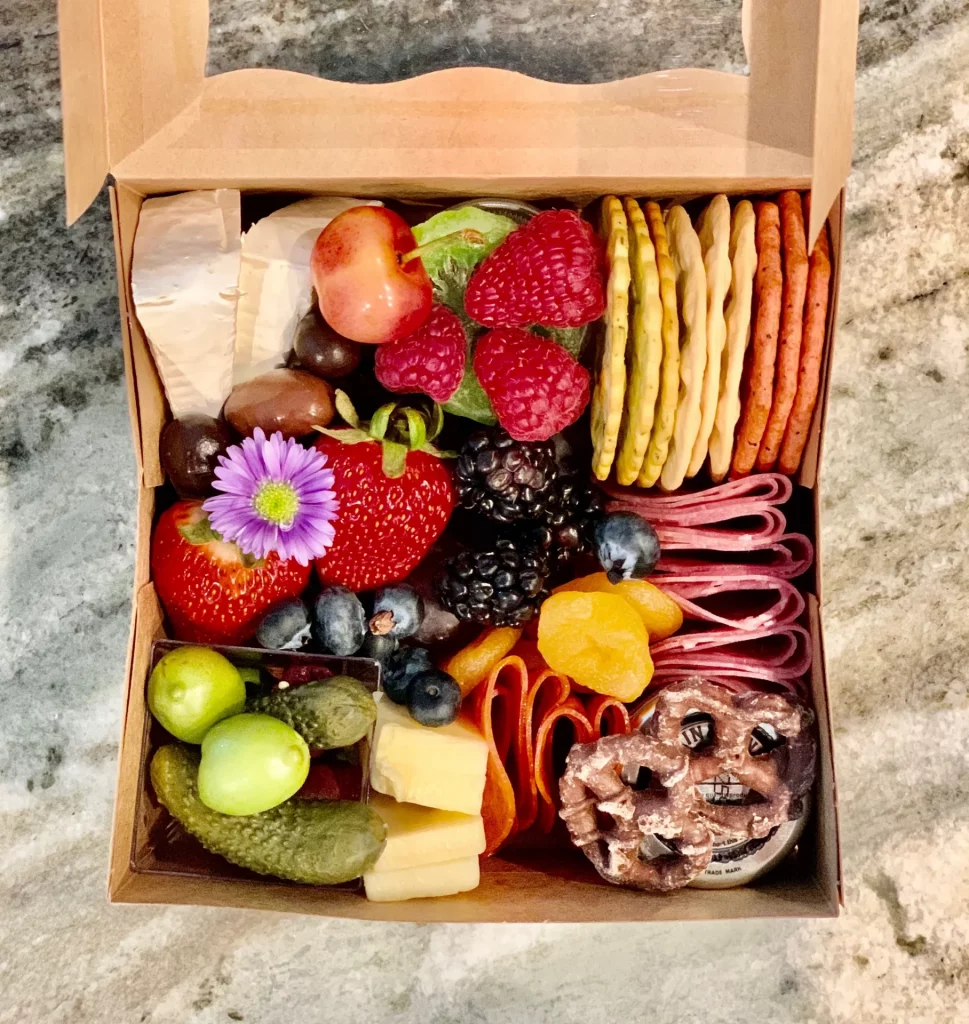 Small charcuterie boxes tend to serve 2-3 people. This makes them ideal for sharing with another charcuterie lover (or keep just to yourself). They're also the perfect gift size to give to teachers, nurses, your boss, or anyone you wish to show appreciation to.
Valentine's Day Boxes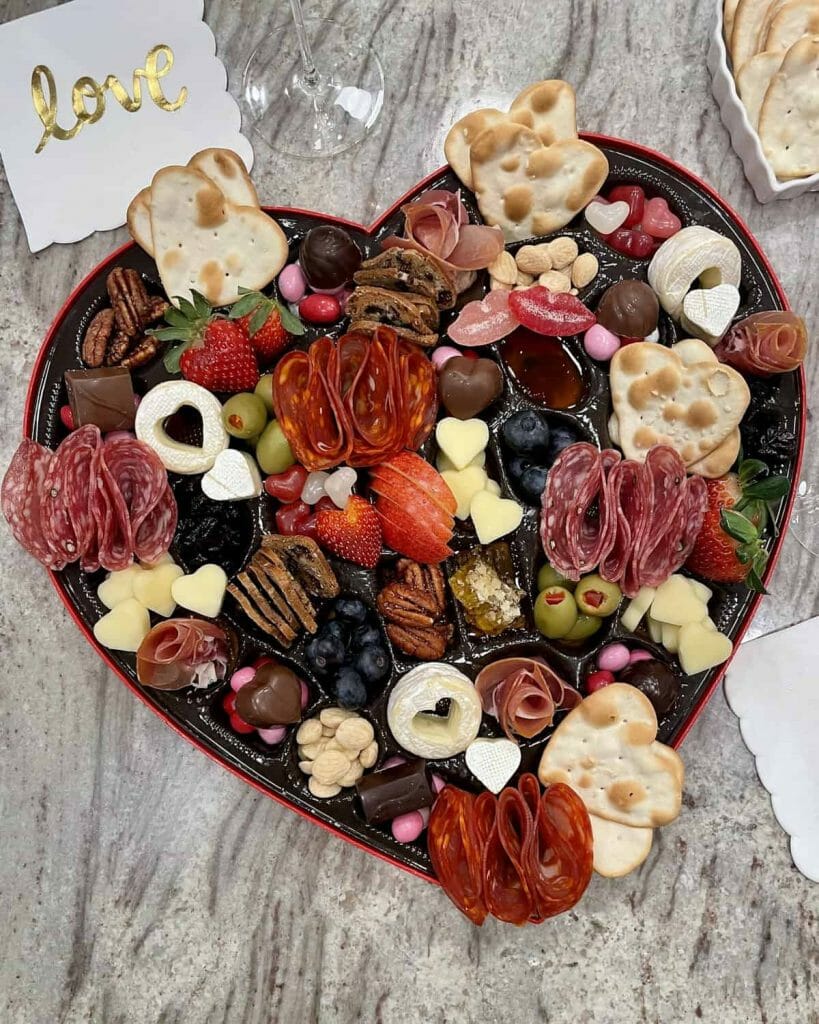 Creating a fun and festive charcuterie board for Valentine's Day is a great way to pamper you valentine. You can make a Valentine's Day themed board out of almost anything. It can be all sweet, or if your valentine prefers savory you can keep it traditional with meats and cheese. Just use a heart shaped cookie cutter to get the theme across. You could even do a brunch board. The ideas are limitless.
Other Great Box Ideas
When it comes to the kind of boxes used to display your charcuterie, there are many colors, styles, and sizes to fuel your culinary creativity. Here are some awesome inspirations from top food artists.
Who says boxes have to be square?
While this isn't a box, everything about this tiny treat is far too perfectly clever to skip.
Where To Get Boxes For Your Business
Here are our top resources to help you find where to buy charcuterie boxes…
Restaurant Ware For boxes with clear lids perfect for display.
Box Genie Fully customizable with your logo and design!
Box Up For more fully customized options.
Alibaba For cute options with bulk order prices.
Packola for custom design boxes and shipping options.
Walmart for lunch boxes and singles.
AliExpress Letter Boxes
Etsy Letter & Number Boxes
Etsy Charcuterie "Cups"
More Great Options from Etsy
Letter Boxes From Amazon
Amazon Charcuterie Boxes
Amazon "Tackle Box" Options
Even more Charcuterie Accessories
Frequently Asked Questions
How To Make Individual Charcuterie Boxes?
Here's how to make individual charcuterie boxes in 8 simple steps:
Choose a suitable box or container size for a single serving.
Select a variety of cured meats, such as prosciutto, salami, and pepperoni.
Pick an assortment of cheeses, including soft, semi-hard, and hard options like brie, cheddar, and Gouda.
Add crackers or crusty bread for texture.
Include fresh and dried fruits, such as grapes, apple slices, and dried apricots.
Incorporate nuts, like almonds or walnuts, for crunch.
Add accompaniments such as olives, pickles, or cherry tomatoes.
Consider spreads like honey, mustard, or fig jam to enhance flavors.
Arrange the items neatly in the box, creating an appealing presentation.
Feel free to customize the contents based on preferences and dietary requirements.
What To Put In A Charcuterie Box?
If your goal is to stay more traditional, include a variety of cured meats, cheeses, crackers, fruits, nuts, and accompaniments. Some popular options are prosciutto, salami, brie, cheddar, grapes, dried apricots, almonds, and olives. Don't forget to add spreads like honey, mustard, or fig jam for an extra layer of flavor. But just like with every style of modern charcuterie, your imagination is the limit! Also keep in mind the size of the box, the flavor preferences of the person/people receiving it as well as any food allergies or intolerance.
What Is A Charcuterie Box?
A charcuterie box is a visually appealing and convenient way to serve a curated selection of cured meats, cheeses, crackers, fruits, nuts, and accompaniments. It is designed for easy sharing and often used for gatherings, events, or as a gourmet gift. The items in the box are artfully arranged to create an enticing presentation that enhances the overall snacking experience.
How Far In Advance Can You Make A Charcuterie Box?
Need to make a charcuterie box in advance and want to make sure it stays fresh? You can prepare everything up to a day ahead of time. However, it's best to assemble everything as close to serving time as possible. This is to prevent the ingredients from becoming soggy or drying out. Be sure to cover the box tightly with plastic wrap and store it in the refrigerator until ready to serve. If you have adequate time before the event, you may store the pre-sliced ingredients separately and then combine just before you serve.
PRO TIP: Remember that nuts and starches can get soft and lose flavor when refrigerated. It is often best to wrap any breads/crackers and keep outside the fridge with nuts in their own container.
How Much To Charge For Charcuterie Box?
To determine how much to charge for a charcuterie box, consider the cost of ingredients, labor, packaging, and any overhead expenses. Calculate the total cost, then add a profit margin, typically between 25% and 50%. Keep in mind that pricing may vary based on many factors. Such as the size of the box, the quality/quantity of ingredients, and local market demand. It's a good idea to research competitor pricing in your area. Make sure your charcuterie box is competitively priced while still providing a reasonable profit.
Pro Tip: You can easily calculate how much you should charge by multiplying your cost of goods by 100% + your desired profit margin as a percentage. For example, if your cost of goods is $45 and you want a 35% profit margin, the calculation would look like this:
$45 + 135% = $60.25 + applicable taxes
To Sum It All Up…
Given the endless possibilities for charcuterie box arrangements and their practicality for storage and transportation, these delightful creations aren't disappearing anytime soon. If you have a charcuterie business, be sure to offer boxes as part of your service. They are in high demand. Food artists, don't hesitate to share your inventive designs with us, so we can help you shine. Embrace your imagination and experiment—there's no limit to what you can achieve.