Welcome to the world of charcuterie boards, where artistry meets flavors and debates ignite over the placement of one humble ingredient: celery. In this article, we delve into the exciting realm of charcuterie boards and explore the intriguing "celery gate" controversy. Should celery be celebrated as a key component or merely a decorative touch? Join us as we unravel the secrets of this age-old debate and uncover the true potential of celery for charcuterie boards. Prepare for an enlightening journey filled with expert tips, creative ideas, and mouthwatering combinations that will make your charcuterie board the talk of the town. Let's settle the celery debate and unlock a world of charcuterie possibilities!
TIP: Thinking about starting or growing your own grazing business?  Join us for our FREE, on-demand training that will show you exactly how to start today! Click here to read more >>
Table of Contents [CLICK HERE TO OPEN]
Crunchy Controversies
Picture this: a beautiful wooden board adorned with an exquisite arrangement of cured meats, artisanal cheeses, olives, and an array of tantalizing accompaniments. Charcuterie boards have become the go-to choice for entertaining, offering a feast for the eyes and a symphony of flavors. But amidst the savory delights, one ingredient has sparked a spirited debate: celery.
Addressing the "Celery Gate" Debate
Ah, the "celery gate" controversy. It's the discussion that has charcuterie enthusiasts divided. Should celery be given a prime spot on the board or treated as a mere afterthought? Some argue that it adds a refreshing crunch and a hint of herbaceousness, while others dismiss it as unnecessary filler. The battle rages on, fueling spirited conversations and inspiring passionate opinions.
But fear not, dear reader, for we are here to shed light on this ongoing debate. In this article, we aim to explore the role of celery on charcuterie boards, examining its versatility and potential to elevate your culinary experience. Whether you're a celery enthusiast or a skeptic, we invite you to join us on this journey of discovery.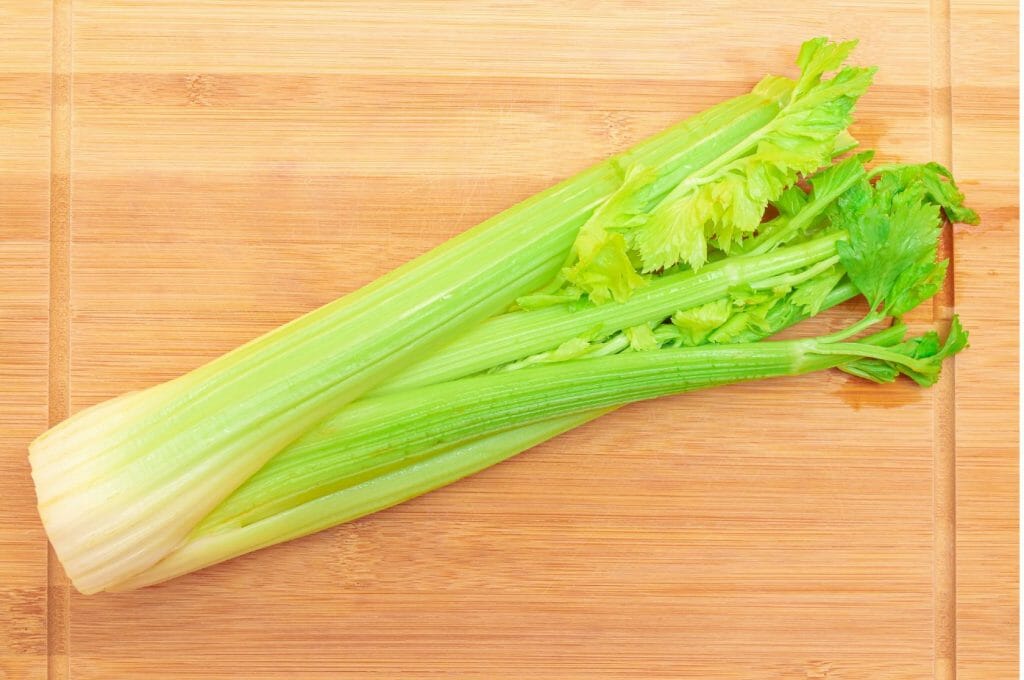 What We'll Be Covering
Our mission is clear: to guide you in selecting and using celery effectively for charcuterie boards. We will delve into the world of flavors, textures, and artistry, sharing insights, tips, and creative ideas to help you craft the perfect charcuterie masterpiece. From understanding different celery varieties to exploring exciting pairings and presentation techniques, we'll leave no stone unturned.
But that's not all. This article goes beyond the celery debate. We'll also delve into recent trends and innovations in the world of celery-based charcuterie, tantalizing your taste buds with unique flavor combinations and artistic presentations. And fear not, we'll equip you with practical tips for storing, handling, and reviving celery to ensure optimal freshness and crispness.
So, whether you're a seasoned charcuterie connoisseur or a curious newcomer, fasten your seatbelts and get ready to embark on a culinary adventure like no other. Together, let's settle the "celery gate" debate and unlock the true potential of celery for charcuterie boards. Let's make your next gathering a feast for all the senses!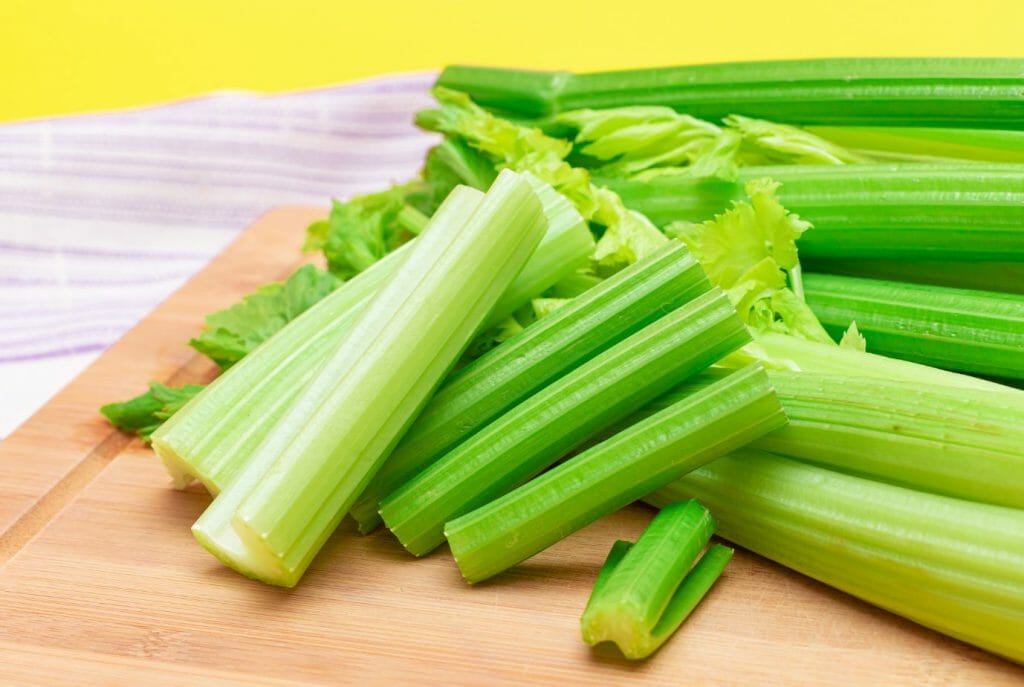 The Role of Celery on Charcuterie Boards
The Versatility of Celery as an Ingredient
Celery, often considered a humble vegetable, holds a special place on charcuterie boards. Its versatility knows no bounds, making it an essential component that can add depth and complexity to your culinary creations. Beyond being a mere garnish, celery brings a refreshing crunch and a delicate balance of flavors to the ensemble.
One of the remarkable qualities of celery is its ability to complement a wide range of ingredients. Its mild yet distinct taste effortlessly harmonizes with the richness of cured meats, the creaminess of cheeses, and the brininess of pickles and olives. Whether you prefer a classic charcuterie board or wish to experiment with bold flavor combinations, celery can serve as a unifying element that ties the ensemble together.
Enhancing Flavors and Textures
Celery's crisp texture and clean, herbaceous notes provide a delightful contrast to the richness of other charcuterie board elements. When you take a bite, the snap of celery releases a burst of freshness, awakening your palate and revitalizing your taste buds. Its subtle natural saltiness adds a touch of savory complexity, elevating the overall flavor profile of the board.
Furthermore, celery's fibrous nature lends itself well to spreading or holding dips and spreads. Imagine a dollop of creamy goat cheese nestled within a crisp celery stalk or a tangy hummus clinging to the natural crevices of the vegetable. These delightful combinations not only tantalize the taste buds but also create a visual feast, adding depth and dimension to your charcuterie board presentation.
Debunking Misconceptions: The "Celery Gate" Controversy
The "celery gate" controversy continues to stir debate among charcuterie aficionados. Some argue that celery should be banished from the board, dismissing it as a tasteless filler that adds little value. However, we firmly believe that celery's inclusion on a charcuterie board is a matter of personal preference and creativity.
While it's true that celery might not be the star of the show, its subtle presence can enhance the overall experience. It serves as a refreshing palate cleanser, providing a respite from the richness of cured meats and cheeses. Moreover, when paired with the right ingredients, celery can surprise and delight, adding layers of flavor and textural interest.
So, let's put an end to the "celery gate" controversy and embrace the possibilities that this versatile vegetable offers. In the upcoming sections, we'll delve into selecting the best celery for your charcuterie board, explore creative pairings and presentations, and even share mouthwatering recipes that showcase the true potential of celery. Stay tuned!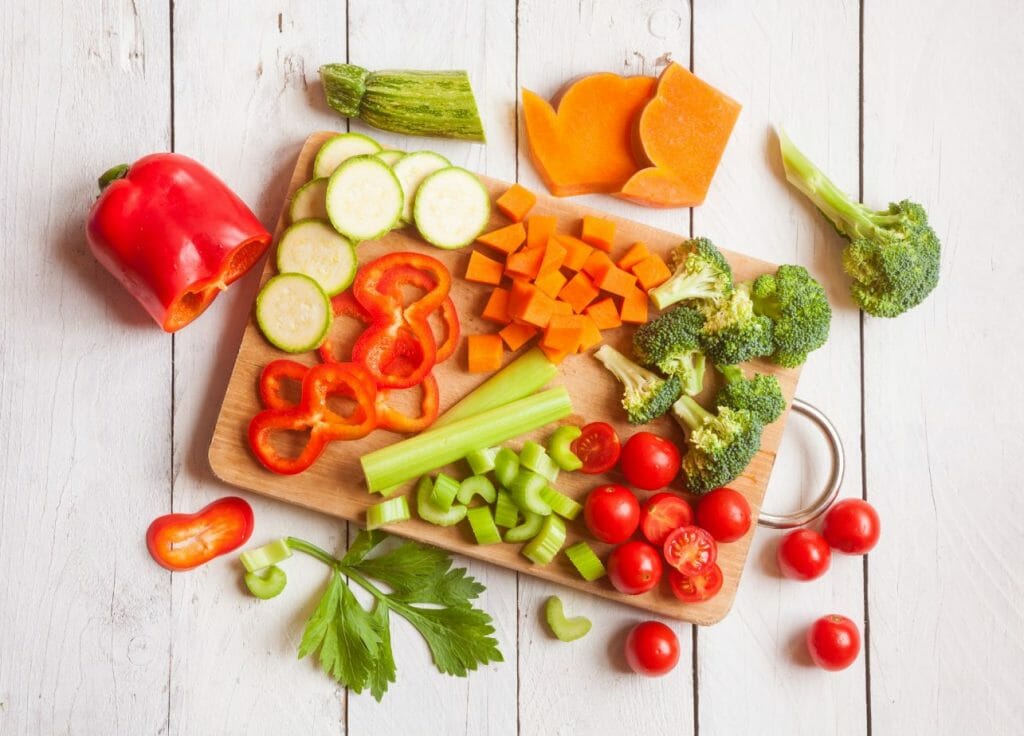 Selecting the Best Celery for Charcuterie Boards
Understanding Celery Varieties
When it comes to selecting celery for your charcuterie board, it's essential to consider the different celery varieties available. While the most common type is the familiar green celery, there are other varieties worth exploring. These include celery hearts, which have a milder flavor and tender texture, and celeriac (celery root), known for its earthy taste and versatility in both raw and cooked preparations.
Each variety brings its unique characteristics to the table, allowing you to experiment and tailor your charcuterie board to your preferences. Whether you opt for the classic green celery or venture into the realm of celery hearts or celeriac, choose the variety that best complements your chosen meats, cheeses, and accompaniments.
Freshness and Quality Indicators
When selecting celery for your charcuterie board, freshness is key. Look for celery stalks that are firm, crisp, and vibrant in color. The leaves should be green and perky, indicating that the celery is still fresh and full of flavor. Avoid stalks that appear wilted, limp, or have yellowed leaves, as these are signs of aging and potential loss of flavor.
Another useful tip is to check the bottom ends of the celery stalks. Ideally, they should be plump and free from excessive browning. Additionally, give the celery a gentle squeeze to ensure it feels firm and sturdy. Fresh celery will have a satisfying crunch when you bite into it, adding that delightful textural element to your charcuterie board.
Organic and Sustainable Options
As our awareness of sustainable farming practices grows, many individuals are seeking organic and sustainable options for their food choices, including celery. Organic celery is grown without the use of synthetic fertilizers, pesticides, or genetically modified organisms (GMOs), offering a more environmentally friendly and potentially healthier choice.
When shopping for celery, keep an eye out for organic certifications or look for local growers who follow sustainable farming practices. Supporting these practices not only contributes to a healthier planet but also allows you to enjoy celery with peace of mind, knowing that it has been cultivated with care and respect for the environment.
Now that you understand the different celery varieties and how to identify fresh and high-quality celery, you're well-equipped to make the best selection for your charcuterie board. In the upcoming sections, we'll delve into tips for incorporating celery seamlessly into your board, explore creative pairings, and even share mouthwatering recipes that showcase the true potential of this versatile vegetable.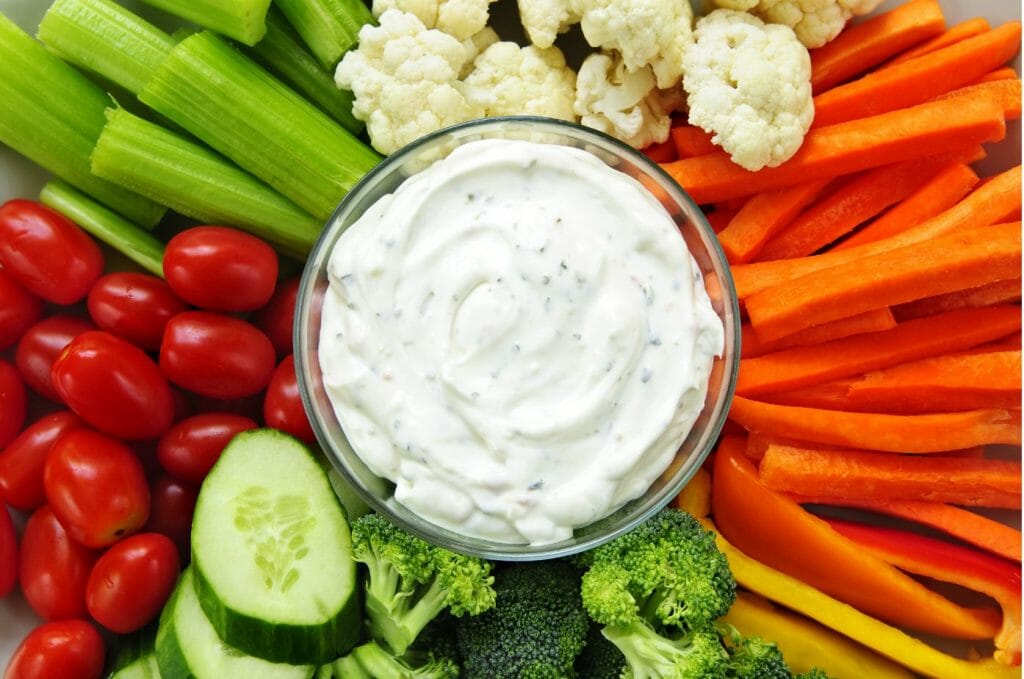 Pairing and Presenting Celery on Charcuterie Boards
Complementary Meats and Cheeses
When it comes to pairing celery on your charcuterie board, it's important to consider the flavors and textures that work well together. Celery's crispness and mild flavor make it a versatile companion to a variety of meats and cheeses. For a classic combination, consider serving celery alongside thinly sliced prosciutto or salami. The saltiness and richness of these cured meats beautifully contrast with the refreshing crunch of celery, creating a delightful balance.
If you're looking for a bolder flavor profile, pair celery with sharp or aged cheeses. The tanginess of cheddar or the nuttiness of Gruyère can be complemented by the clean and crisp taste of celery. You can also experiment with soft cheeses like goat cheese or creamy brie, spreading them on celery stalks for a creamy and refreshing bite.
Creative Celery Arrangements
To make your charcuterie board visually appealing and enticing, it's essential to think creatively about how you arrange the celery. Instead of simply placing whole stalks, consider cutting them into shorter pieces or even diagonally for added visual interest. This not only makes it easier for guests to grab a bite but also adds dimension and texture to your presentation.
Additionally, you can incorporate other elements to enhance the overall aesthetics of your charcuterie board. Intersperse celery stalks with other colorful vegetables like radishes, cherry tomatoes, or baby carrots to create a vibrant and eye-catching display. You can also use celery leaves as a garnish or to add a pop of green to your arrangement.
Balancing Colors and Textures
When assembling your charcuterie board, aim for a balance of colors and textures. Celery, with its bright green hue, provides a refreshing burst of color that can be complemented by other vibrant ingredients. Think of juicy grapes, slices of ripe melon, or even a handful of fresh herbs like parsley or dill. These additions not only add visual appeal but also contribute to a diverse range of flavors and textures.
In terms of texture, celery's crispness can be balanced with softer elements on the board. Consider including creamy spreads like hummus or pâté, which can be spread on celery stalks for a creamy and crunchy combination. Olives, pickles, or marinated artichoke hearts can also add a satisfying contrast in texture when paired with celery.
If you've chosen a specific celery variety, such as celery hearts or celeriac, don't be afraid to highlight their unique attributes on your charcuterie board. These variations can offer a different flavor profile or texture, adding intrigue and diversity to the overall experience.
By thoughtfully pairing and presenting celery on your charcuterie board, you can create a visually appealing and flavor-packed ensemble that will impress your guests. Experiment with different combinations and arrangements, and don't forget to consider the overall balance of colors and textures. In the next section, we'll explore some mouthwatering recipes that showcase the versatility of celery and its role in elevating charcuterie board creations.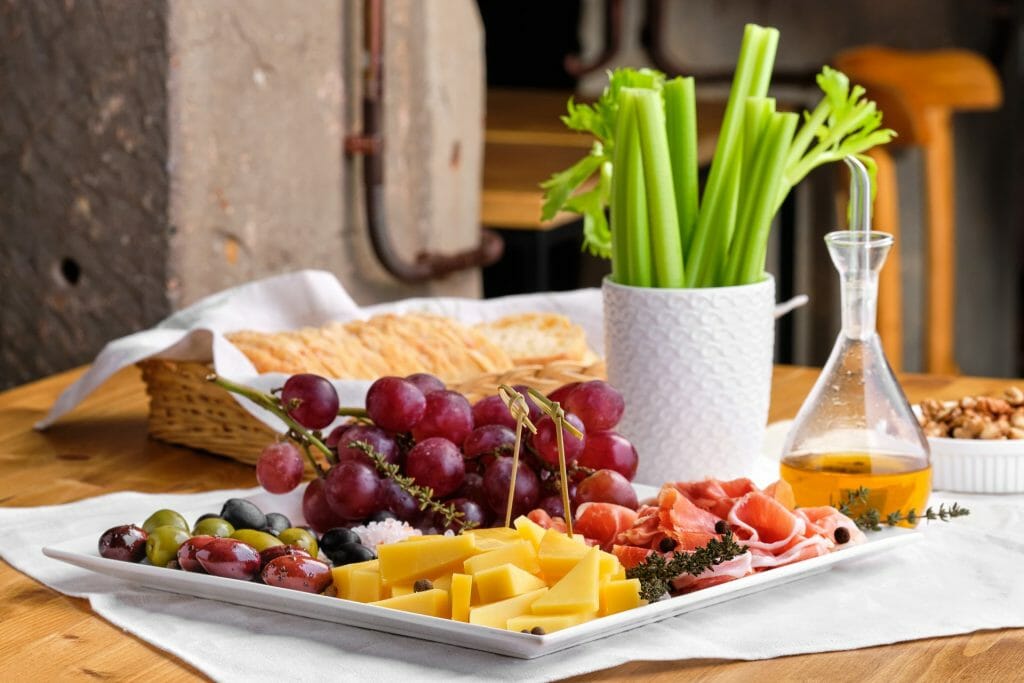 Elevating Your Charcuterie Experience with Celery-Based Recipes
Celery Dips, Spreads, and Sauces
Take your charcuterie board to the next level by incorporating delicious celery-based dips, spreads, and sauces. These flavorful additions not only enhance the taste of your meats and cheeses but also provide a unique twist to your charcuterie experience. One popular option is celery hummus, where you can blend cooked chickpeas, tahini, garlic, lemon juice, and of course, celery, to create a creamy and savory dip. Serve it alongside your charcuterie board, and watch as your guests dive in with delight.
Another delectable choice is a tangy celery ranch dip. Mix together sour cream or Greek yogurt, mayonnaise, fresh dill, parsley, garlic powder, onion powder, and finely chopped celery. This zesty dip pairs perfectly with crisp celery stalks and adds a refreshing kick to your charcuterie spread.
Celery Salad Ideas
If you're looking to add a refreshing and crunchy element to your charcuterie board, consider incorporating celery salads. These salads not only provide a burst of flavor but also add a vibrant and colorful component to your spread. One delightful option is a celery, apple, and walnut salad. Thinly slice celery stalks and crisp apples, then toss them with toasted walnuts, lemon juice, olive oil, and a sprinkle of salt. This combination of sweet and tangy flavors creates a harmonious blend that pairs well with a variety of cured meats and cheeses.
For a Mediterranean-inspired twist, try a celery and fennel salad. Thinly slice celery and fennel bulbs, then dress them with lemon juice, extra virgin olive oil, salt, and pepper. Add some shaved Parmesan cheese and chopped fresh herbs like basil or mint for an extra burst of flavor. This vibrant salad adds a refreshing and aromatic component to your charcuterie board, making it a crowd-pleasing choice.
Incorporating Celery in Charcuterie Wraps and Rolls
If you're seeking a portable and handheld option for your charcuterie enjoyment, consider incorporating celery in wraps and rolls. Use celery stalks as a base for wrapping slices of prosciutto or other cured meats. You can also layer your favorite cheeses, such as creamy goat cheese or tangy blue cheese, on celery stalks, and roll them up for a quick and easy bite.
For a refreshing twist, try making cucumber and celery rolls. Slice cucumbers lengthwise into thin strips, and spread a layer of cream cheese or hummus on each strip. Place a celery stalk in the center and roll it up tightly. These crunchy and flavorful rolls provide a light and refreshing alternative on your charcuterie board.
Remember, the "Celery Gate" controversy should not overshadow the true versatility and deliciousness that celery brings to the world of charcuterie.
By incorporating celery-based recipes such as dips, spreads, salads, and wraps into your charcuterie board, you'll elevate your culinary experience and impress your guests. These creative and tasty additions showcase the versatility of celery and its ability to enhance flavors and textures. In the next section, we'll explore some creative ways to garnish and decorate your charcuterie board, ensuring it becomes a feast for the eyes as well as the taste buds.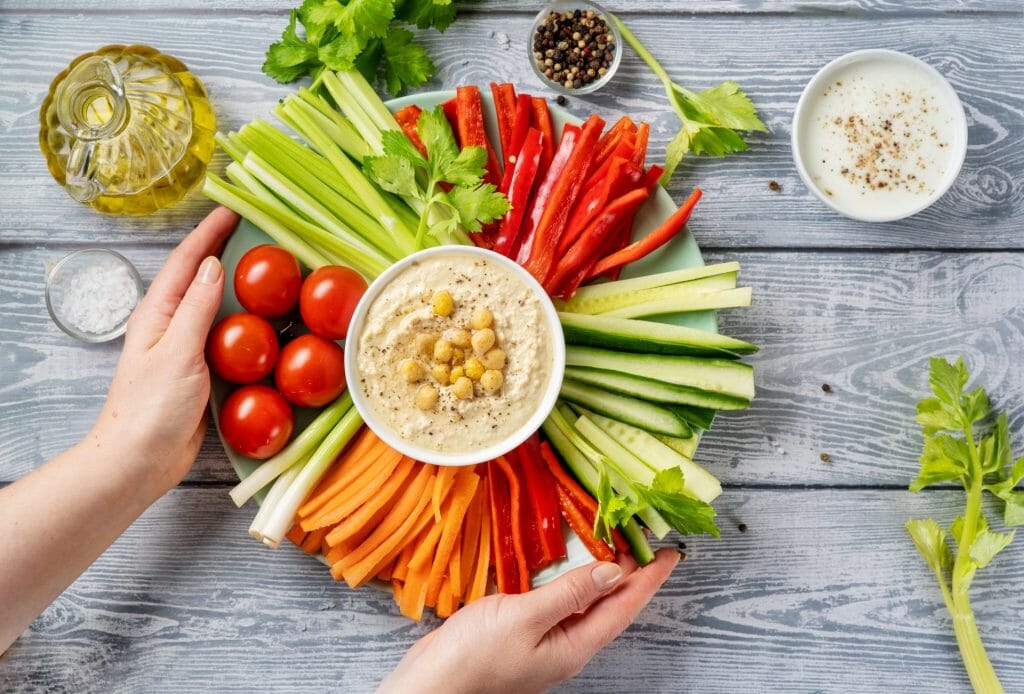 Recent Trends and Innovations in Celery-Based Charcuterie
As the world of charcuterie continues to evolve, so does the role of celery in creating exciting and innovative flavor combinations. Recent trends and innovations have brought about unique ways to incorporate celery into your charcuterie board, allowing you to surprise and delight your guests with unexpected pairings and artistic presentations.
Unique Flavor Combinations and Unexpected Pairings
One fascinating trend in celery-based charcuterie is the exploration of unexpected flavor combinations. Gone are the days of traditional pairings—now, it's all about pushing the boundaries and creating harmonious yet surprising taste experiences. For example, try pairing thinly sliced celery with slices of smoked salmon and a dollop of citrus-infused cream cheese. The crispness of the celery complements the smoky richness of the salmon, while the tangy cream cheese adds a delightful twist.
Another intriguing combination is to pair celery with figs and blue cheese. The natural sweetness of the figs, combined with the creamy and pungent blue cheese, creates a symphony of flavors that is beautifully balanced by the crisp and refreshing celery. These unexpected pairings add a touch of excitement and intrigue to your charcuterie board, making it a memorable experience for your guests.
Miniature Celery Garnishes and Accents
Innovations in celery-based charcuterie also include the use of miniature celery garnishes and accents. Instead of using full-sized celery stalks, consider incorporating petite celery leaves or thinly sliced celery ribbons as delicate garnishes. These miniature elements add a touch of elegance and visual appeal to your board, making it Instagram-worthy and a feast for the eyes.
Artistic Presentations and Instagram-Worthy Boards
Speaking of Instagram-worthy boards, recent trends in celery-based charcuterie emphasize the importance of artistic presentations. It's not just about the flavors anymore; it's about creating a visually stunning masterpiece that will make your followers drool. Arrange your celery stalks in a beautiful crisscross pattern, creating an intricate design that serves as a centerpiece for your board. Combine different colors and textures by incorporating colorful vegetables, fruits, and edible flowers to create a vibrant and eye-catching display.
Remember, the key to an aesthetically pleasing charcuterie board is balance and variety. Experiment with different shapes, sizes, and arrangements to create a visually appealing composition. Incorporate other elements such as decorative cheese knives, wooden boards, and rustic serving bowls to add an extra touch of charm.
While the "Celery Gate" controversy may have sparked debates, it's important to focus on the exciting possibilities and trends that are emerging in the world of celery-based charcuterie.
By staying up-to-date with the latest trends and innovations in celery-based charcuterie, you can infuse your charcuterie board with creativity and flair. Embrace unique flavor combinations, experiment with miniature garnishes, and let your artistic side shine through in the presentation. In the next section, we'll explore some practical tips for assembling and serving your charcuterie board, ensuring that it becomes the star of your next gathering.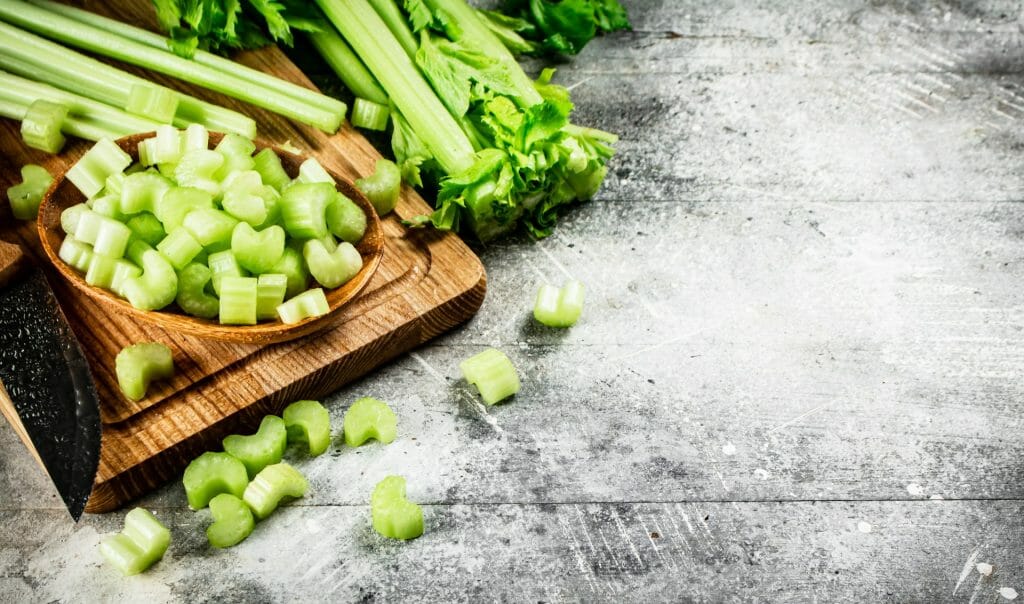 Tips for Storing and Handling Celery for Charcuterie
To ensure that your celery remains fresh, crisp, and ready to shine on your charcuterie board, proper storage and handling techniques are essential. Let's explore some tips to maximize the freshness and revive celery for optimal presentation.
Maximizing Freshness and Crispness
When selecting celery for your charcuterie board, look for stalks that are firm, with vibrant green leaves. Avoid celery that appears wilted or has soft spots. Once you bring it home, remove any packaging or rubber bands and store it in the refrigerator. To maintain freshness, wrap the celery tightly in aluminum foil or place it in a resealable bag, as this helps retain moisture and prevents it from drying out.
Proper Cleaning and Preparing Techniques
Before using celery on your charcuterie board, it's crucial to clean and prepare it properly. Start by trimming off the leafy tops and the base of the stalks. Rinse the celery thoroughly under cold water, using a gentle scrub brush to remove any dirt or debris. Pat it dry with a clean kitchen towel or paper towels.
For the best presentation, consider peeling the fibrous strings from the outer layer of the celery stalks. This step is optional but can improve the overall texture and appearance of the celery. To do this, simply use a vegetable peeler to remove the outer strings by running it along the length of the stalk.
Reviving Celery for Optimal Presentation
Sometimes, even with the best storage techniques, celery can lose its crispness over time. But fret not, because there's a simple trick to revive limp celery and restore its crunch. Fill a bowl with ice water and immerse the celery stalks in it for about 30 minutes. The cold water helps hydrate the celery and brings back its crisp texture. Afterward, pat the celery dry before arranging it on your charcuterie board.
By following these tips, you'll ensure that your celery remains fresh, crisp, and vibrant when it takes center stage on your charcuterie board. Proper storage, cleaning, and reviving techniques contribute to a visually appealing and delightful culinary experience. In the next section, we'll dive into some creative serving suggestions and finishing touches that will elevate your charcuterie board to new heights of culinary artistry.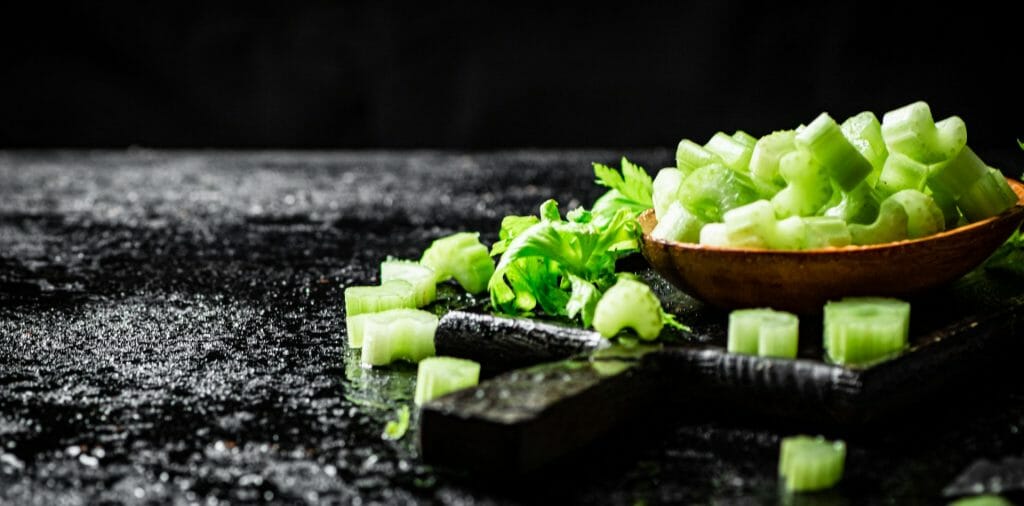 Wrapping It Up
As we come to the end of our exploration into the world of celery for charcuterie boards, it's evident that celery holds a special place in this culinary art form. Its versatility, crunch, and refreshing flavor make it a valuable addition to any charcuterie spread. But beyond its inherent qualities, celery also sparks debates, as we witnessed with the infamous "Celery Gate." However, it's important to remember that the joy of charcuterie lies in personal preference and creativity.
While some may argue about the role of celery on charcuterie boards, the ultimate goal is to create an experience that pleases your taste buds and brings delight to your guests. Whether you choose to embrace the traditional pairing of celery with meats and cheeses or explore unique flavor combinations, the choice is yours. Let your creativity soar as you arrange celery in artistic patterns, experiment with different varieties, and innovate with celery-based recipes.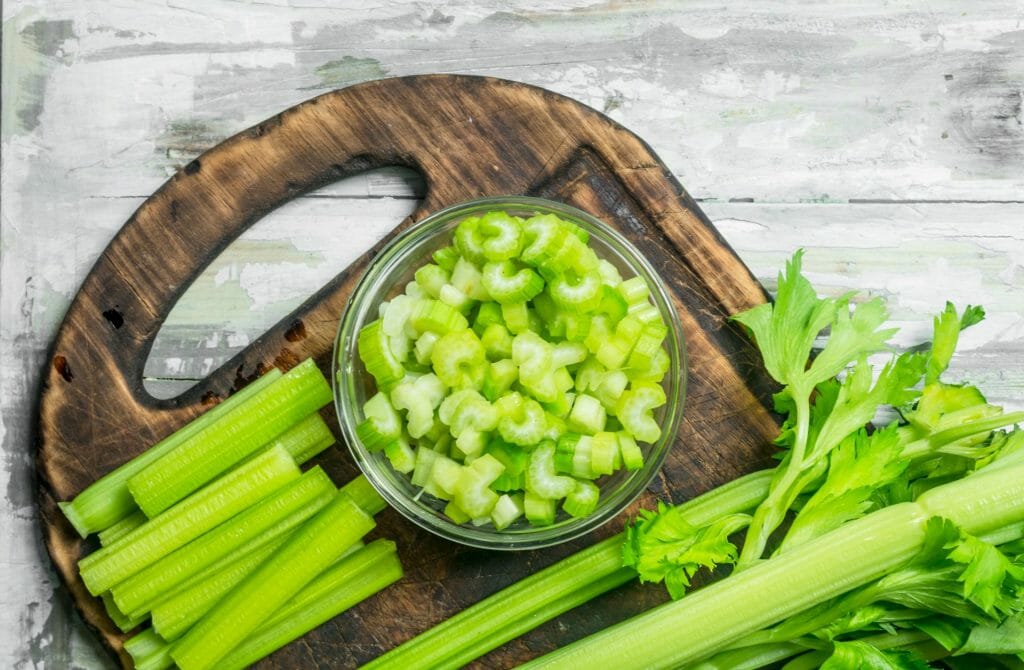 There Is No Right Or Wrong
Remember, the "Celery Gate" debate is just a reminder of the diverse perspectives that exist in the culinary world. It's not about right or wrong; it's about the enjoyment and experience that each individual derives from their charcuterie board. So, feel free to express your culinary personality, try new ideas, and adapt to your personal preferences.
In this article, we've covered the various aspects of celery for charcuterie boards, from selecting the best celery varieties to pairing it with complementary meats and cheeses. We've explored the controversies surrounding celery and provided tips for storing, handling, and reviving it for optimal presentation. We've also delved into the realm of celery-based recipes and discovered recent trends and innovations that can take your charcuterie board to new heights.
Now, armed with knowledge and inspiration, it's time to embark on your charcuterie adventure. Explore the possibilities, unleash your creativity, and let celery be a star player in your next charcuterie masterpiece. Remember, the true essence of charcuterie lies not only in the quality of the ingredients but also in the joy and connection it brings when shared with friends and loved ones.
So, gather your favorite meats, cheeses, and accompaniments, including the versatile and controversial celery, and create a charcuterie board that reflects your unique taste and style. Enjoy every bite, savor each moment, and celebrate the art of charcuterie.
Thank you for joining us on this journey through the world of celery for charcuterie boards. May your culinary endeavors be filled with deliciousness, creativity, and endless enjoyment. Cheers to the power of celery and the pleasure it brings to our charcuterie experiences!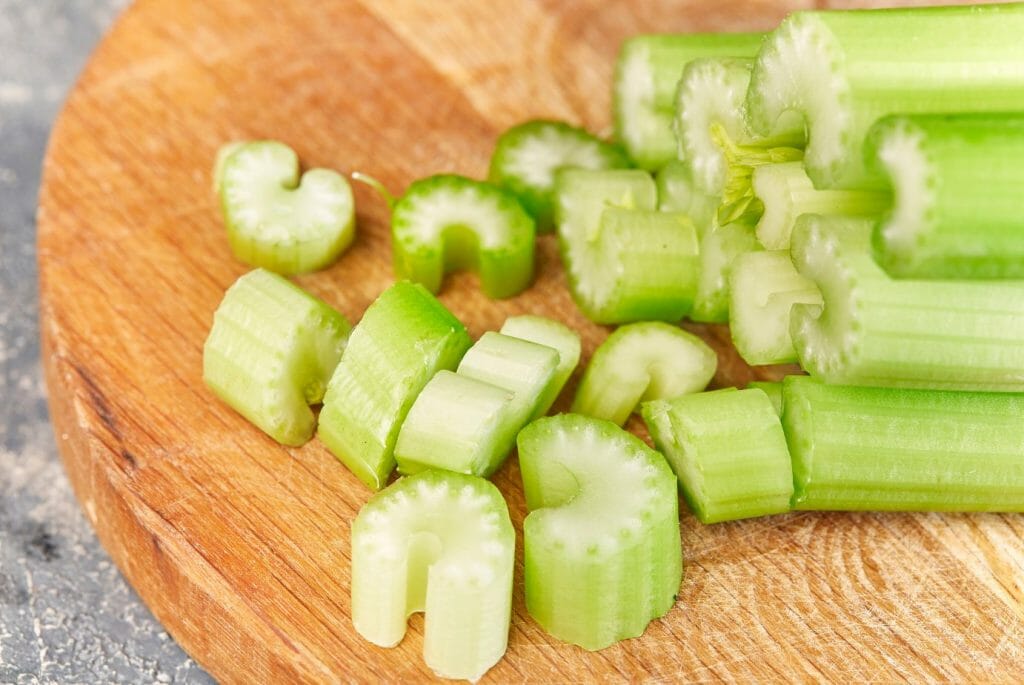 ---
Frequently Asked Questions
Do you put celery on a charcuterie board?
Yes, celery is commonly used on charcuterie boards. Its fresh and crunchy texture, along with its ability to complement various meats and cheeses, makes it a popular choice. Celery adds a refreshing element to the board and can be enjoyed on its own or paired with dips and spreads. It provides a balance of flavors and adds visual appeal to the overall presentation. Consider including celery sticks or slices on your charcuterie board to enhance the taste and texture variety.
Can you put veggies on charcuterie board?
Yes, you can absolutely put veggies on a charcuterie board. In fact, including a variety of vegetables adds freshness, color, and texture to the board. Popular vegetable options include celery, carrots, cucumbers, radishes, cherry tomatoes, and bell peppers. These veggies can be served in slices, sticks, or bite-sized pieces, making them easy to enjoy alongside the meats, cheeses, and other accompaniments on the board. Feel free to get creative and choose vegetables that complement the flavors and overall theme of your charcuterie board.
What vegetables are good on a charcuterie board?
Vegetables that are commonly good options for a charcuterie board include:
Celery: Provides a refreshing crunch and pairs well with various meats and cheeses.
Carrots: Offer a sweet and vibrant addition to the board, especially when served in bite-sized sticks or baby carrots.
Cucumbers: Add a cool and crisp element to the board, perfect for refreshing bites.
Radishes: Bring a peppery and slightly spicy flavor that can balance the richness of meats and cheeses.
Cherry Tomatoes: Offer bursts of juicy sweetness and vibrant color to the board.
Bell Peppers: Provide a crisp texture and vibrant colors, enhancing the visual appeal of the board. Remember, the choice of vegetables depends on personal preference and the overall flavor profile you want to achieve on your charcuterie board. Consider a combination of different vegetables to add variety, color, and fresh flavors.
What is celery gate?
"Celery gate" refers to a humorous term used to describe a social media trend where people playfully debate the placement of celery on a charcuterie board. It revolves around the question of whether celery should be considered a proper ingredient or merely a decorative element. While the term has gained popularity online, it's important to note that there are no strict rules when it comes to charcuterie board composition. Ultimately, the choice of including celery or any other ingredient on a charcuterie board is a matter of personal preference and creativity.
---
---
Share Your Creations:
We'd love to see the charcuterie boards you create using our guide! Feel free to share your own creations in the comments or on social media, and tag us for a chance to be featured. And if you have any other ideas or tips for creating the perfect charcuterie board, we'd love to hear them.
---