Looking to add a touch of celebration to your 4th of July party? A festive 4th of July charcuterie board is the perfect choice! Not only will it delight your guests with delicious treats, but it also serves as an eye-catching centerpiece. By incorporating some red, white, and blue flair, you can transform a fun gathering into a star-spangled festival. In this article, we'll share all the tips and tricks you need to create an independence day charcuterie board that will leave your guests in awe.
Table of Contents [CLICK HERE TO OPEN]
How to Make a 4th of July Charcuterie Board
If you're planning a 4th of July party, a festive charcuterie board is a must-have addition to your spread. Why settle for basic chips and dip when you can elevate your party game with a patriotic board?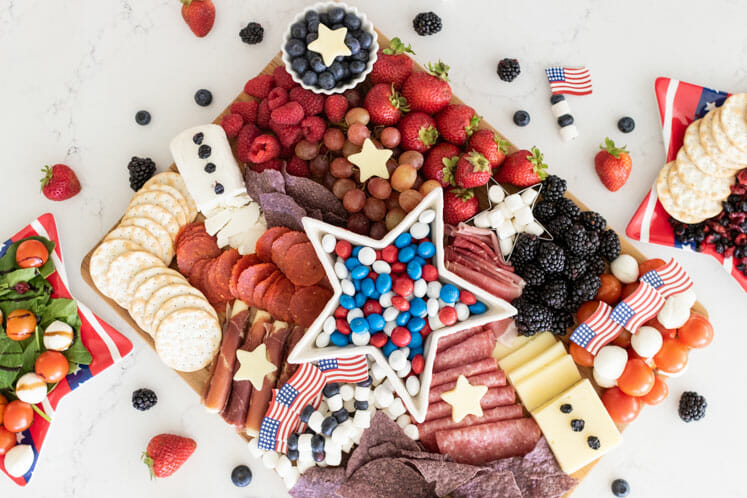 The great thing about charcuterie boards is that they can be customized to fit any occasion or theme. For a 4th of July party, you'll want to incorporate plenty of red, white, and blue items to really make your board pop. Think sliced strawberries, blueberries, and white cheddar cheese. You can also add in some festive touches like mini American flags or star-shaped crackers.
Now it's time to dive into the specifics of how to create one. Don't worry, it's easier than you might think!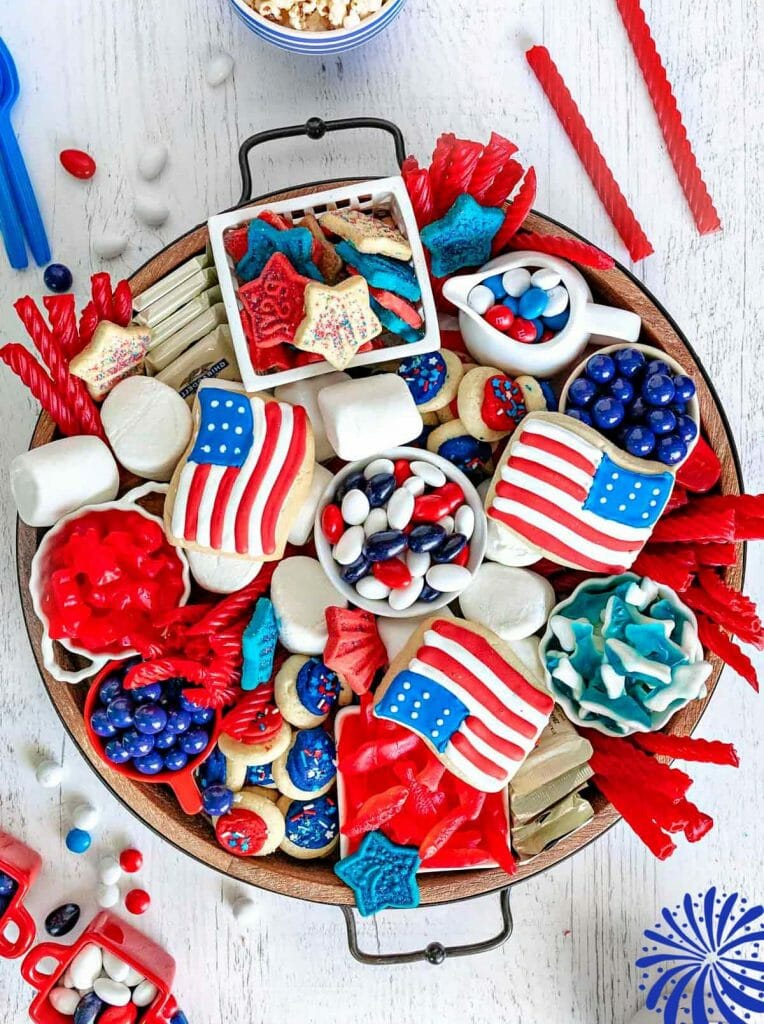 Choose Your Board
Choosing the right board or platter is essential to creating a stunning and functional charcuterie board. You can find boards or platters in various shapes and sizes. So pick one that suits your style and the number of guests you are serving. If you're hosting a large party, consider having multiple boards or platters available to spread out the food.
You'll want to choose a board that is large enough to hold all of your items, but not so big that it looks empty. A wooden board or slate platter can add a rustic touch to your presentation. While a colorful ceramic plate can add a pop of patriotic color. Whatever you choose, make sure it's sturdy enough to hold all of your items without bending or breaking.
The Basics
When selecting meats, cheeses, and crackers, try to think of a variety of options for your guests. For meats, you could include salami, prosciutto, pepperoni, or even sliced deli meat. For cheeses, try to include a mix of soft and hard cheeses. Just remember to choose options that complement each other. Some popular cheese options include cheddar, brie, gouda, and goat cheese. When it comes to crackers, include a mix of plain and flavored options like rosemary or black pepper to add variety.
Red, White And Blue
Incorporating red, white, and blue colors is an important part of creating a festive 4th of July charcuterie board. Use fruits and vegetables in these colors to create a patriotic feel. Red fruits like strawberries, raspberries, and watermelon work well, as do blueberries and blackberries. For white, consider including cheeses like feta, goat cheese, or mozzarella, or even sliced jicama or cauliflower. You can also add pops of color with red and blue tortilla chips or crackers.
Fruit And Vegetables
Adding fresh fruits and vegetables is a must for any charcuterie board. They add a fresh, healthy element to the board and balance out the heavier meats and cheeses. Sliced apples, grapes, and cherry tomatoes work well, as do carrots, cucumbers, and bell peppers. Use your imagination and include whatever fruits and vegetables you think your guests will enjoy.
Final Touches
Garnishing with herbs and spices is a final touch that can really make your 4th of July charcuterie board stand out. Use fresh herbs like rosemary or thyme to add a pop of color and a fresh aroma. You can also sprinkle spices like black pepper, smoked paprika, or chili powder to add a burst of flavor.
Arranging The Items
When it comes to arranging your items on the board, there are no hard and fast rules. Just make sure to keep the larger items like cheeses and meats towards the center, and fill in the gaps with smaller items. You can also create some visual interest by alternating colors and textures. Just remember, the key is to have fun with it and let your creativity shine!
4th of July Charcuterie Board Ideas and Themes
Looking for inspiration for your 4th of July charcuterie board? Consider these fun and festive ideas and themes to impress your guests and make your board stand out!
Classic American theme: Create a board featuring traditional items like apple slices, cheddar cheese, and savory crackers. Add a patriotic touch by arranging them in the shape of the American flag or using a star-shaped cookie cutter to cut out cheese slices.
Fireworks theme board: If you're hosting a 4th of July fireworks viewing party, why not create a board that reflects the dazzling colors and shapes of the fireworks? Incorporate bright and bold colors like orange, yellow, and pink with items like dried apricots, mango slices, and cherry tomatoes. Add some sparklers or small fireworks decorations for an extra touch of whimsy.
Beach theme: For a beach-themed board, use a wooden board or serving platter and incorporate seashell-shaped crackers, smoked salmon, and shrimp. You could even create a "sand" effect by sprinkling crushed crackers or toasted bread crumbs around the board.
American BBQ theme: If you're having a classic American BBQ, a charcuterie board is the perfect complement to all your grilled meats and burgers. Incorporate summer favorites like watermelon slices, cucumber rounds, and sweet corn. Consider using mini cast iron skillets to serve dips and sauces.
Add A Sweet Touch: For a sweet twist on the traditional charcuterie board, create a red, white, and blue dessert board. Use white chocolate-covered pretzels, fresh strawberries, blueberries, and mini cupcakes with red, white, and blue frosting. This board will be a hit with guests of all ages!
Picnic-themed board: Create a board with items that are perfect for a summer picnic, such as sandwiches, fruit, cheese, crackers, and lemonade. Use a gingham tablecloth or red checkered napkins to enhance the picnic theme.
More 4th of July Charcuterie Board Ideas
Patriotic popcorn board: Pop some popcorn and mix in red, white, and blue M&Ms or sprinkles. Add in some mini flags or other patriotic decor to make this a festive snack for your 4th of July party.
Cocktail-themed board: Create a board with all the fixings for your favorite 4th of July cocktails. Include bottles of spirits, mixers, garnishes, and glasses. Add in some red and blue straws for an extra pop of color.
State-themed board: Celebrate the state where you live or where you grew up by including local snacks or beverages. For example, if you're from Texas, you could include beef jerky and Shiner beer.
Kid-friendly board: Create a board with items that kids will love, such as mini sandwiches, fruit skewers, popcorn, and colorful candies. Use cookie cutters to make fun shapes out of cheese and other foods.
Americana-themed board: Decorate your board with vintage Americana items, such as old soda bottles or antique flags. Include classic American snacks like popcorn, pretzels, and peanuts, and serve them in patriotic bowls or containers.
Stars and Stripes Board: This theme is all about incorporating stars and stripes into your board design, with items like star-shaped cheeses, flag-shaped crackers, and red, white, and blue candies.
Americana Board: This board incorporates classic American foods, like apple pie, popcorn, and BBQ sauce, along with patriotic decorations like American flag toothpicks and red, white, and blue napkins.
No matter which theme you choose, the key is to have fun and let your creativity shine. Your 4th of July charcuterie board is sure to be a highlight of your party!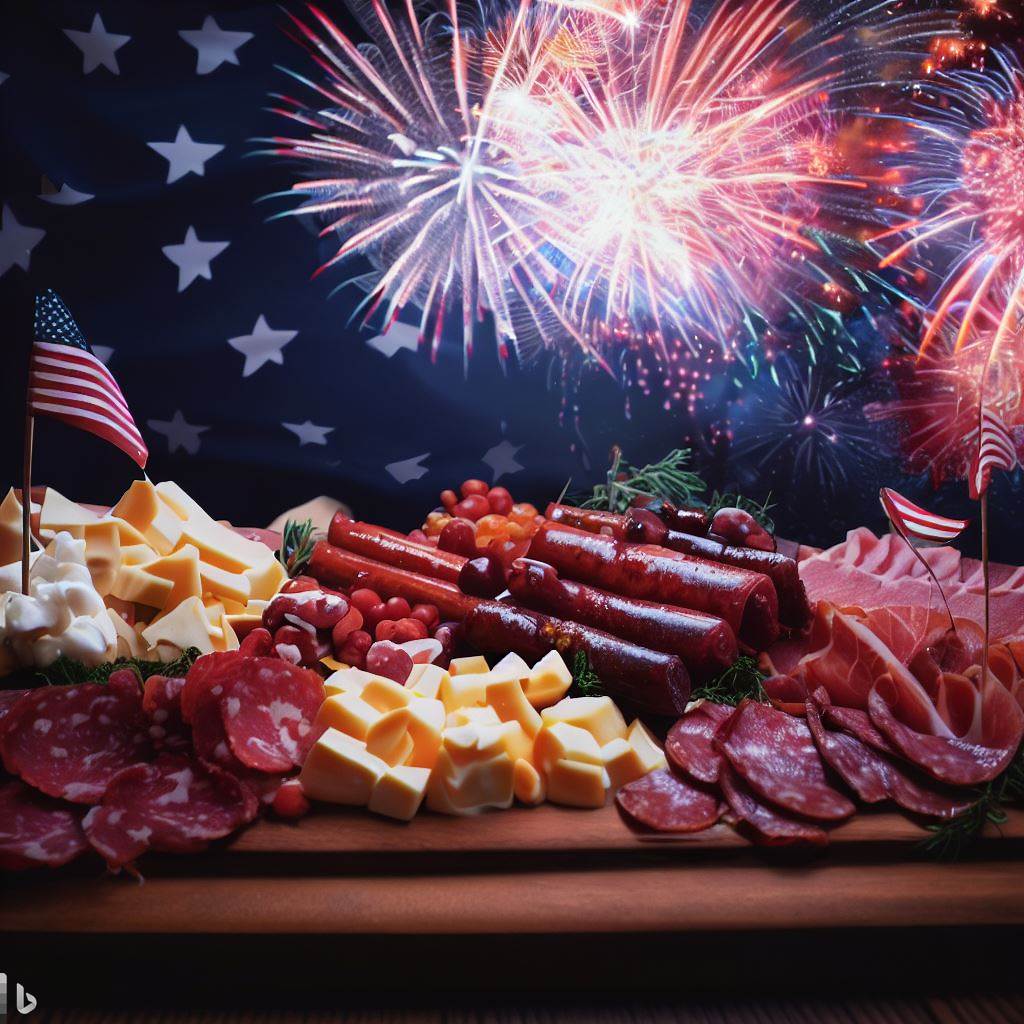 Tips and Tricks for Making a 4th of July Charcuterie Board Special
When it comes to making a 4th of July charcuterie board, there are many ways to make it special and memorable for your guests. One way to do this is by adding personalized touches to the board. Consider using a themed cheeseboard or adding custom decorations that represent the holiday.
Incorporating themed decorations such as flags, sparklers, or even mini American flags can also add a festive touch to your board. You can also add decorative elements like patriotic napkins or coasters.
Using local and seasonal ingredients can also make your board stand out. Consider incorporating seasonal fruits like strawberries or blueberries. Or you could use local cheeses and meats to showcase your area's unique flavors.
Don't forget to pair drinks with your board. Refreshing beverages like lemonade, iced tea, or even a sparkling wine can complement the flavors of the board and add to the festive atmosphere.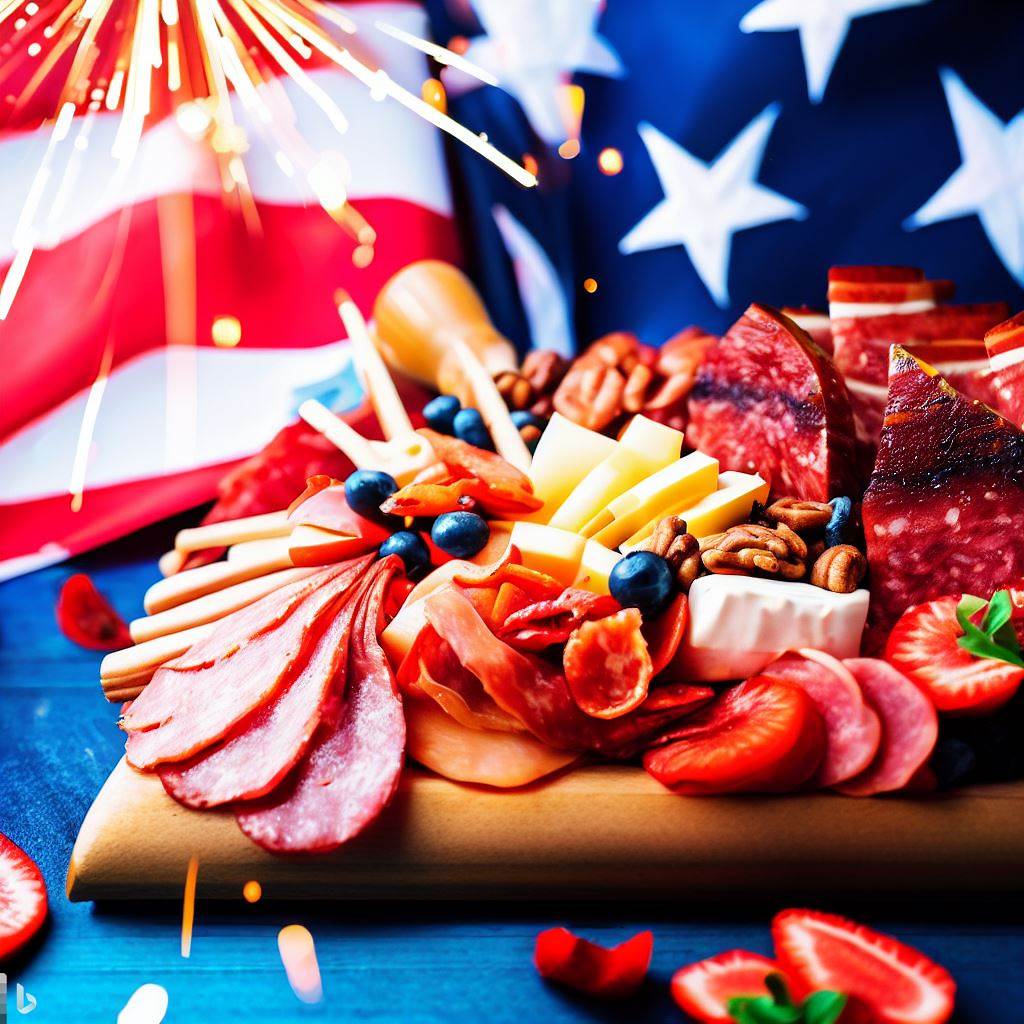 More Hints And Tips:
Consider adding homemade items, such as pickled vegetables, flavored nuts, or even homemade dips and spreads.
Play with different textures by including items such as crunchy crackers, creamy cheeses, and chewy dried fruits.
Try to balance out the flavors on the board by including sweet, salty, savory, and spicy elements.
If you're short on time or ingredients, consider using pre-made items such as store-bought dips or charcuterie packs. But make sure to still add some personal touches to make it special.
Don't forget about presentation. The way you arrange the items on the board can make a big difference in the overall look and feel of the board. Play around with different layouts and shapes to find what works best.
By using these tips and tricks, you can make your 4th of July charcuterie board special and unforgettable for your guests. With personalized touches, themed decorations, local and seasonal ingredients, and well-paired drinks, your board is sure to be the highlight of the party.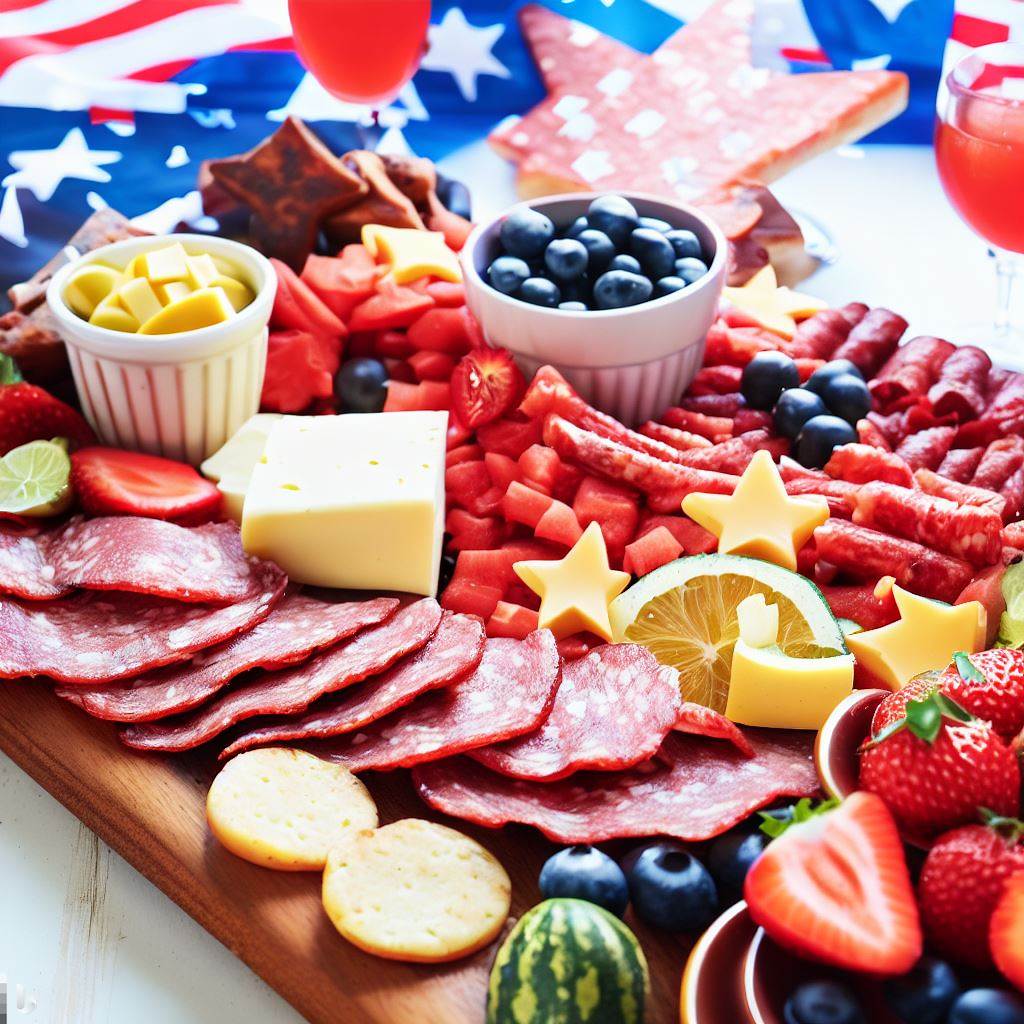 Inspiration
Looking for some inspiration for your 4th of July charcuterie board? Look no further than Instagram! This social media platform is a treasure trove of beautiful and creative charcuterie boards, perfect for getting your own creative juices flowing. In this section, we've curated some of the most stunning 4th of July charcuterie board images from Instagram to help inspire your own masterpiece. So sit back, relax, and scroll through these beautiful images to get some ideas for your own patriotic board.
Wrapping It Up
A festive charcuterie board is an essential part of any 4th of July party, bringing people together and adding a touch of patriotic spirit to the celebration. With the tips and ideas outlined above, you can create a board that is not only delicious but visually stunning, incorporating red, white, and blue colors and themes that will impress your guests.
Remember, a charcuterie board is all about creativity and personalization. So don't be afraid to experiment with different ingredients, decorations, and presentation styles. By incorporating local and seasonal ingredients and pairing your board with delicious drinks, you can create a unique and memorable experience that your guests will cherish.
With a little bit of planning and creativity, you can create a board that is not only delicious but also visually stunning and memorable. So go ahead and get creative, and have fun with making a unique board that reflects your personal style and tastes. Happy 4th of July!
---
Frequently Asked Questions
What do you put on a 4th of July charcuterie board?
When creating a 4th of July charcuterie board, it's important to incorporate traditional patriotic colors of red, white, and blue. You can use a variety of ingredients such as meats, cheeses, fruits, vegetables, crackers, and nuts. It's also a great idea to add some themed decorations and personalized touches to make your board extra special. Finally, don't forget to pair your charcuterie board with refreshing drinks, such as lemonade, iced tea, or even some patriotic cocktails.
What is traditionally on a charcuterie board?
Charcuterie boards traditionally include cured meats, such as prosciutto, salami, and ham, as well as a selection of cheeses, crackers, bread, nuts, fruits, and spreads. Additional items can be added for variety.
Does blue cheese go on a charcuterie board?
Yes, blue cheese can be included on a charcuterie board. It pairs well with meats like prosciutto and salami, and also with fruits like grapes and figs.
What are the red things on a charcuterie board?
Here are some red items that can be included on a charcuterie board:
Fresh or dried strawberries
Cherry tomatoes
Sliced radishes
Dried cranberries
Roasted red peppers
Sliced watermelon radishes
Red grapes
Sliced beets
Pomegranate seeds
Sliced red apples
Sliced red onions
---
Share Your Creations:
We'd love to see the charcuterie boards you create using our guide! Feel free to share your own creations in the comments or on social media, and tag us for a chance to be featured. And if you have any other ideas or tips for creating the perfect charcuterie board, we'd love to hear them.
---