Are you looking for a way to impress your guests at your next gathering or special occasion? Look no further than the heart shaped charcuterie board! This unique and stylish serving board has become increasingly popular among charcuterie lovers, thanks to its distinctive shape and ability to hold a variety of meats, cheeses, fruits, and other snacks. Whether you're a seasoned charcuterie enthusiast or just starting out, a heart shaped board is a must-have addition to your collection. In this article, we'll dive into everything you need to know about heart shaped charcuterie boards, from their benefits and uses to tips for selecting, using, and caring for them. Let's get started!
TIP: Thinking about starting or growing your own grazing business?  Join us for our FREE, on-demand training that will show you exactly how to start today! Click here to read more >>
Table of Contents [CLICK HERE TO OPEN]
Why Choose a Heart Shaped Charcuterie Board?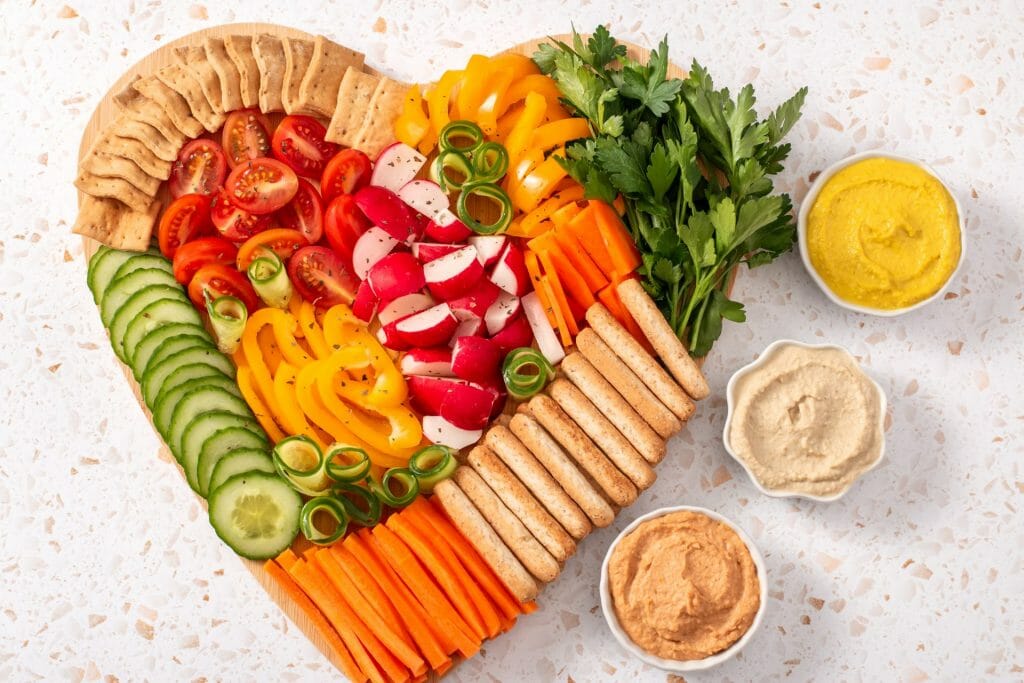 The Allure of Heart-Shaped Charcuterie Boards
When it comes to charcuterie boards, the heart shape adds an extra touch of allure and symbolism. Beyond being a mere vessel for food, heart-shaped boards evoke feelings of love, romance, and warmth. They bring a unique aesthetic to any occasion, whether it's a cozy date night, a wedding celebration, or a heartfelt gesture to a loved one.
Imagine the delight on your guests' faces as they lay their eyes upon a beautifully arranged heart-shaped charcuterie board. The visual impact is undeniable, instantly capturing attention and setting the stage for a memorable experience. It's an opportunity to create a centerpiece that not only satisfies appetites but also sparks conversations and ignites a sense of joy.
Versatility and Functionality
Heart-shaped charcuterie boards aren't just about their visual appeal; they also offer practicality and versatility. Despite their distinctive shape, they can accommodate a wide variety of charcuterie selections and accompaniments. From a delectable assortment of artisanal cheeses, cured meats, and olives to an array of fresh fruits, nuts, and spreads, the possibilities are endless.
These boards are well-suited for a range of special occasions, making them more than just a Valentine's Day staple. Whether you're celebrating an anniversary, a birthday, or simply hosting a gathering with loved ones, a heart-shaped charcuterie board adds an element of charm and elegance. It's a versatile canvas that allows you to curate a culinary experience tailored to the theme and atmosphere of your event.
So, embrace the allure of heart-shaped charcuterie boards and let them be the centerpiece of your next gathering. Their romantic aesthetic and versatility make them a perfect choice for a variety of occasions. Elevate your celebrations with a touch of love and creativity, as you craft a charcuterie masterpiece that will captivate both the eyes and the taste buds.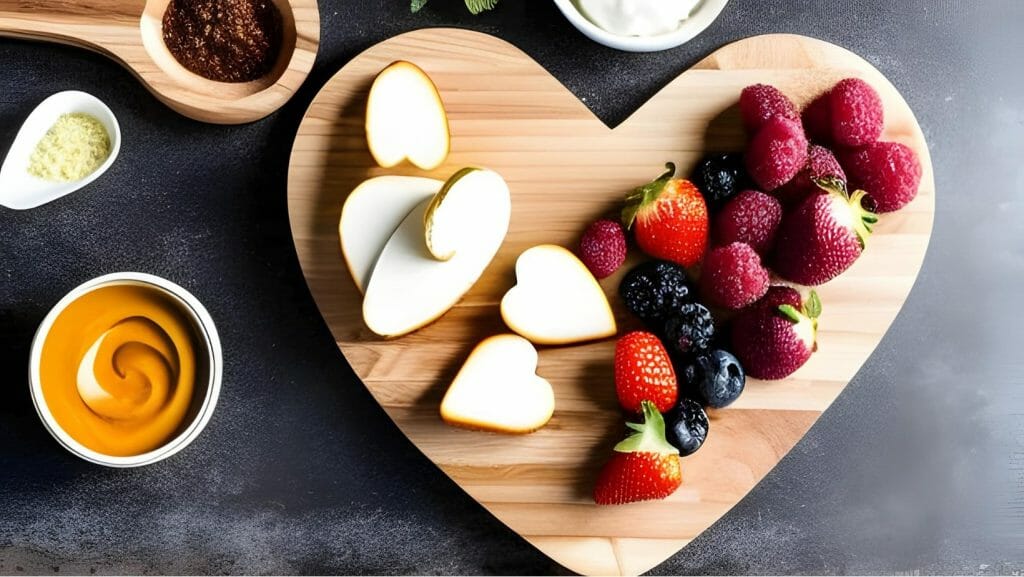 Selecting the Perfect Heart Shaped Charcuterie Board
Materials and Designs
When it comes to heart-shaped charcuterie boards, there are a plethora of options in terms of materials and designs. Wood, marble, and slate are among the popular choices, each offering its own unique aesthetic and functional qualities.
Wooden heart-shaped boards exude warmth and rustic charm. They are often crafted from high-quality hardwoods like bamboo, acacia, or walnut, providing durability and a natural appeal. Some wooden boards feature intricate engravings or decorative patterns, adding an extra touch of elegance to your presentation.
Marble heart-shaped boards bring a touch of sophistication and elegance to your charcuterie display. The smooth and cool surface is not only visually pleasing but also acts as a natural insulator, keeping your cheeses and other delicacies at the perfect temperature for longer periods.
Slate heart-shaped boards offer a contemporary and sleek look that beautifully contrasts with the vibrant colors of the charcuterie ingredients. They provide a unique canvas for labeling the various elements of your spread, enhancing both presentation and organization.
Additionally, many heart-shaped charcuterie boards offer customization options. You can opt for engraved patterns, monograms, or even personalized messages to make your board truly one-of-a-kind.
Size and Dimensions
Selecting the right size heart-shaped charcuterie board is crucial to ensure that you have enough space to showcase your delectable assortment while accommodating the number of guests you are serving.
For intimate gatherings or solo indulgence, mini heart-shaped boards are a delightful choice. They offer a charming individual serving size and can also serve as a romantic gesture for a special someone.
On the other hand, if you're hosting a larger gathering or aiming for a grand presentation, oversized heart-shaped boards make a bold statement. These larger boards provide ample space for a generous spread of charcuterie ingredients, allowing you to cater to a larger crowd.
Consider the number of guests you'll be serving and the amount of food you plan to include when choosing the size of your heart-shaped board. It's always better to have a slightly larger board to ensure that you have enough room for an abundant and visually appealing assortment.
By considering the materials, designs, and sizes available for heart-shaped charcuterie boards, you can find the perfect match for your style and occasion. Whether you prefer the rustic charm of wood, the elegance of marble, or the contemporary appeal of slate, there's a heart-shaped board out there that will elevate your charcuterie experience to new heights. So, let your creativity soar as you choose the ideal board that reflects your personality and creates a visually stunning centerpiece for your delectable creations.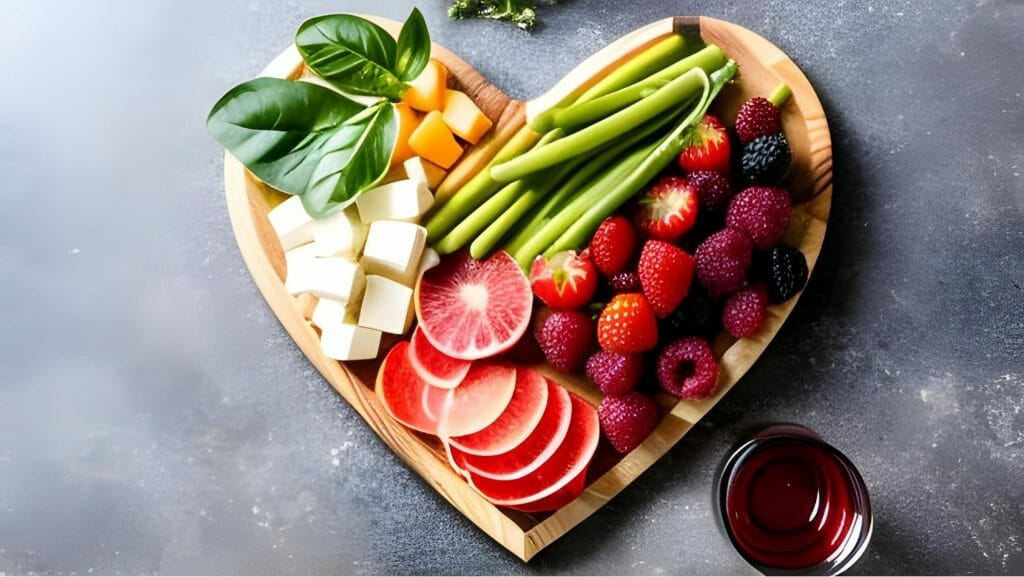 Where To Buy A Heart Shaped Charcuterie Board
Now that you're eager to showcase your charcuterie skills on a heart-shaped board, you might be wondering where to find the perfect one. Fortunately, there are several options available to suit your preferences and budget.
Online Retailers:
Online retailers offer a wide range of heart-shaped charcuterie boards, providing convenience and access to a variety of styles and designs. Platforms like Amazon, Etsy, and Wayfair have extensive selections from different sellers, allowing you to compare prices, read customer reviews, and choose the board that best suits your needs. Make sure to check the product descriptions and dimensions to ensure it aligns with your requirements.
Home Goods Stores:
Home goods stores and kitchenware retailers often stock charcuterie boards, including heart-shaped options. Visit stores like Bed Bath & Beyond, Crate & Barrel, or Williams Sonoma, where you can see the boards in person, assess their quality, and get a better sense of their size and design. Keep in mind that the selection may vary from store to store, so it's worth checking online or calling ahead to confirm availability.
Specialty Shops:
Consider exploring local specialty shops or artisan markets in your area. These establishments may carry unique and handcrafted heart-shaped charcuterie boards made by local artisans. Not only will you find a distinctive board, but you'll also support small businesses and discover hidden gems within your community. Check local directories or social media platforms for information on nearby specialty shops or upcoming artisan markets.
Custom Woodworkers:
If you're seeking a truly personalized heart-shaped charcuterie board, consider reaching out to custom woodworkers or artisans specializing in wooden kitchenware. They can create a bespoke board tailored to your specifications, incorporating specific wood types, engravings, or even personalized messages. Collaborating with a skilled craftsman allows you to have a truly unique and meaningful charcuterie board that reflects your style and preferences.
DIY Option:
For those who enjoy crafting and woodworking, consider making your own heart-shaped charcuterie board. There are numerous online tutorials and guides available that provide step-by-step instructions on how to create a wooden heart-shaped board. This option allows you to unleash your creativity and customize every aspect of the board according to your liking. Keep in mind that this approach requires time, tools, and woodworking skills.
Remember to compare prices, read reviews, and consider the quality and durability of the board when making a purchase. Each buying option has its advantages, whether it's the convenience of online shopping, the hands-on experience of in-store browsing, or the uniqueness of a custom-made board. Choose the option that aligns with your preferences, budget, and desired level of personalization.
With the information and options provided, you're now equipped to find the perfect heart-shaped charcuterie board that meets your needs and reflects your style. Whether you choose to shop online, explore local stores, collaborate with artisans, or embark on a DIY project, the right board is just waiting to become the centerpiece of your charcuterie creations. Happy hunting, and enjoy the journey of finding your ideal heart-shaped charcuterie board!
Heart Shaped Charcuterie Board Best Buy Pics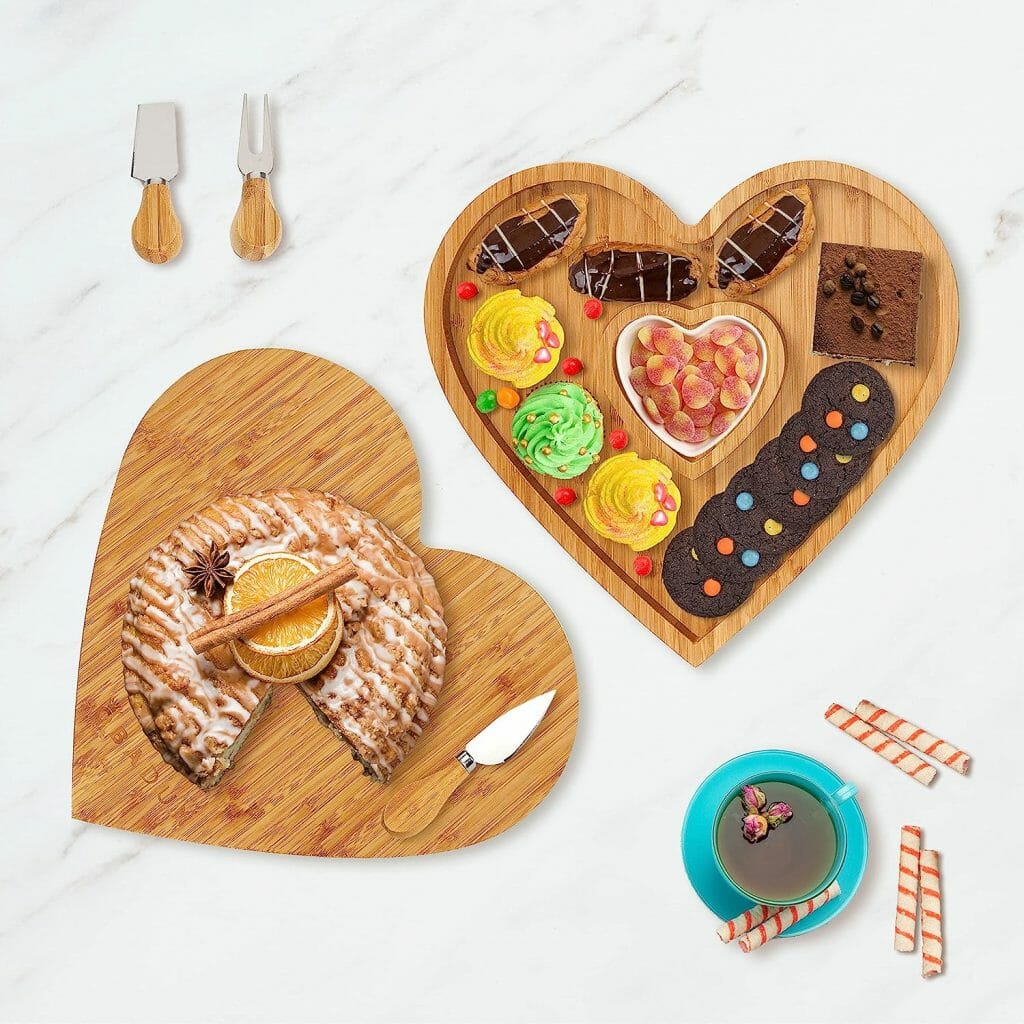 Elevate your entertaining game with this stunning Bamboo Heart Charcuterie Board and Knife set, a true showstopper for any occasion. Meticulously crafted from eco-friendly bamboo, this board boasts a charming heart shape that adds a touch of elegance to your dining table. Its accompanying knife provides precise cutting and allows you to create enticing displays of artisanal cheeses, cured meats, and delectable fruits. Whether hosting a gathering or indulging in a cozy night in, this versatile set promises to enhance your culinary experience.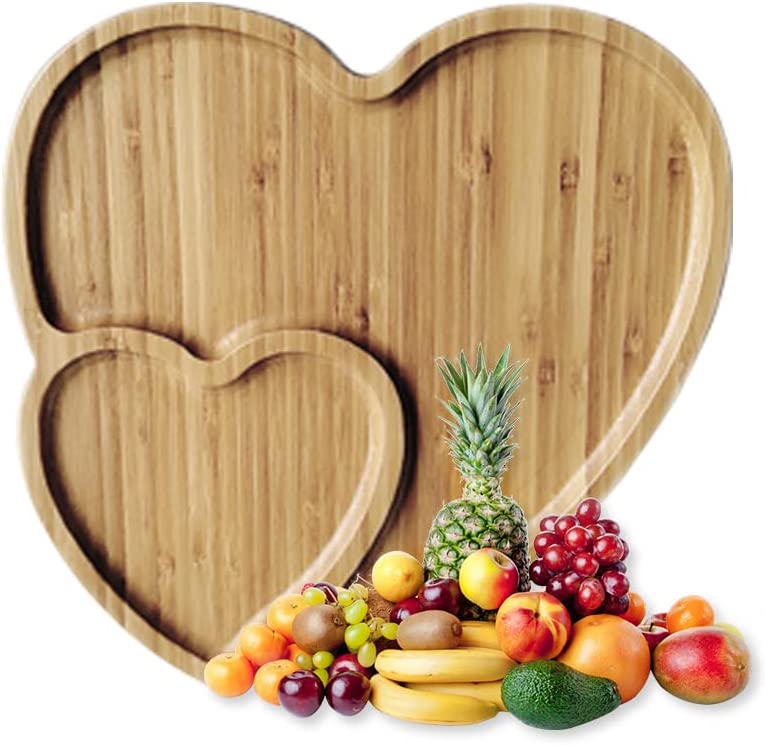 This versatile Bamboo Heart Charcuterie Board and Tray is perfect for various occasions such as Valentine's Day, weddings, anniversaries, Christmas, birthdays, Father's Day, and Mother's Day. Crafted from natural bamboo, it embodies eco-friendliness, durability, and reusability. Its universal design accommodates a wide range of items, from snacks and cheese platters to party food and fruits. Additionally, it serves other purposes like a decorative tray, key tray, or candle tray. The double heart shape of this wooden tray adds a charming touch and enhances its decorative appeal.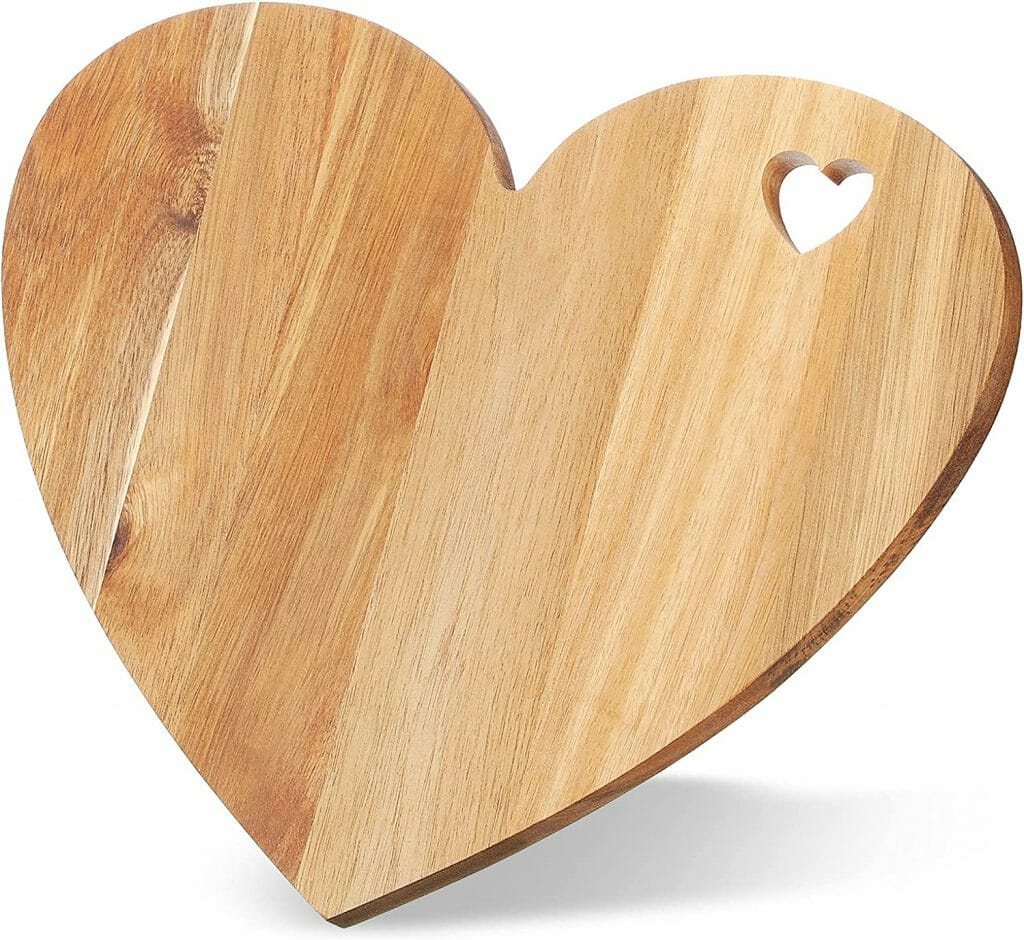 The innovative design of the charcuterie board exudes romance, with each board featuring a unique irregular wood grain texture that adds charm. Hang it easily using the hollow in the upper left corner, and enjoy the exquisite appearance while cooking. Cleaning is a breeze with simple detergent and water, ensuring easy removal of food residue. Keep the wooden surface fresh by regularly applying a small amount of olive oil or food-grade oil. With its versatile size of approximately 12 x 10 inches, this board serves as both a cutting board and a stylish plate for cheese and cooked food.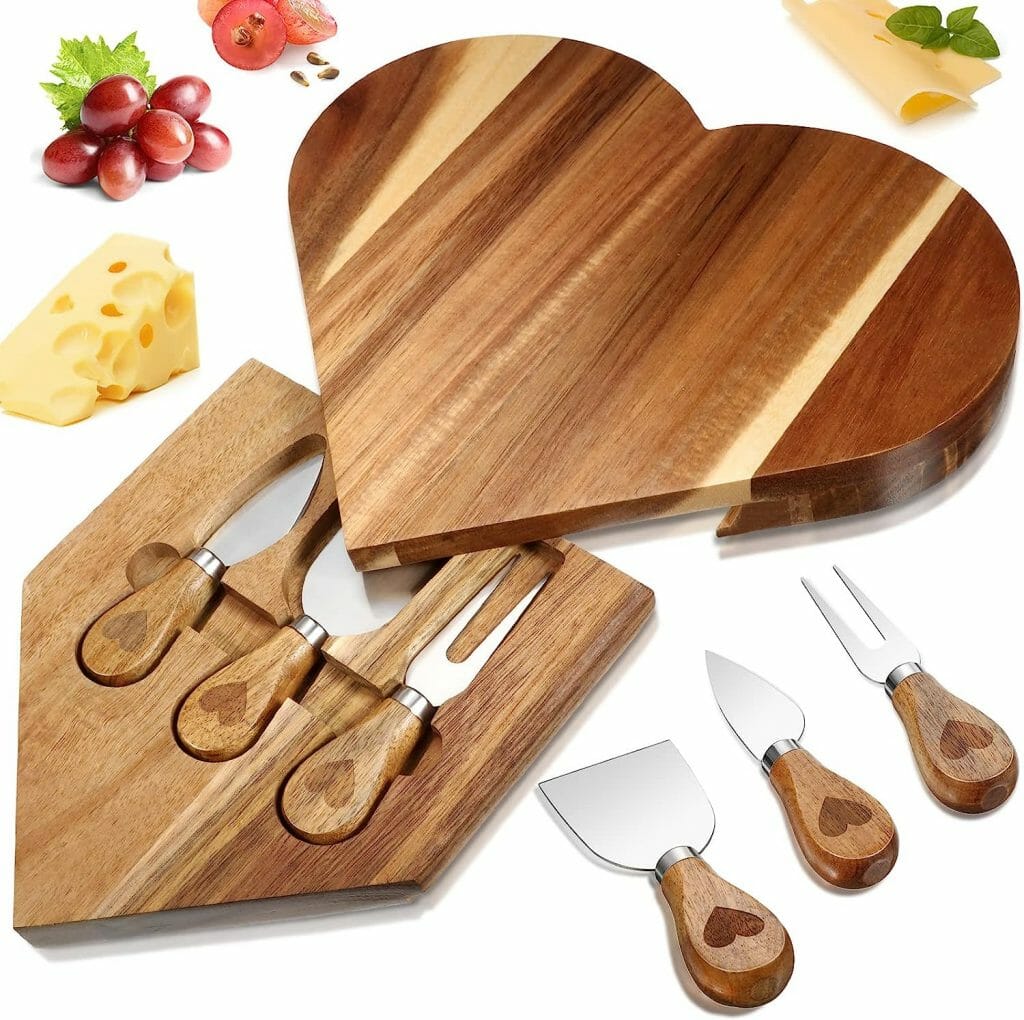 Add charm and functionality to your kitchen or dinner party with the Cute Heart-Shaped Cheese Cutting Board Set. The heart-shaped design brings a touch of warmth and elegance, doubling as both a cheese board and a delightful table decoration. Its practical features include a hidden internal drawer, providing storage space for service knives while optimizing your dining area. Paired with stainless steel knives, it ensures a pleasant and long-lasting user experience. Versatile for any occasion, this wooden charcuterie board is perfect for serving cheese, fruits, nuts, cured meats, and more at Christmas, bridal showers, weddings, or holiday parties.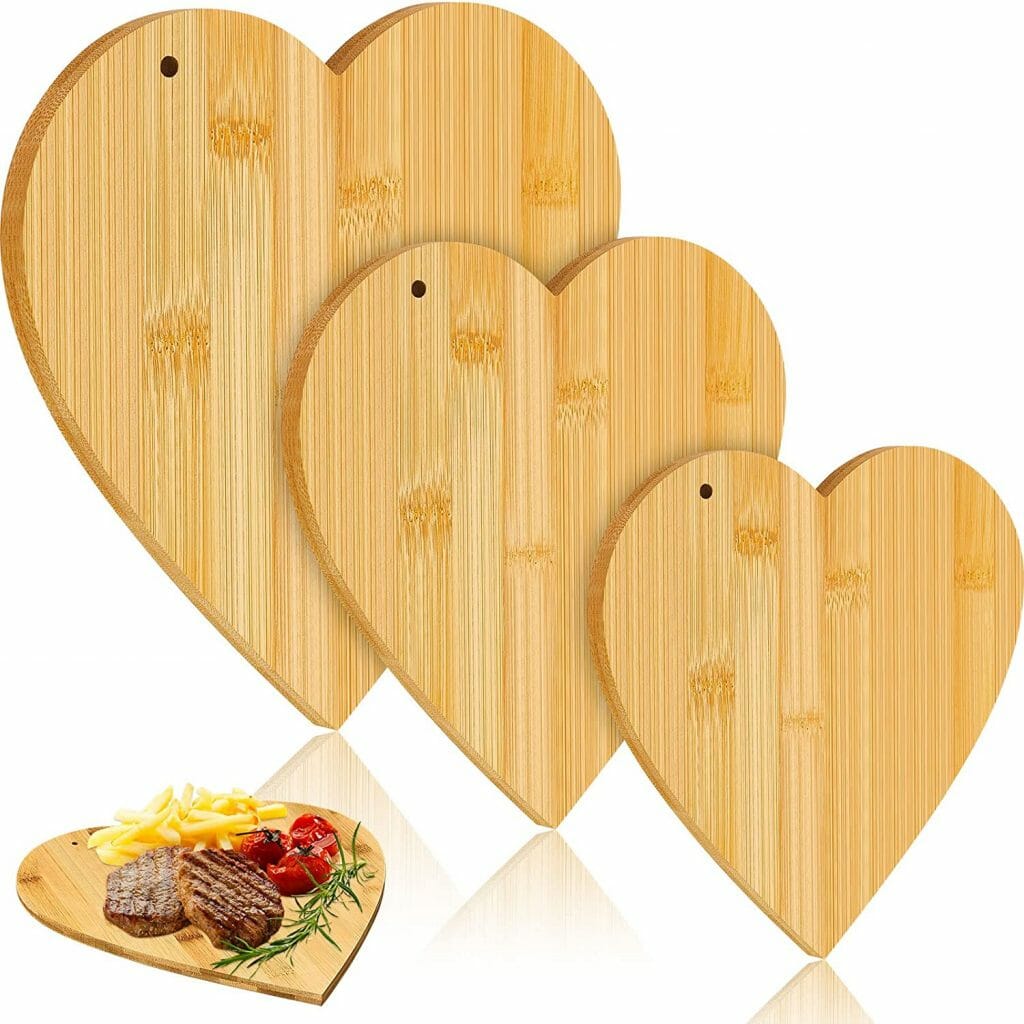 Made of quality bamboo, these smooth and sturdy boards feature finely polished edges for comfort and durability. The romantic heart shape adds elegance, while the corner hole allows for easy hanging. Use them as cutting boards or cheese plates, and share the love with family and friends. Ideal as warm gifts for loved ones, new homeowners, or newlyweds on Valentine's Day, Christmas, or birthdays.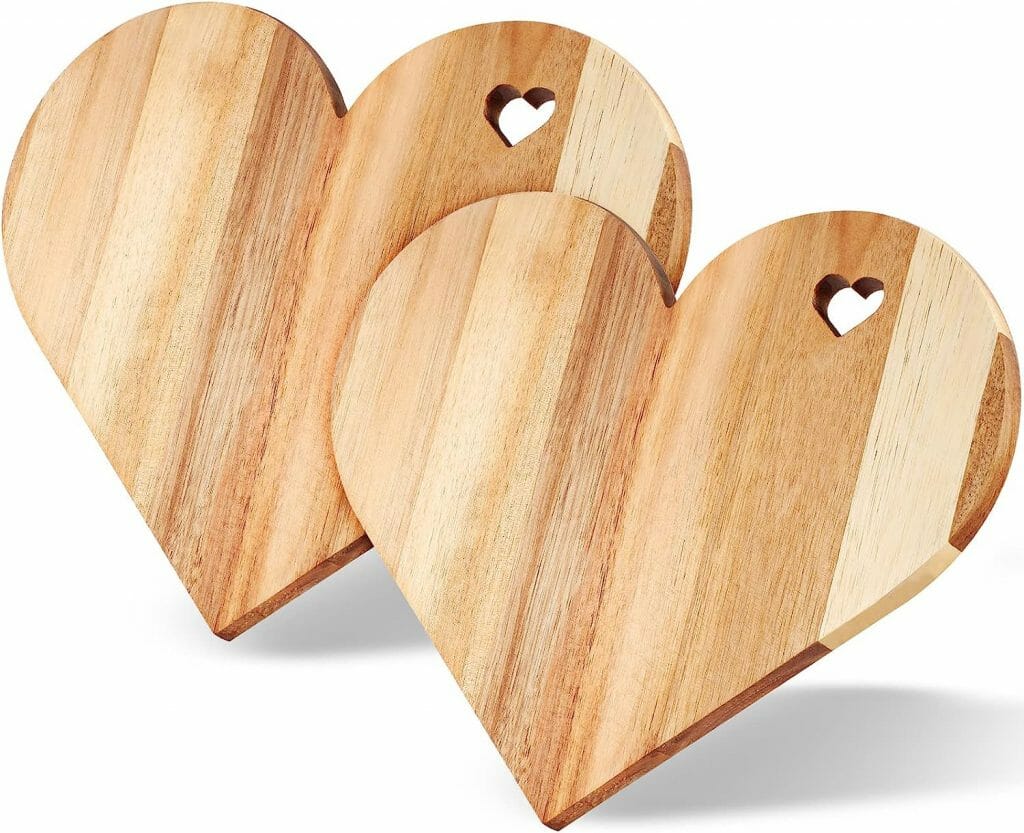 This charming set includes 2 heart-shaped acacia wood cutting boards, providing ample supply for your daily use or party needs. The artistic design showcases the natural beauty of the wood, with its original color and grain texture. The heart shape adds a romantic touch, while the convenient heart-shaped hole allows for easy hanging. Crafted from quality acacia wood, this cutting board set is safe, reliable, and resistant to deformation, breakage, and mold. With a size of approximately 12 x 10 x 0.6 inches/30.5 x 25.5 x 1.5 cm, this heart-shaped charcuterie board is perfect for food preparation and serving cooked dishes.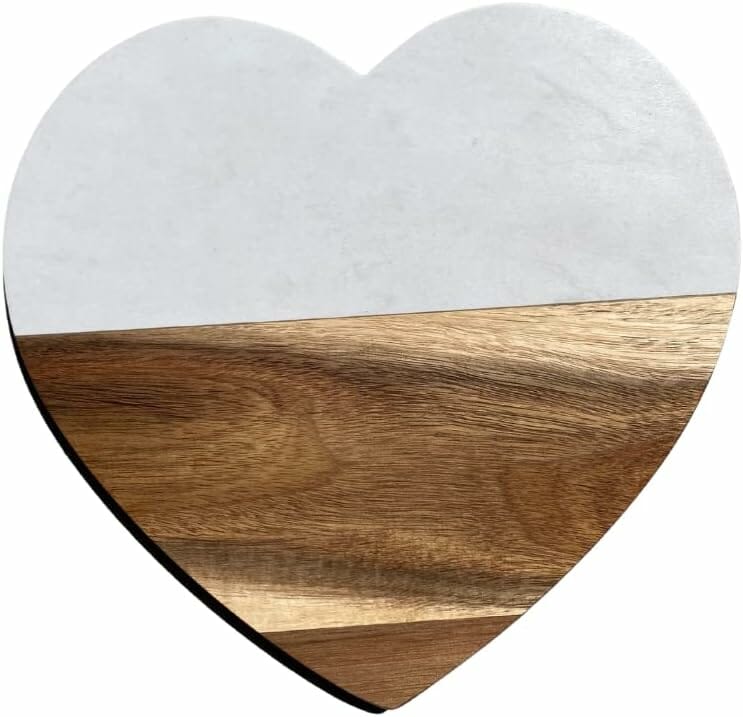 Introducing the captivating Half Marble, Half Acacia Wood Heart-Shaped Charcuterie Board. Crafted with a stunning combination of marble and acacia wood, this board adds a touch of elegance to your dining experience. Unleash your creativity with this charcuterie board, as it becomes your artistic canvas for designing a unique and visually pleasing platter for any occasion. Let your inner artist shine as you create a delightful ensemble of meats, cheeses, veggies, crackers, fruits, and chutneys that will leave a lasting impression on your guests. Embrace the art form of charcuterie and elevate your entertaining experience to new heights with this exquisite bamboo cheese board.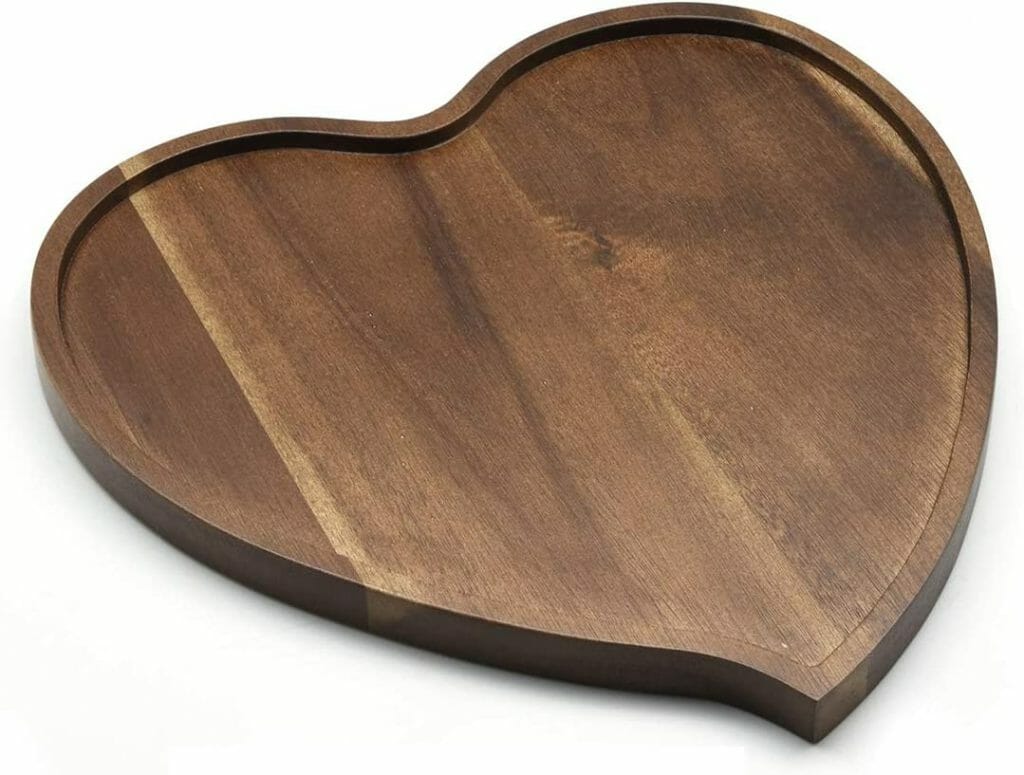 Elevate your serving experience with this premium Heart Shaped Tray, meticulously crafted from high-quality acacia wood. With dimensions of 8.25″ inches in length and 6.75″ inches in width, it provides the perfect size for various culinary delights. Made from 100% natural wood, this tray exudes durability and longevity, ensuring that it will withstand the test of time. Its exquisite design serves as a beautiful decorative work of art, enhancing the aesthetics of your home.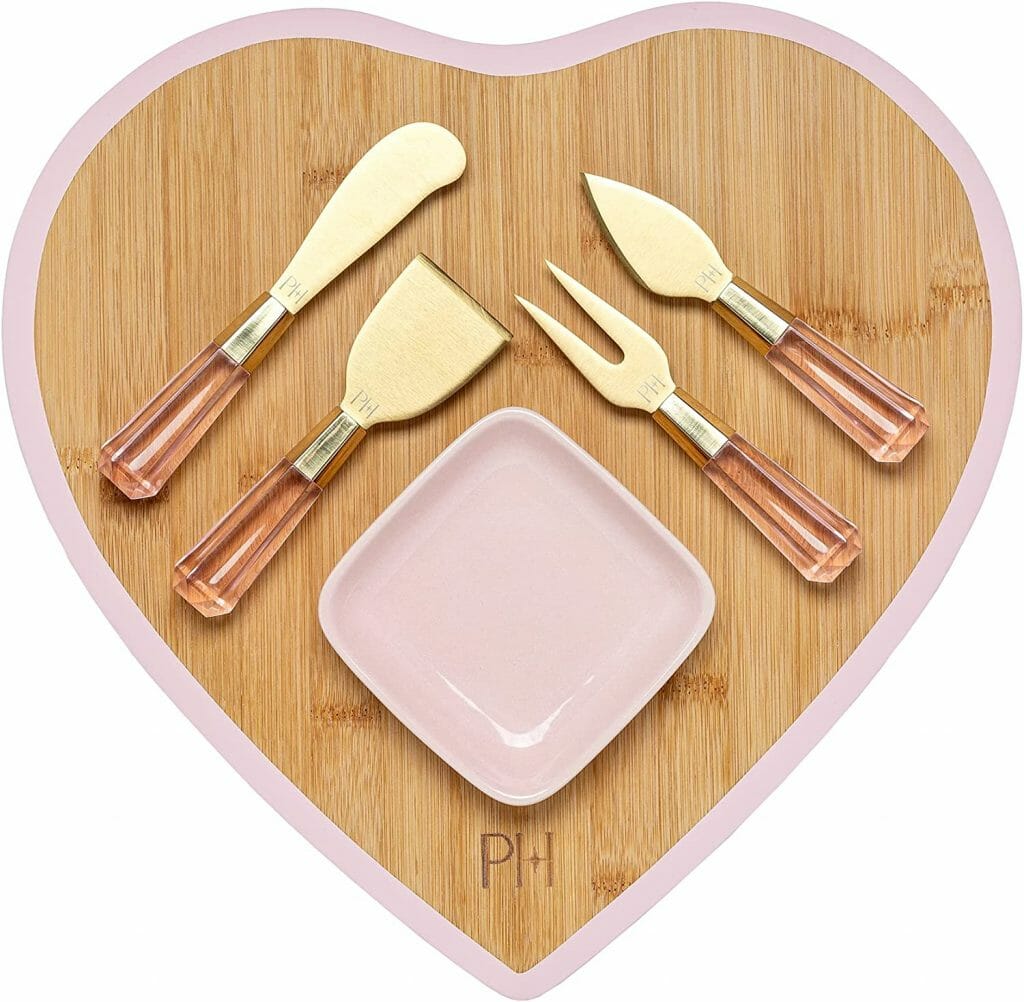 Elevate your charcuterie experience with the color-coordinated heart-shaped bamboo serving board by Paris Hilton, designed for the ultimate #bossbabe. This set includes a matching ceramic dish for your favorite dip and a sleek 4-piece cheese tool set, adding a touch of elegance to your charcuterie spread. Whether it's a quiet night in, a large gathering, or an epic party, this set blends seamlessly with your home decor, reflecting your sophisticated style. The crystal-shaped handles on the cheese knife set bring glamour to food prep and serving, while the titanium-coated stainless steel blades ensure durability and ease of use. Made from renewable bamboo, this charcuterie board embodies both beauty and brains, empowering you to make an eco-conscious choice.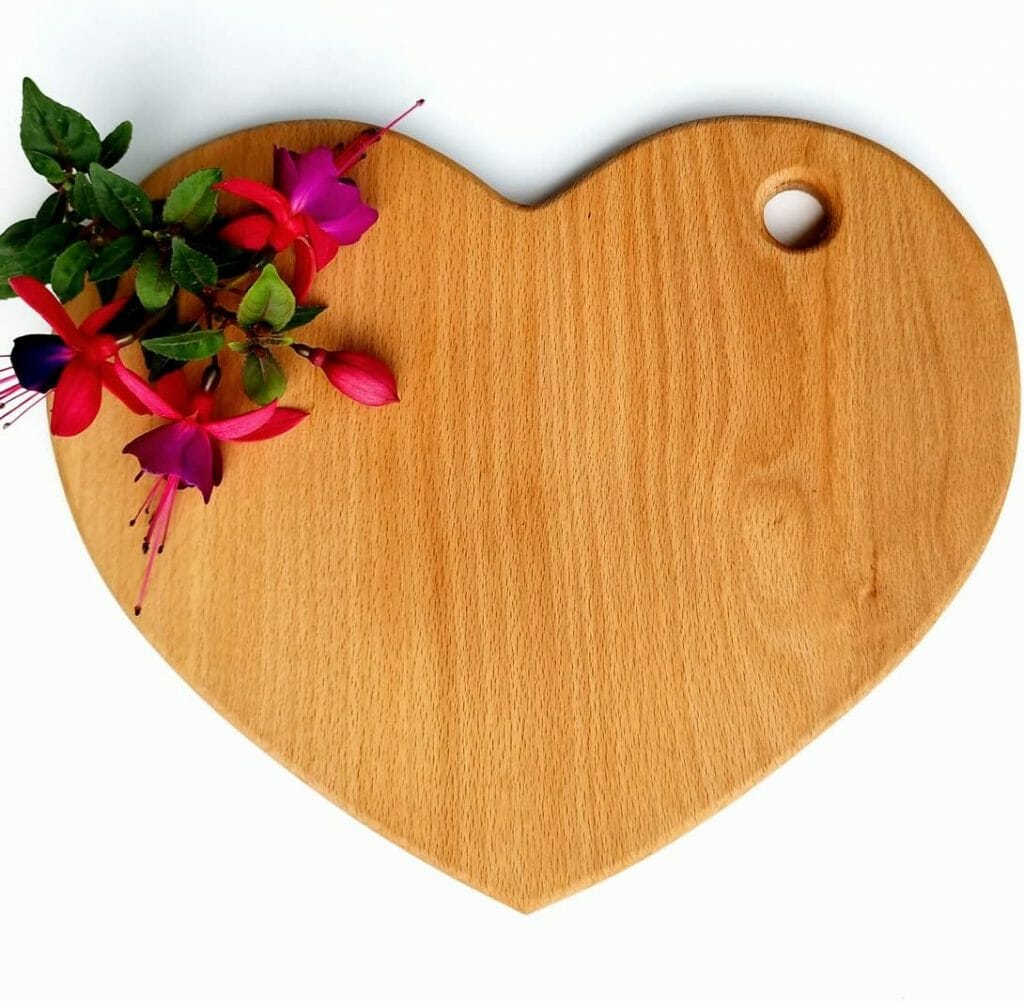 Introducing a charming heart-shaped wooden cutting board, handcrafted from solid natural Beechwood. Measuring 11 x 9 inches, this well-made board features a smooth surface, rounded edges, and a convenient hanging hole. Its unique wood colors make it a beautiful decorative piece for any occasion, from Christmas to weddings and housewarming parties. Made to last, this hardwood board is strong and durable, resisting cracks and breaks. It provides a safe and healthy cutting surface for cheese, meat, bread, and more.
Styling and Arranging a Heart Shaped Charcuterie Board
Now that you have your heart-shaped charcuterie board ready, it's time to elevate its visual appeal and create a stunning display that will captivate your guests. Here are some expert tips to help you style and arrange your charcuterie board with flair.
Tips for Creating Eye-Catching Displays
When arranging your charcuterie board, aim for a visually enticing composition that combines colors, textures, and flavors in a harmonious way. Consider these tips to make your board a feast for the eyes:
Balance and Variety: Distribute your items evenly across the board, creating a sense of balance. Include a variety of charcuterie, cheeses, fruits, nuts, and accompaniments to offer a diverse range of flavors and textures.
Colorful Palette: Incorporate a vibrant mix of colors by choosing an array of fruits, vegetables, and charcuterie options. Add pops of color with fresh berries, sliced citrus fruits, or vibrant dips like beet hummus or roasted red pepper spread.
Artful Arrangement: Arrange your ingredients with purpose, paying attention to placement and symmetry. Create visual interest by overlapping slices of cured meats, rolling prosciutto roses, or stacking cheeses at different heights.
Fill the Gaps: Fill any empty spaces on the board with smaller items like olives, nuts, or bite-sized treats. This adds depth and ensures every inch of the board is utilized effectively.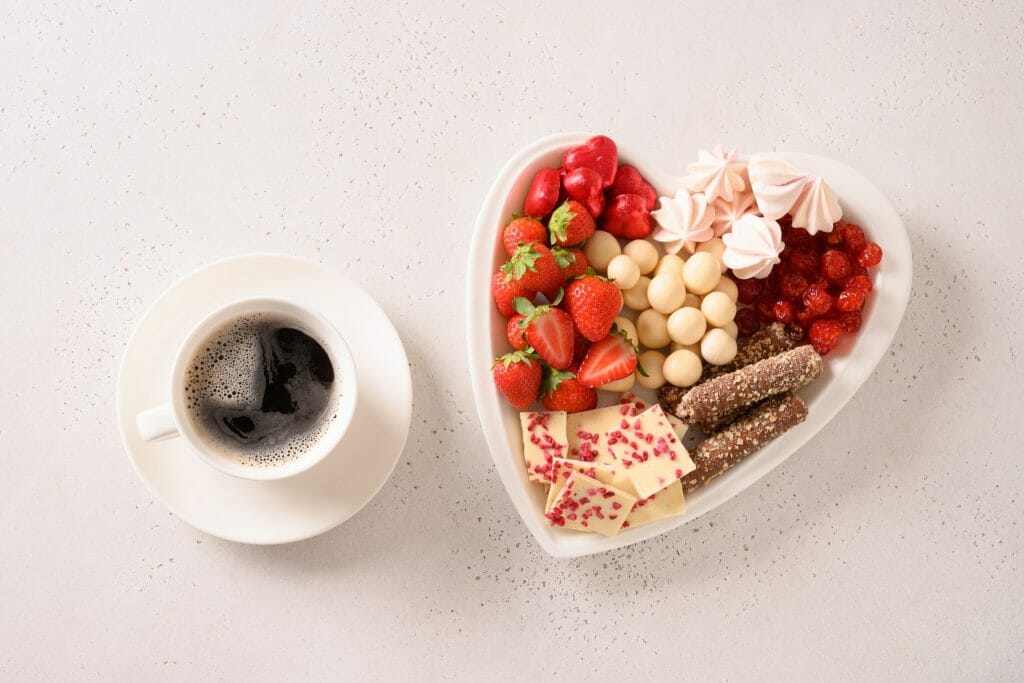 Incorporating Heart-Themed Elements
To add an extra touch of charm to your heart-shaped charcuterie board, consider incorporating heart-themed elements into your display. Here are some creative ideas:
Edible Garnishes: Use heart-shaped edible garnishes to enhance the romantic theme. Create heart-shaped cucumber slices, watermelon cutouts, or even heart-shaped tomato halves to bring an eye-catching element to your board.
Heart-Shaped Cheese Cutouts: Cut heart shapes out of different cheeses using mini cookie cutters. Place these cheese cutouts throughout the board to create a playful and thematic touch.
Themed Food Picks: Opt for heart-shaped food picks or skewers to hold small items like cherry tomatoes, grapes, or olives. These picks add a whimsical touch while keeping the ingredients secure and easy to grab.
Remember to be creative and have fun with your styling. Experiment with different arrangements, play with colors, and add personal touches that reflect your style and the occasion. By incorporating these tips and heart-themed elements, you'll create a heart-shaped charcuterie board that not only tastes amazing but also delights the eyes.
With these styling and arrangement tips, you're well on your way to creating a visually impressive heart-shaped charcuterie board that will leave a lasting impression. Your guests will be delighted not only by the delicious flavors but also by the artistic presentation you've mastered. So go ahead, unleash your creativity, and let your heart-shaped charcuterie board become the centerpiece of your next gathering.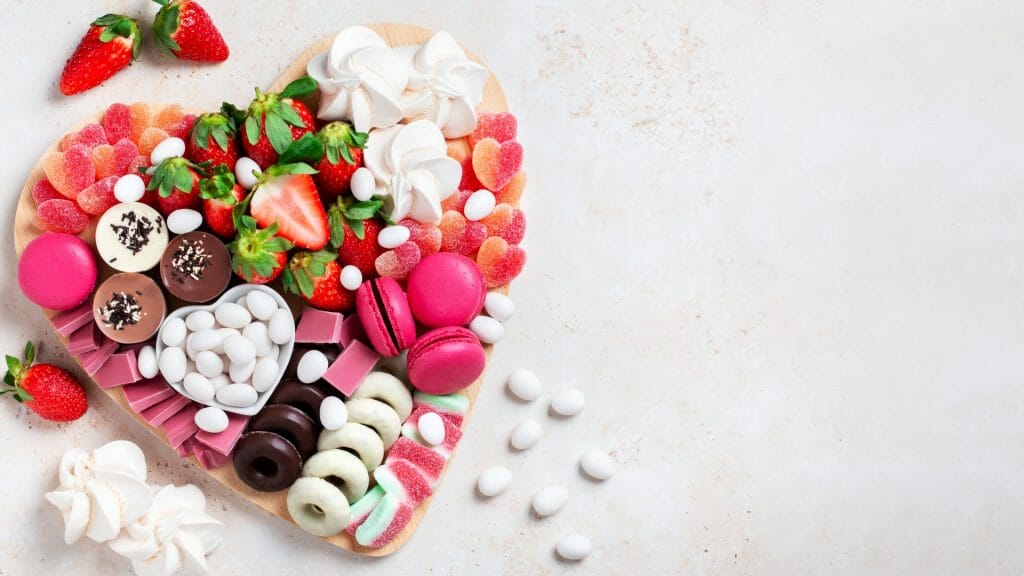 Mouthwatering Recipes and Pairings for Heart Shaped Charcuterie Boards
Artisanal Cheese and Charcuterie Selections
No heart-shaped charcuterie board is complete without a carefully curated selection of artisanal cheeses and flavorful cured meats. Consider these delectable options to elevate your charcuterie experience:
Cheese Varieties: Choose a diverse range of cheeses to cater to different palates. Include a creamy brie, a tangy goat cheese, a robust cheddar, and a pungent blue cheese. Add a unique touch by including regional specialties like aged gouda, truffle-infused cheese, or a smoky provolone.
Cured Meats: Enhance the flavors with an assortment of cured meats such as prosciutto, salami, coppa, and Spanish chorizo. Opt for thinly sliced varieties that can be easily draped or rolled for an elegant presentation.
Charcuterie Options: Explore beyond traditional cured meats and incorporate specialty charcuterie items like duck prosciutto, venison salami, or wild boar sausage. These unique choices will add a touch of adventure and intrigue to your board.
Complementary Accompaniments and Pairings
To complement the rich flavors of the cheese and charcuterie, it's essential to include a selection of accompaniments and pairings. Consider these mouthwatering options:
Artisanal Bread and Crackers: Provide a variety of bread and cracker options for guests to enjoy alongside the cheese and charcuterie. Offer crusty baguettes, crisp lavash, and flavorful whole-grain crackers. Consider including gluten-free alternatives to cater to dietary restrictions.
Spreads and Dips: Elevate the taste profiles by including a range of spreads and dips. Offer options like fig jam, truffle honey, caramelized onion chutney, or a tangy mustard. These condiments add depth and balance to the flavors.
Fresh Fruits: Add a refreshing element to your board with an assortment of fresh fruits. Consider juicy grapes, sliced apples, ripe figs, or sweet strawberries. The natural sweetness and vibrant colors of the fruits will beautifully complement the savory elements.
Condiments and Nuts: Enhance the textures and flavors with additional condiments and nuts. Include marinated olives, pickles, roasted almonds, or candied pecans. These additions provide contrasting tastes and crunchy bites.
Drinks Pairings
When it comes to pairings, consider the following recommendations to elevate the tasting experience:
Wine: Serve a selection of red, white, and sparkling wines that pair well with the cheese and charcuterie. For example, pair a creamy brie with a crisp Sauvignon Blanc or a bold Cabernet Sauvignon with aged cheddar.
Beer: Explore craft beer options such as a hoppy IPA, a malty amber ale, or a Belgian-style saison. These beers can complement the flavors of the cured meats and cheeses.
Cocktails: Offer a signature cocktail that harmonizes with the charcuterie board. For example, a refreshing Aperol Spritz or a classic Negroni can provide a delightful contrast to the savory bites.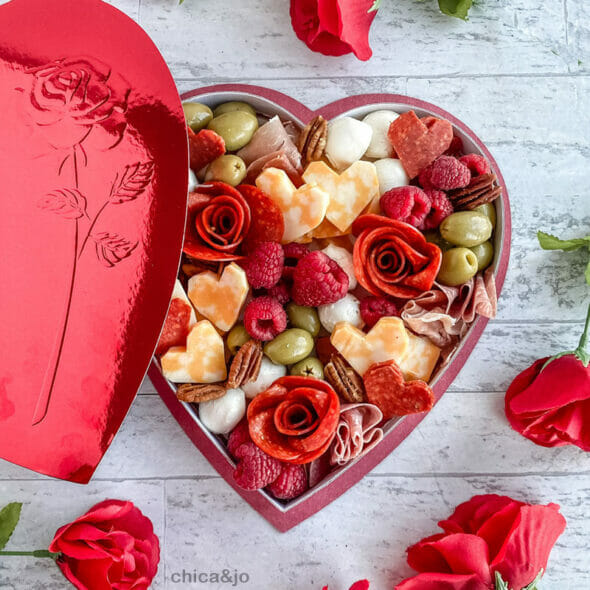 Care and Maintenance of Your Heart Shaped Charcuterie Board
Cleaning and Preservation
To ensure the longevity of your heart-shaped charcuterie board, it's essential to follow proper cleaning and maintenance practices based on the specific material of your board. Here are some guidelines to help you keep your board in top condition:
Wood Boards: Hand wash wooden boards with warm water and mild dish soap. Avoid soaking the board or placing it in the dishwasher, as this can cause warping or splitting. After washing, dry the board thoroughly with a towel and let it air dry completely before storing.
Marble or Stone Boards: Wipe marble or stone boards with a damp cloth and mild soap. Avoid using harsh chemicals or abrasive cleaners that can damage the surface. Dry the board thoroughly to prevent water spots or stains.
Slate Boards: Rinse slate boards with warm water and mild soap, gently scrubbing with a soft brush if necessary. Avoid soaking or immersing the board in water, as it can weaken the adhesive holding the slate layers together. Dry the board completely before storing.
Regardless of the material, it's essential to season your wooden or slate charcuterie board periodically to maintain its beauty and integrity. Apply a food-grade mineral oil or beeswax conditioner following the manufacturer's instructions.
When storing your board, keep it in a cool, dry place away from direct sunlight to prevent warping or discoloration.
Preventing and Treating Wear and Tear
While charcuterie boards are designed for food preparation and serving, they can naturally develop wear and tear over time. Here are some tips to prevent common issues and restore the board's appearance:
Knife Marks: Encourage guests to use appropriate cheese knives or utensils to avoid excessive cutting on the board's surface. If knife marks do occur, lightly sand the affected area with fine-grit sandpaper, followed by re-seasoning or conditioning the board.
Stains: Act promptly to remove stains by gently scrubbing with a mixture of baking soda and water or lemon juice. Rinse and dry the board thoroughly after cleaning.
Refinishing: If your wooden or slate board starts to lose its luster or develops deep scratches, consider refinishing it. Sand the surface, starting with coarse-grit sandpaper and progressing to finer grits. Apply a food-safe finish or conditioner to restore its original beauty.
Remember to follow the care instructions specific to your board's material to ensure the best results and maintain its longevity.
By implementing proper cleaning practices and taking preventive measures, you can enjoy your heart-shaped charcuterie board for years to come, creating memorable moments with your loved ones.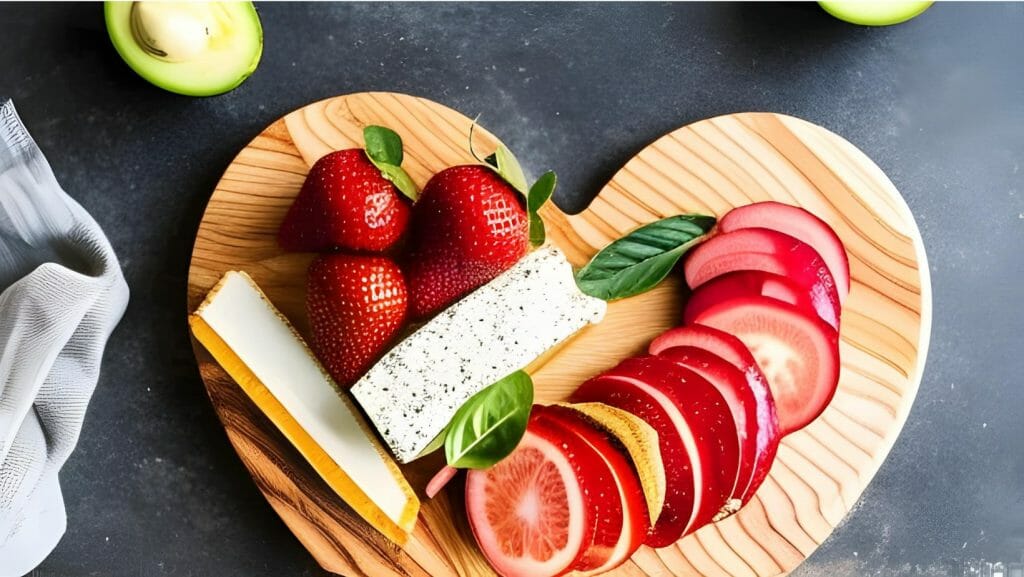 Wrapping It Up
Throughout this article, we've explored the reasons why heart-shaped charcuterie boards are a fantastic choice. They not only infuse your events with a touch of romance and elegance but also serve as a conversation starter and focal point. The versatility and functionality of these boards make them suitable for various special occasions, from Valentine's Day celebrations to anniversaries and beyond.
Now armed with the knowledge gained from this guide, it's time to unleash your creativity, ignite your culinary skills, and delight your guests with captivating presentations on a heart-shaped canvas. Embrace the elegance and charm that a heart-shaped charcuterie board brings to your entertaining endeavors, and create unforgettable experiences for your loved ones.
So, let your heart-shaped charcuterie board be the centerpiece of your next gathering, where style, delectable creations, and cherished memories merge. Cheers to the art of charcuterie and the joy it brings to every occasion!
---
Frequently Asked Questions
How to make a Valentine's charcuterie board?
To make a Valentine's charcuterie board, start by selecting a heart-shaped board or creating a heart shape with smaller boards. Then, choose a variety of sweet and savory items such as cheeses, meats, fruits, nuts, and chocolates. Arrange the items on the board in an aesthetically pleasing manner, grouping similar items together and adding pops of color with fresh herbs and berries. Consider adding themed decorations such as heart-shaped cookies or candy to tie the Valentine's Day theme together. Don't forget to include utensils, napkins, and plates for easy serving.
How to make charcuterie hearts?
To make charcuterie hearts, start by selecting a heart-shaped charcuterie board. Then, choose your favorite meats, cheeses, fruits, and nuts and arrange them in heart shapes on the board. Use cookie cutters to cut heart shapes out of soft cheeses or fruits like melon or strawberries. Add crackers and other small snacks to fill in any gaps. Don't forget to add a dip or two to complete the board!
How do you make a heart shaped charcuterie board?
To make a heart-shaped charcuterie board, you can either purchase a pre-made heart-shaped board or create one yourself using smaller boards arranged in a heart shape. Select a variety of charcuterie items like cured meats, cheeses, fruits, and crackers. Arrange the items on the board, starting from the center and working your way outwards in a heart shape. Get creative with the arrangement, alternating colors and textures for an appealing display. Consider adding garnishes and decorations for an extra touch.
---
---
Share Your Creations:
We'd love to see the charcuterie boards you create using our guide! Feel free to share your own creations in the comments or on social media, and tag us for a chance to be featured. And if you have any other ideas or tips for creating the perfect charcuterie board, we'd love to hear them.
---