Celebrate your anniversary in style with a beautiful and delicious charcuterie board! Whether you're a seasoned charcuterie enthusiast or a first-time board maker, creating an anniversary charcuterie board is the perfect way to impress your partner and show them how much you care. But with so many ingredients, flavors, and accessories to choose from, it can be overwhelming to know where to start. That's why we've put together this comprehensive guide on how to create an anniversary charcuterie board that's both delicious and visually stunning. From selecting the right ingredients to adding the finishing touches, we'll walk you through everything you need to know to make a beautiful and memorable anniversary charcuterie board.
TIP: Thinking about starting or growing your own grazing business?  Join us for our FREE, on-demand training that will show you exactly how to start today! Click here to read more >>
Table of Contents [CLICK HERE TO OPEN]
Planning Your Anniversary Charcuterie Board
When it comes to selecting ingredients for your anniversary charcuterie board, it's important to choose a variety of flavors and textures to create a well-rounded spread.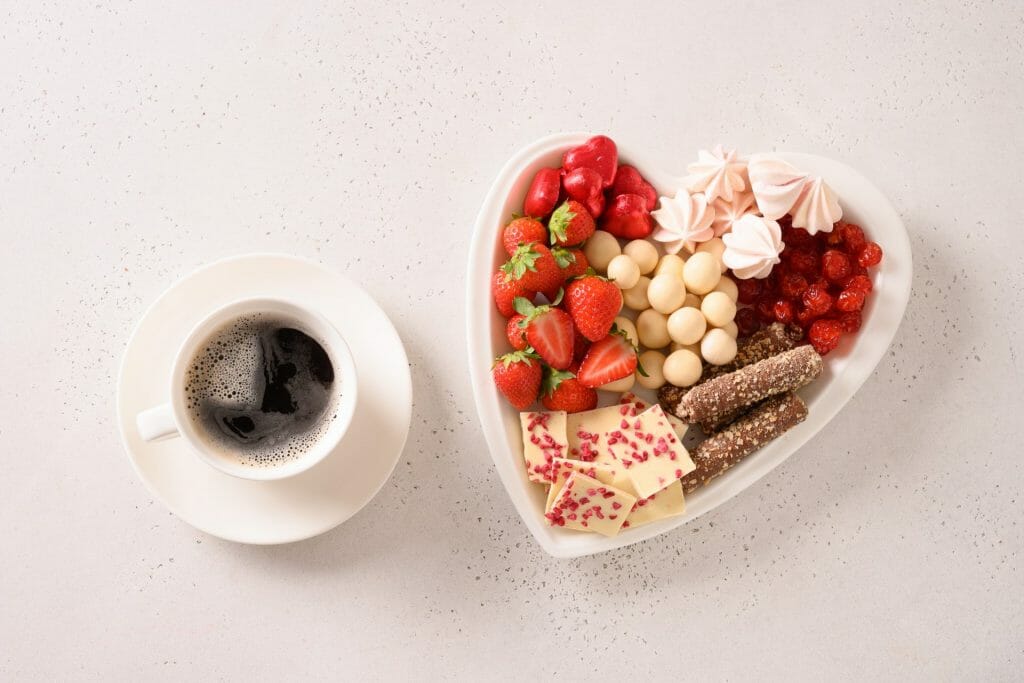 Select Your Board: First things first, select the right board or platter for your occasion. If you're serving a smaller group, a wooden board or slate platter may be perfect, but for larger gatherings, consider a tiered tray or multiple platters to accommodate the number of guests.
Meats And Cheese: Start with a selection of cured meats, such as prosciutto, salami, and pepperoni, and include a variety of cheeses, such as soft brie, tangy cheddar, and creamy goat cheese.
Sweet And Savory: Add some sweet and savory elements to your board by including fresh fruit, such as grapes, strawberries, and sliced apples, and some dried fruit, such as apricots, figs, and cranberries. For some crunch, include nuts like almonds, walnuts, or pistachios, and crackers or breadsticks for scooping and spreading.
Vegetables: To create a beautiful and colorful display, include some vegetables like cherry tomatoes, cucumber slices, and colorful bell pepper strips. You can also add some olives or pickles for a briny bite. And don't forget to include some dips or spreads like honey, jam, or mustard for an extra burst of flavor.
Dietary Restrictions: Don't forget to consider any dietary restrictions or preferences of your guests. If you have guests who are vegetarian, vegan, or gluten-free, be sure to include some options for them. And if you're not sure, it's always a good idea to ask your guests ahead of time if they have any dietary restrictions.
Themes:
To make your anniversary charcuterie board extra special, consider incorporating a theme. For example, if you're celebrating a milestone anniversary, choose ingredients that reflect the traditional gift for that year. Or, you could base your board on your favorite vacation spot or a shared hobby. The possibilities are endless!
When selecting ingredients, consider the number of people you will be serving and adjust accordingly. You don't want to run out of food or have too much left over.
By planning ahead and carefully selecting your ingredients, you can create a beautiful and delicious anniversary charcuterie board that will impress your guests and make your celebration even more special.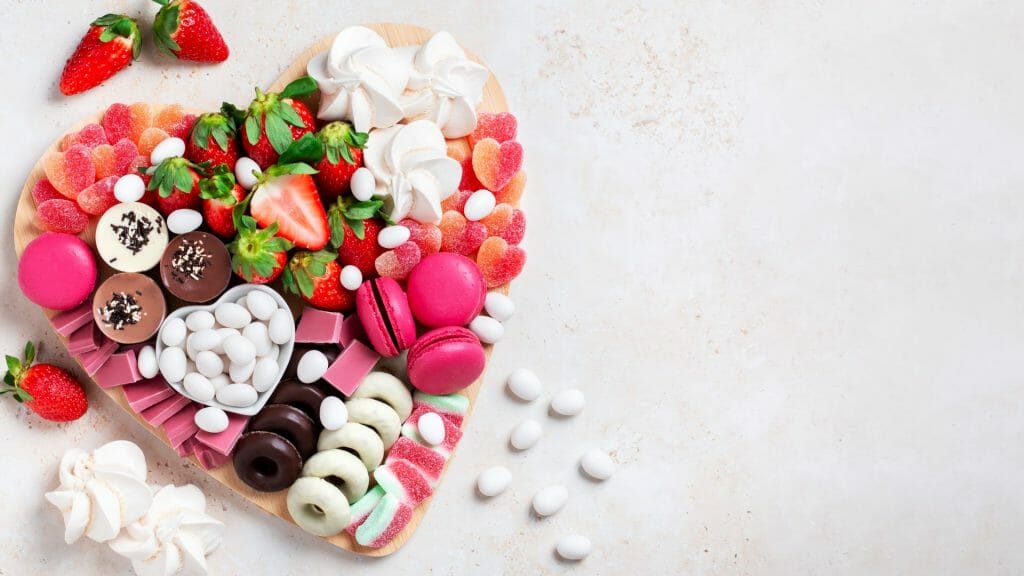 Assembling Your Anniversary Charcuterie Board
Congratulations! You've made it to the fun part: assembling your anniversary charcuterie board. But don't let the excitement of arranging delicious ingredients overshadow the importance of presentation.
Here is a step by step guide to arranging your anniversary charcuterie board:
Grab Your Board: Start by placing your chosen serving board or platter on a clean, flat surface.
Place The Bowls: Arrange any bowls or small dishes you plan to use for dips or spreads first. Place them in a way that balances out the overall look of the board.
Add The Cheese: Begin adding your cheeses to the board. Cut them into different shapes and sizes for variety. Spread them out around the board, creating clusters of cheese in different areas.
Add your meats: Fold or roll them to create a more visually appealing presentation. Place them between clusters of cheese, creating a checkerboard pattern.
Add any fruits or vegetables to the board. Place them in clusters, filling in any gaps between the meats and cheeses. Use seasonal produce for a pop of color and flavor.
Fill In The Gaps: Fill any remaining space with crackers, bread, or other carbs. Place them in piles or arrange them in a row, using them to frame the other ingredients on the board.
Finishing Touches: Add any finishing touches, such as sprigs of herbs or edible flowers. These will add a pop of color and texture to the board.
Step back and take a look at your board. Adjust anything that looks out of place, and make sure the board is balanced and visually appealing.
Remember, the most important part of assembling a charcuterie board is to have fun and be creative. Don't be afraid to try new combinations and experiment with different ingredients.
Adding Finishing Touches to Your Anniversary Charcuterie Board
Once you've assembled your anniversary charcuterie board, it's time to add the finishing touches that will make it truly special. While your chosen meats and cheeses are undoubtedly the stars of the show, there are several additional items you can add to take your board to the next level.
Start by selecting a variety of crackers to complement the meats and cheeses. Consider offering both plain and flavored options, like rosemary or garlic, to give guests a range of choices.
To add a touch of sweetness, consider including some honeycomb or a jar of honey alongside the board. Honey pairs particularly well with salty meats like prosciutto or salami.
If you're looking to indulge your sweet tooth a little more, try adding some chocolate to the board. Dark chocolate, in particular, pairs well with bold, flavorful cheeses.
Don't forget about fresh fruit, either. Grapes are a classic choice, but sliced apples, pears, or figs can add a beautiful pop of color to the board while also providing a refreshing palate cleanser between bites of meat and cheese.
Finally, consider adding some fresh herbs or edible flowers as a garnish to the board. Not only will they make the presentation look even more beautiful, but they can also add subtle flavor notes to the meats and cheeses.
By taking the time to add these finishing touches, you'll elevate your anniversary charcuterie board from a simple collection of meats and cheeses to a true work of art that's sure to impress your guests.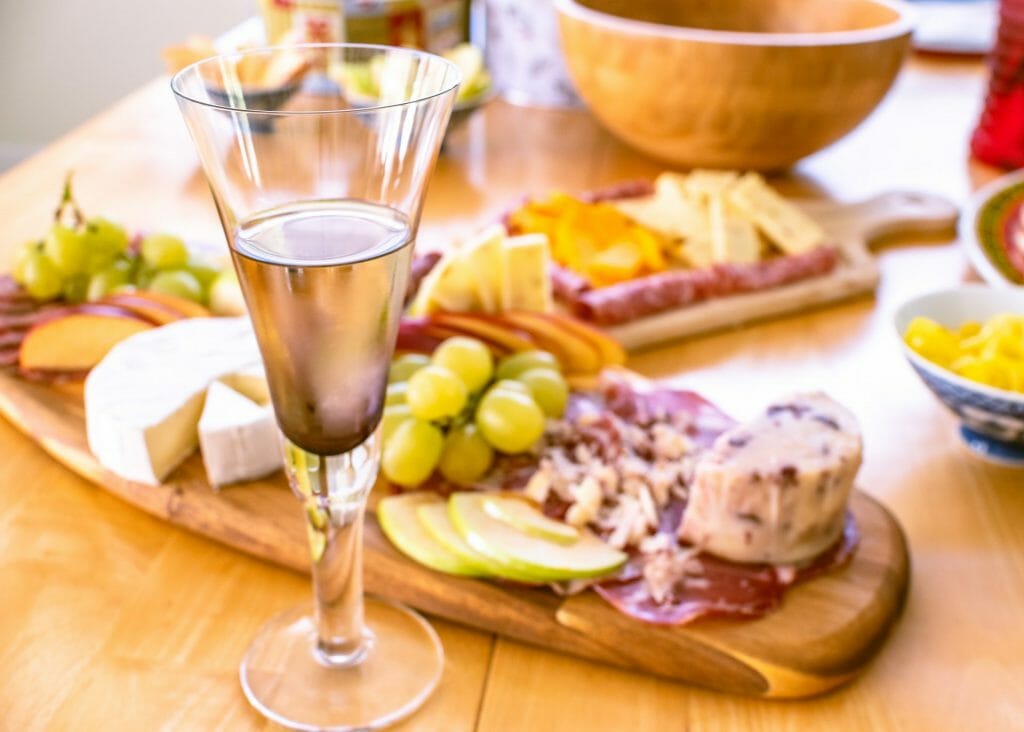 Making Your Anniversary Charcuterie Board Extra Special
While planning and assembling your anniversary charcuterie board, there are a few hints and tips you can follow to make it extra special:
Personalize It: Incorporate items that have special meaning to you and your partner. This could include a favorite type of cheese, a wine from a special occasion, or a type of meat that you both love.
Play with Colors: Don't be afraid to experiment with different colors and textures on your board. Use a variety of fruits and vegetables to add pops of color and create a visually appealing presentation.
Consider the Setting: The setting of your anniversary celebration can greatly impact the overall experience. Consider using a beautiful tablecloth or candles to create a romantic atmosphere and enhance the presentation of your board.
Include a Special Message: Add a personalized touch by including a note or special message for your partner on the board. This could be a love note, a quote that represents your relationship, or even a playful inside joke.
Have Fun with It: Remember, the most important aspect of your anniversary charcuterie board is the celebration of your love and commitment to one another. Have fun with the process and don't stress too much about making it perfect.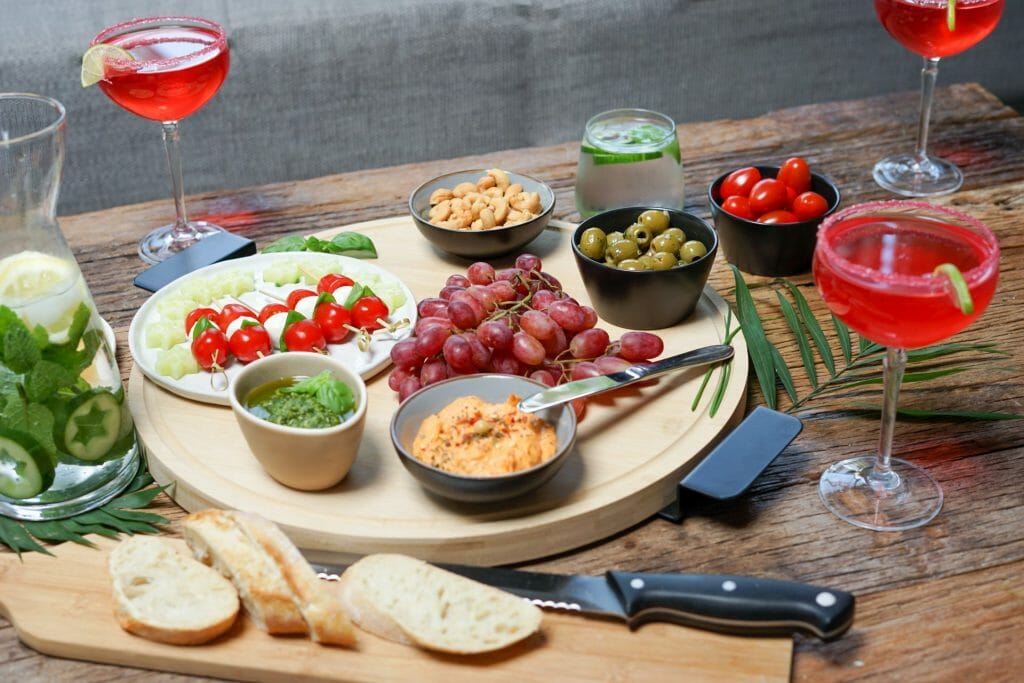 Theme Ideas for Your Anniversary Charcuterie Board
Creating a themed anniversary charcuterie board can add a fun and personalized touch to your celebration. Here are some theme ideas to consider:
Rustic Romance: For a rustic and romantic vibe, include cheeses with a nutty flavor and rich texture like aged Gouda, brie, and camembert. Add some rustic bread, nuts, and dried fruits. Decorate with fresh herbs and flowers.
Wine Country: This theme is perfect for wine-loving couples. Pair cheese and meat with wine that compliments their flavors. Try a bold red wine with hard cheese and a light white wine with soft cheese. Add grapes, figs, and crackers.
Breakfast in Bed: For a cozy and intimate celebration, opt for a breakfast-themed board. Include croissants, butter, jam, honey, fresh fruit, and breakfast meat like bacon or ham. Pair with mimosas or coffee.
Sweet Treats: If you have a sweet tooth, consider a dessert-themed board. Include chocolate, macarons, cookies, and fresh fruit. Add some sweet spreads like Nutella and jams.
Around the World: Take your taste buds on a journey around the world with this theme. Include international cheeses and meats from different countries. Add fruits, nuts, and crackers from each region to pair with the cheeses and meats.
Romantic theme: Use heart-shaped cheese cutters and serve heart-shaped chocolates or strawberries. Add some candles and rose petals for a romantic touch.
Travel theme: Include items from places you've traveled together, such as cheese from France or prosciutto from Italy. Use a map or globe as a backdrop for the board.
Wine theme: Feature wine as the centerpiece and pair it with complementary cheeses and charcuterie. Include wine glasses and a wine opener on the board.
Garden theme: Incorporate fresh herbs and flowers on the board, such as basil, lavender, or edible flowers. Use a wooden or marble board with a green or floral tablecloth.
Adding a theme to your anniversary charcuterie board can make it even more special and memorable. Get creative and have fun with it!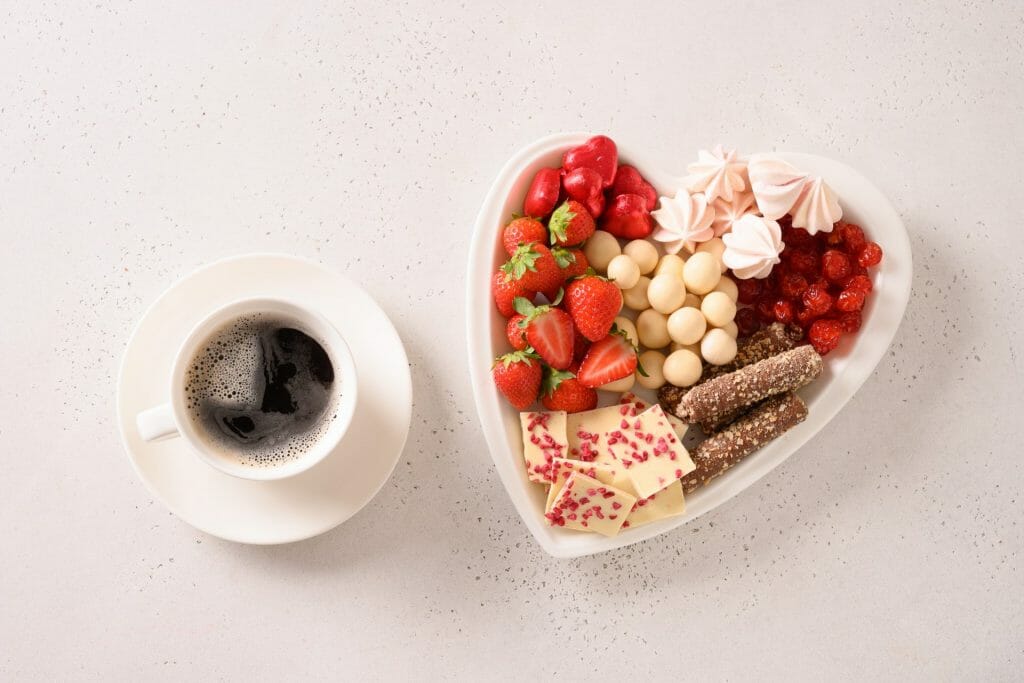 Creating an Anniversary Charcuterie Box as a Gift
Looking for a creative and thoughtful gift for your anniversary? Consider making an anniversary charcuterie box! This is a great way to surprise your partner with a thoughtful gift that is also delicious.
To make an anniversary charcuterie box:
Start by selecting a box or basket that is appropriately sized for the amount of food you plan to include. Consider using a wooden box or a basket that can be reused by your partner after the food is gone.
Next, choose a variety of high-quality meats, cheeses, crackers, and other items to include in the box. You can use the same principles for selecting ingredients as you would for a charcuterie board. However, make sure to choose items that will keep well if they won't be consumed right away.
Consider adding a few special touches to the box, such as a handwritten note, a bottle of wine or champagne, or some chocolates. You can also personalize the box by including your partner's favorite foods or selecting items that represent special memories you share.
Finally, arrange all of the items in the box in an aesthetically pleasing way. You may want to use tissue paper or other fillers to keep everything in place during transportation.
When presenting the box to your partner, consider adding some decorative touches, such as ribbon or a bow. This will make the gift look even more special.
An anniversary charcuterie box is a great gift idea for couples who love food and want to celebrate their love in a unique way. Plus, it's a gift that you can enjoy together, making it even more meaningful.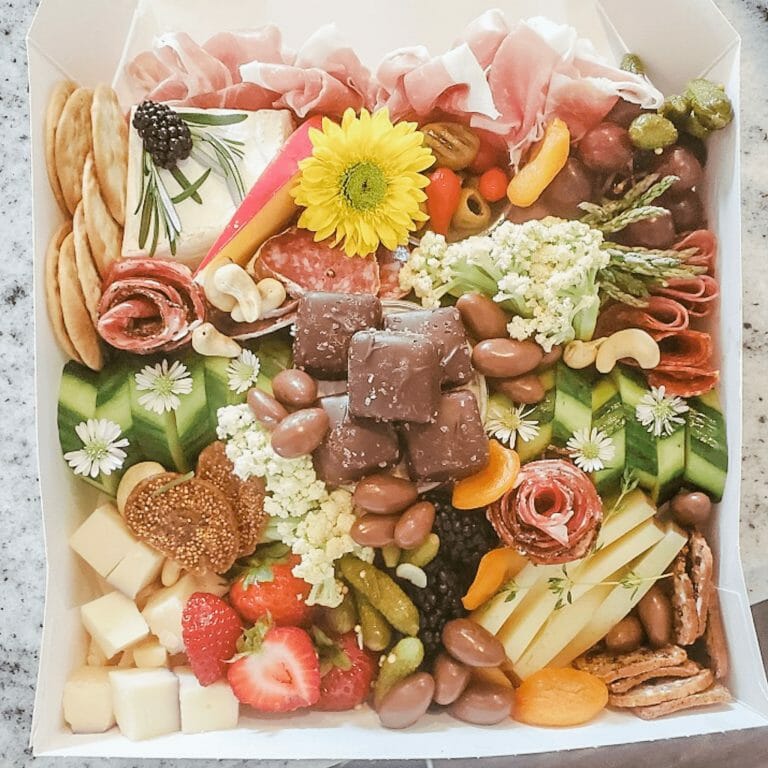 Tips for Serving and Enjoying Your Anniversary Charcuterie Board
Now that you've planned, assembled, and added finishing touches to your anniversary charcuterie board, it's time to serve and enjoy it with your loved one. Here are some tips to make sure the serving and enjoying process goes smoothly:
Provide small plates and utensils: Since the charcuterie board consists of finger foods, small plates, and utensils are necessary. It's best to have a plate for each guest, so they can pick and choose their favorites from the board without touching everything.
Set the mood with lighting and music: Romantic lighting and music can enhance the mood of the evening, making the experience more memorable. You can dim the lights or use candles to create a cozy atmosphere.
Consider the temperature: Make sure the cheese and meat are at room temperature, and the fruits and vegetables are chilled to maintain their freshness.
Wine or Champagne Pairings: Wine and champagne are excellent choices to accompany the charcuterie board. A good rule of thumb is to pair light wines with light meats and cheeses and vice versa. For example, Pinot Noir pairs well with Brie, while a full-bodied Cabernet Sauvignon goes well with aged cheddar. For non-alcoholic options, consider sparkling water or a fruity mocktail.
Relax and enjoy: The best part about a charcuterie board is that it's meant to be shared and enjoyed. Savor each bite, sip, and moment with your partner. Take your time and relish the experience.
By following these tips, you can make your anniversary charcuterie board experience memorable, romantic, and enjoyable.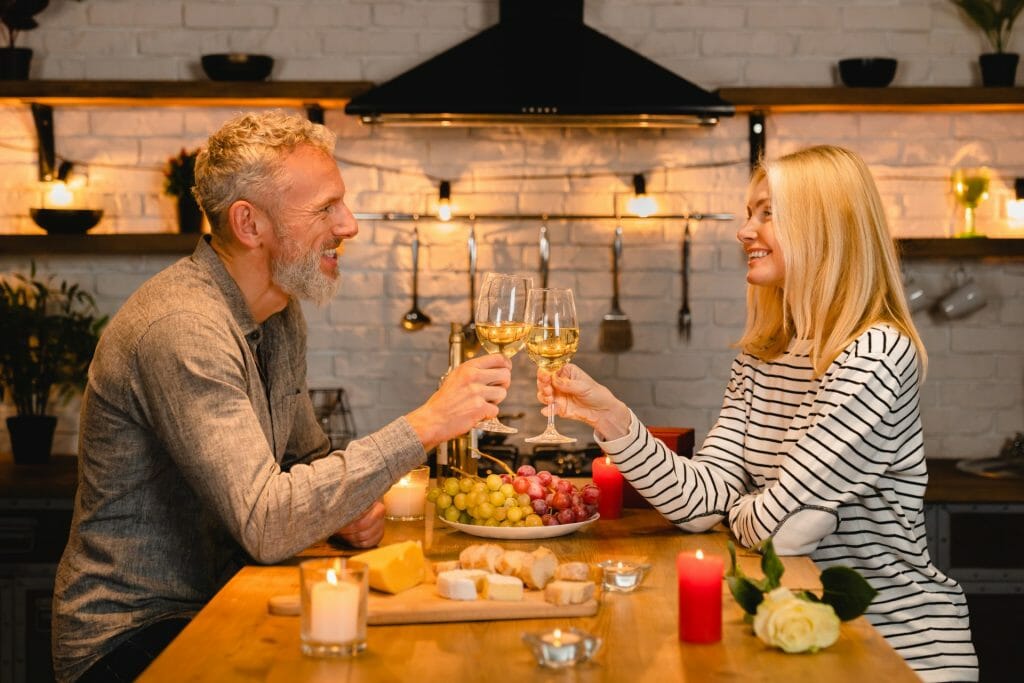 Drink Pairings for Your Anniversary Charcuterie Board
No charcuterie board is complete without a perfectly paired beverage. When it comes to choosing the right drinks for your anniversary charcuterie board, it's important to consider both alcoholic and non-alcoholic options. Here are some ideas to get you started:
Alcoholic Options:
Red wine: A full-bodied red wine, such as a Cabernet Sauvignon or Merlot, pairs well with a charcuterie board that includes bold flavors like spicy salami or aged cheese.
White wine: A light-bodied white wine, like a Pinot Grigio or Sauvignon Blanc, pairs well with milder flavors like prosciutto or fresh mozzarella.
Champagne or sparkling wine: For a celebratory touch, consider pairing your anniversary charcuterie board with a crisp and refreshing glass of champagne or sparkling wine.
Beer: A light lager or pilsner can be a refreshing complement to a charcuterie board. Alternatively, a hoppy IPA can cut through the richness of the meats and cheeses.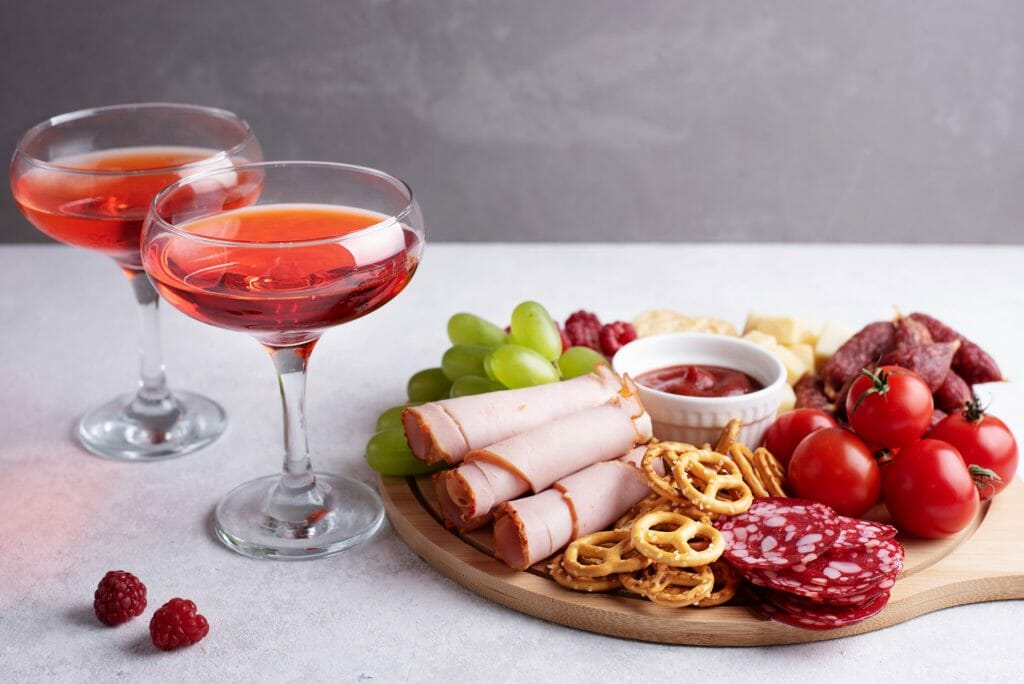 Non-Alcoholic Options:
Sparkling water: A glass of sparkling water with a squeeze of lemon or lime can provide a refreshing contrast to the salty flavors of the charcuterie board.
Tea: A cup of tea, whether hot or iced, can be a great way to balance out the strong flavors of the charcuterie board. Consider pairing with a green tea for a light and crisp flavor.
Fruit juice: A glass of fresh fruit juice, such as orange or grapefruit, can provide a sweet and refreshing complement to the charcuterie board.
Lemonade: A classic glass of lemonade can be a perfect match for a charcuterie board with fresh fruit and mild cheeses.
Remember, when selecting your drink pairings, consider the flavors of your charcuterie board, as well as the preferences of your guests. With the right pairing, your anniversary charcuterie board will be a hit with everyone!
Inspiration
Looking for creative ideas for your anniversary charcuterie board? Look no further than Instagram! Social media is an excellent source of inspiration for creating a beautiful and delicious charcuterie board. From elegant and simple designs to over-the-top and indulgent spreads, Instagram is full of unique and innovative ideas that can take your anniversary charcuterie board to the next level. In this section, we will showcase some of the most stunning and creative anniversary charcuterie boards found on Instagram. So get ready to be inspired and start planning your own Instagram-worthy charcuterie board for your anniversary celebration!
Wrapping It Up
In conclusion, creating an anniversary charcuterie board is a fun and creative way to celebrate your special day with your loved one. By following the tips in this article, you can plan and design a beautiful and delicious charcuterie board that will impress your guests and create a romantic atmosphere.
We encourage you to try creating your own anniversary charcuterie board and share your creations on social media using the hashtag #anniversarycharcuterieboard. It's a great way to showcase your creativity and inspire others to celebrate their special moments with a delicious and beautiful charcuterie board.
---
Frequently Asked Questions
How do you make a charcuterie board as a gift?
To make a charcuterie board as a gift, start by selecting a board or platter and arranging a variety of meats, cheeses, fruits, nuts, and crackers in an aesthetically pleasing way. Add finishing touches like herbs, olives, or honey to elevate the presentation. Consider a theme or personalized touches like monogrammed cheese knives or custom labels. Wrap the board in clear cellophane and tie with a ribbon for a beautiful and thoughtful gift.
What do you buy a charcuterie lover?
You can buy a charcuterie lover a variety of items, such as specialty cured meats, high-quality cheeses, gourmet crackers, artisanal spreads, and unique charcuterie board accessories like cheese knives and serving boards. Other gift ideas include books on charcuterie or cooking, gift cards to specialty food stores, and even a charcuterie-making kit.
Is a charcuterie board a nice gift?
Yes, a charcuterie board can make a very nice gift, particularly for those who enjoy entertaining or appreciate fine foods. Charcuterie boards are versatile and can be tailored to suit individual tastes and preferences, making them a thoughtful and personalized gift option. They can also be presented in attractive packaging, such as a gift box or basket, to make the gift even more special.
What is the best accompaniment for a charcuterie board?
The best accompaniment for a charcuterie board varies depending on personal preferences, but some popular options include bread or crackers, cheeses, fruits, nuts, olives, and spreads such as mustard or honey. Wine and champagne also pair well with charcuterie boards. It's best to select accompaniments that complement the flavors of the meats and cheeses on the board, and to provide a variety of textures and flavors for a well-rounded experience.
---
---
Share Your Creations:
We'd love to see the charcuterie boards you create using our guide! Feel free to share your own creations in the comments or on social media, and tag us for a chance to be featured. And if you have any other ideas or tips for creating the perfect charcuterie board, we'd love to hear them.
---