When it comes to creating a stunning charcuterie board, the right serving vessel can make all the difference. Enter the acacia charcuterie board, a beautiful and functional choice for anyone looking to elevate their charcuterie game. Made from durable and attractive acacia wood, these boards are perfect for showcasing your carefully selected meats, cheeses, fruits, nuts, and other tasty accompaniments. Whether you're a home charcuterie enthusiast or a professional caterer, an acacia charcuterie board is a must-have addition to your collection. In this article, we'll dive into everything you need to know about acacia charcuterie boards, including their benefits, features, and tips for use and maintenance.
TIP: Thinking about starting or growing your own grazing business?  Join us for our FREE, on-demand training that will show you exactly how to start today! Click here to read more >>
Table of Contents [CLICK HERE TO OPEN]
What is an Acacia Charcuterie Board?
If you're a charcuterie enthusiast, you're probably familiar with the beauty and utility of acacia wood charcuterie boards. These boards are a popular choice for displaying your favourite meats, cheeses, fruits, and nuts. But what sets acacia wood apart from other materials?
Acacia wood is a natural hardwood that is known for its durability, strength, and resistance to moisture. It also has a beautiful, rich colour and unique patterns that make each board one-of-a-kind.
But beyond aesthetics, acacia wood has several benefits that make it an ideal material for charcuterie boards.
Antibacterial: Firstly, acacia wood is naturally antibacterial, which means it can resist the growth of harmful bacteria that can contaminate your food. This makes it a safe and hygienic option for food presentation.
Sustainable: Additionally, acacia wood is a sustainable choice for charcuterie boards. It is a fast-growing species of tree that can be harvested responsibly and replanted for future generations.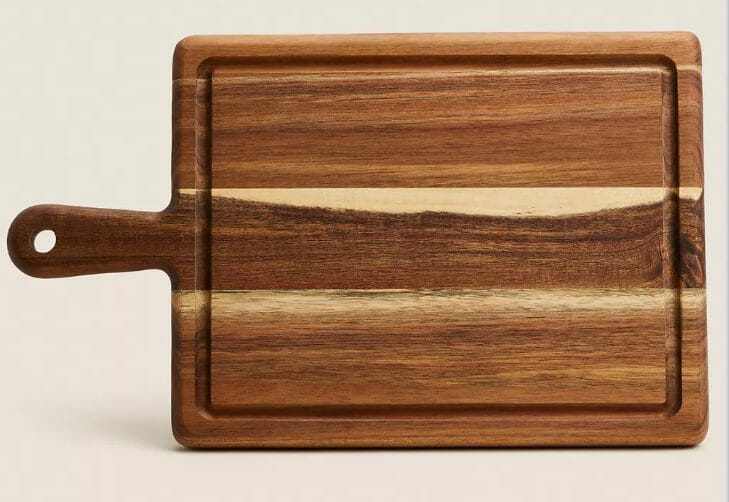 Misconceptions:
Despite the benefits mentioned above, there are some common misconceptions about acacia wood.
Hardness: Some people believe that acacia wood is too hard and can dull their knives. However, if you properly maintain your knives and board, this shouldn't be an issue.
Maintenance: Another common misconception about acacia wood is that it is difficult to maintain and care for. However, with proper care and maintenance, acacia wood charcuterie boards can last for years.
Warping And Cracking: Another misconception is that acacia wood is prone to warping or cracking, but this is not necessarily the case. Proper storage and maintenance can help prevent these issues.
Sustainability: Additionally, some people believe that acacia wood is not environmentally friendly, but in reality, it is a sustainable and renewable resource. Acacia trees are fast-growing and require minimal resources to maintain, making them an eco-friendly choice for charcuterie board production.
By addressing these common misconceptions, readers can better understand the benefits of using an acacia charcuterie board and feel more confident in their purchasing decisions.
In this article, we'll explore the world of acacia charcuterie boards in greater detail, covering everything from the best ways to care for your board to creative ways to style it for your next gathering.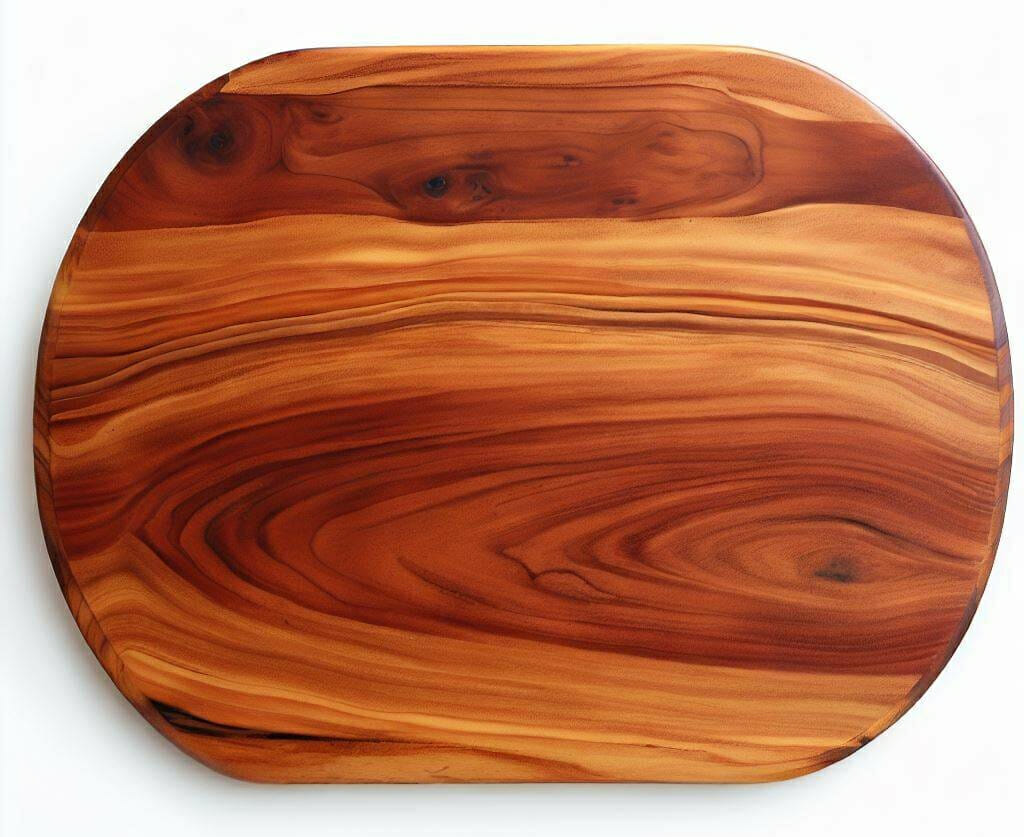 Choosing the Right Acacia Charcuterie Board
When it comes to choosing the right acacia charcuterie board, there are a few key factors to consider.
When choosing an acacia charcuterie board, consider the following factors:
Size: The size of the board will depend on the number of people you plan to serve. Consider the amount of food you'll be serving and make sure the board is large enough to accommodate everything. For example, if you're hosting a large gathering, a larger board will be necessary to accommodate all of the ingredients. Alternatively, if you're simply enjoying a charcuterie board on your own, a smaller board may suffice.
Shape: The shape of the board can affect the overall presentation of your charcuterie. Choose a shape that complements the ingredients you plan to use. Rectangular or oval boards are great for longer items like meats and crackers, while circular boards work well for round cheeses.
Design: The design of the board is also important. While acacia wood is known for its natural beauty and unique grain patterns, there are various design elements to consider such as a live edge, handles, or engraved details. The board you choose should not only look great but also fit the occasion and atmosphere of your event. Acacia charcuterie boards come in a variety of designs, from simple and rustic to sleek and modern. Choose a design that matches your personal style and the occasion. Some boards even come with additional features like built-in compartments for dips or utensils.
Budget: Acacia charcuterie boards are available at a range of price points, from under $20 to over $100. Consider your budget when selecting a board, but keep in mind that investing in a high-quality board can be a worthwhile investment if you plan to use it frequently.
When selecting an acacia charcuterie board, it's important to choose one that complements the ingredients and occasion. Consider the size, shape, design, and budget to find the perfect board for your needs.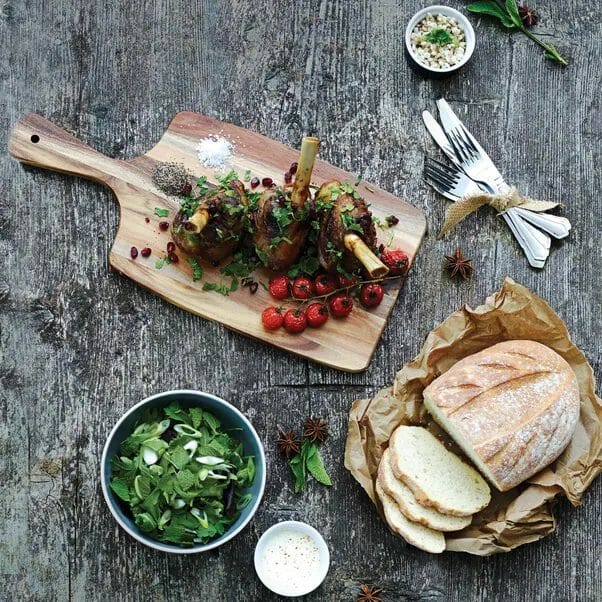 Maintaining and Cleaning Your Acacia Charcuterie Board
Acacia wood is known for its durability and longevity, but it still requires proper care to maintain its quality. When it comes to cleaning and maintaining your acacia charcuterie board, there are some important factors to consider.
Cleaning
Firstly, it's crucial to avoid soaking your board in water or putting it in the dishwasher, as this can cause warping or splitting. Instead, wipe the board with a damp cloth after use and let it air dry. To sanitize the board, use a solution of equal parts white vinegar and water and wipe down the surface thoroughly.
Oiling
It's also important to oil your acacia board regularly to prevent it from drying out and developing cracks. Use a food-safe oil, such as mineral oil or beeswax, and apply a thin layer to the board using a soft cloth.
Storage
In addition to proper cleaning, it's important to store your acacia charcuterie board correctly to prevent damage. Avoid storing it in damp or humid environments, as this can cause warping or cracking. Instead, store it in a cool, dry place, preferably in an upright position to allow for air circulation. If you don't plan on using the board for an extended period, consider applying a food-grade mineral oil to help protect and preserve the wood.
Maintenance
If your acacia board develops stains or scratches, don't fret. Mix equal parts baking soda and water to create a paste and apply it to the affected area. Let it sit for a few minutes before wiping it away with a damp cloth. For deeper scratches, sand the surface lightly with a fine-grit sandpaper and apply a fresh coat of oil.
By following these simple steps, you can ensure that your acacia charcuterie board remains in top condition for years to come. Remember to take good care of your board and it will reward you with endless charcuterie delights!
Creative Charcuterie Board Ideas
Share inspiring ideas for arranging a charcuterie board that is visually appealing and inviting
Provide suggestions for charcuterie ingredients that pair well with an acacia charcuterie board
Offer tips on how to create a themed charcuterie board for special occasions, such as holidays or game nights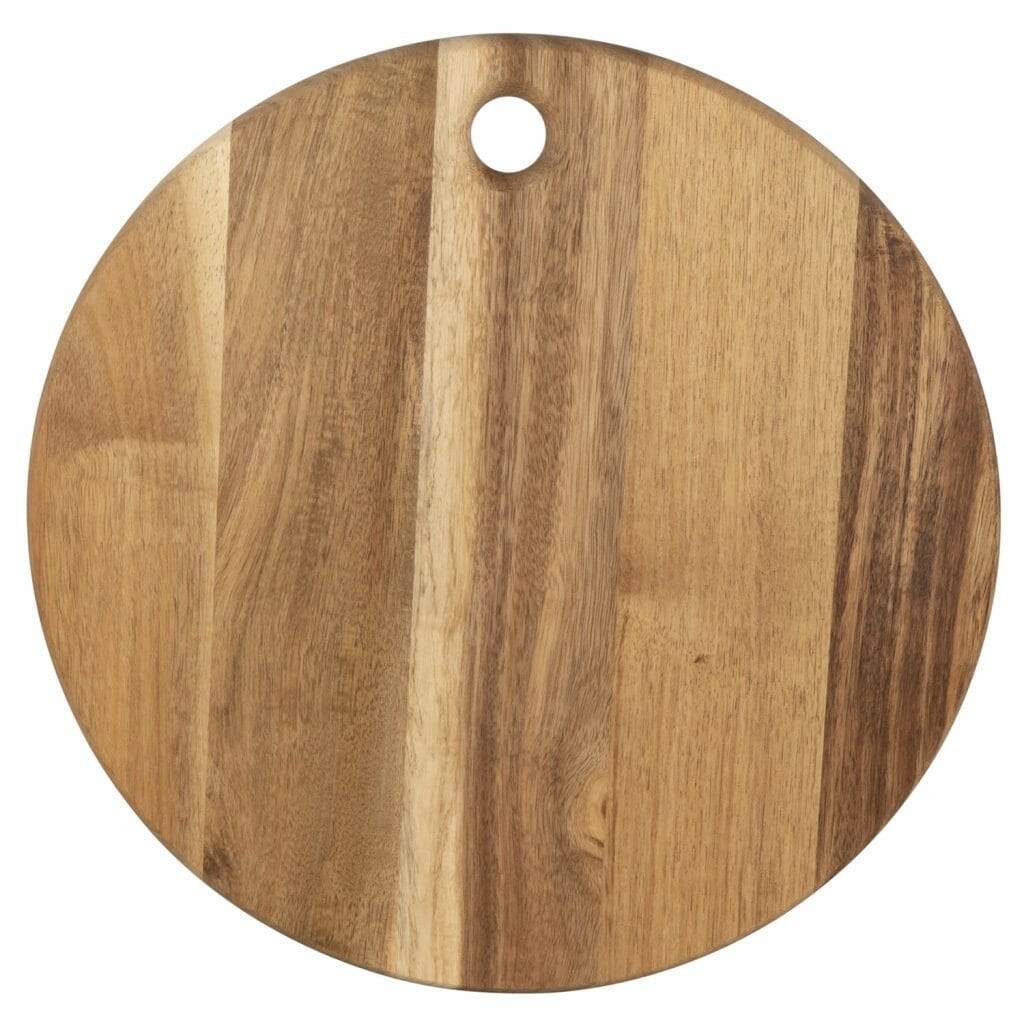 Where to Buy Acacia Charcuterie Boards
When it comes to purchasing an acacia charcuterie board, there are a number of factors to consider.
Price Range:
One of the most important things to keep in mind is the price range. The price of an acacia charcuterie board can vary depending on a number of factors, such as the size, design, and quality of the wood. It's important to keep in mind that a higher price doesn't always equate to higher quality. That being said, investing in a well-made acacia charcuterie board can provide a beautiful and long-lasting addition to your kitchen or entertaining space.
Where To Buy:
It's also important to consider where to buy an acacia charcuterie board. There are a number of reputable brands and retailers that offer high-quality acacia charcuterie boards, both in-store and online. When shopping for an acacia charcuterie board, it's important to look for a brand or retailer that has a reputation for quality and customer service. It's also a good idea to read customer reviews and check out the company's return policy before making a purchase.
Online Shopping:
One of the benefits of shopping for an acacia charcuterie board online is that you have access to a wider selection of options than you might find in a brick-and-mortar store. However, it's important to keep in mind that shopping online also comes with some risks, such as the possibility of receiving a damaged or lower-quality product. To minimize these risks, it's important to choose a reputable online retailer and read customer reviews before making a purchase.
Consider Quality:
In terms of concerns or questions that readers may have when purchasing an acacia charcuterie board, it's important to keep in mind that not all acacia wood is created equal. As mentioned earlier, some manufacturers may use lower-quality wood or even other types of wood and label it as acacia. To ensure that you're getting a high-quality acacia charcuterie board, look for a product that is made from solid acacia wood and has a clear finish that allows the natural beauty of the wood to shine through.
Here are some retailers that offer acacia charcuterie boards:
Amazon – Amazon offers a wide variety of acacia charcuterie boards from different brands at different price points. Customers can read reviews and compare prices to find the best option for them.
Williams Sonoma – Williams Sonoma is known for its high-quality kitchenware and has a selection of acacia charcuterie boards in different sizes and styles.
Bed Bath & Beyond – Bed Bath & Beyond offers a variety of acacia charcuterie boards in different price ranges, making it a great option for those looking for a budget-friendly board.
Crate & Barrel – Crate & Barrel has a selection of acacia charcuterie boards in different shapes and sizes, as well as sets that come with utensils and accessories.
Target – Target has a selection of acacia charcuterie boards at affordable prices, making it a great option for those on a budget.
Etsy – Etsy is a great place to find unique and handmade acacia charcuterie boards from small businesses and independent sellers.
It's always a good idea to read reviews and compare prices before making a purchase. Customers should also consider factors such as size, design, and price when choosing an acacia charcuterie board.
Acacia Charcuterie Board Best Buy Picks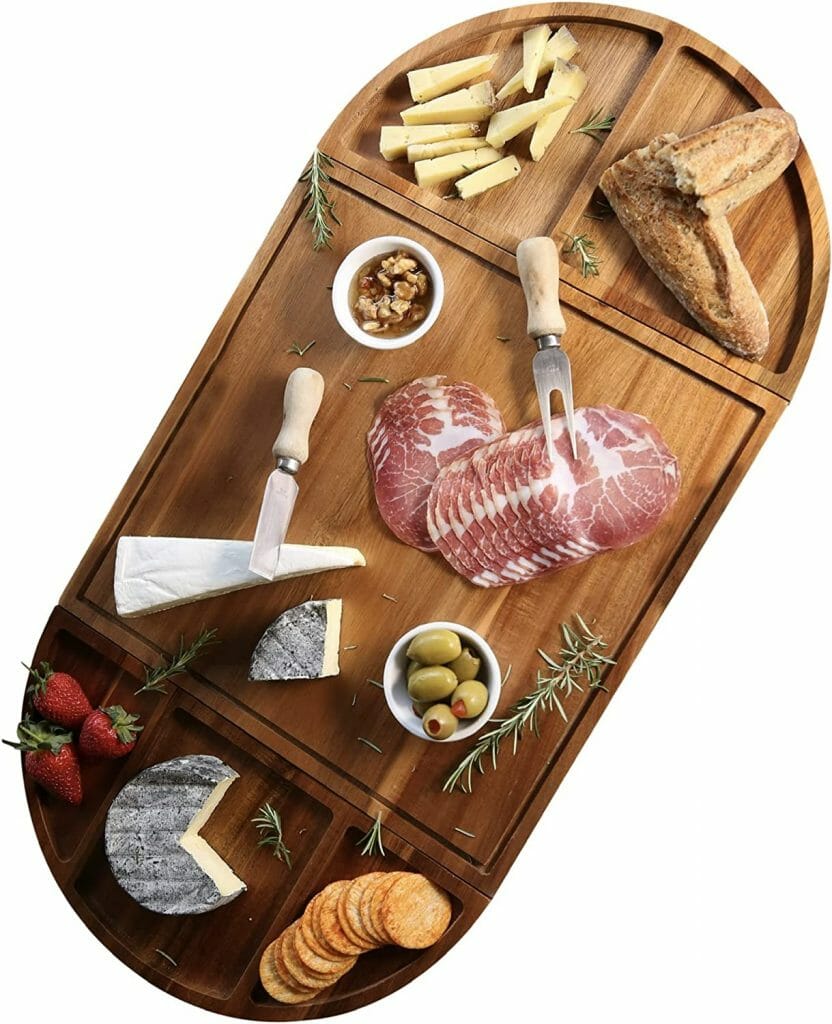 Elevate your charcuterie game with this versatile and stylish serving cheese board set, perfect for impressing your guests and unleashing your creativity. Featuring strong magnets, this personalized extra-large charcuterie board is a creative and fun way to entertain, made up of a 13″ square cutting board with juice groove and two halves round boards with rim set, creating a 26″ long wooden board that can be styled to suit your needs.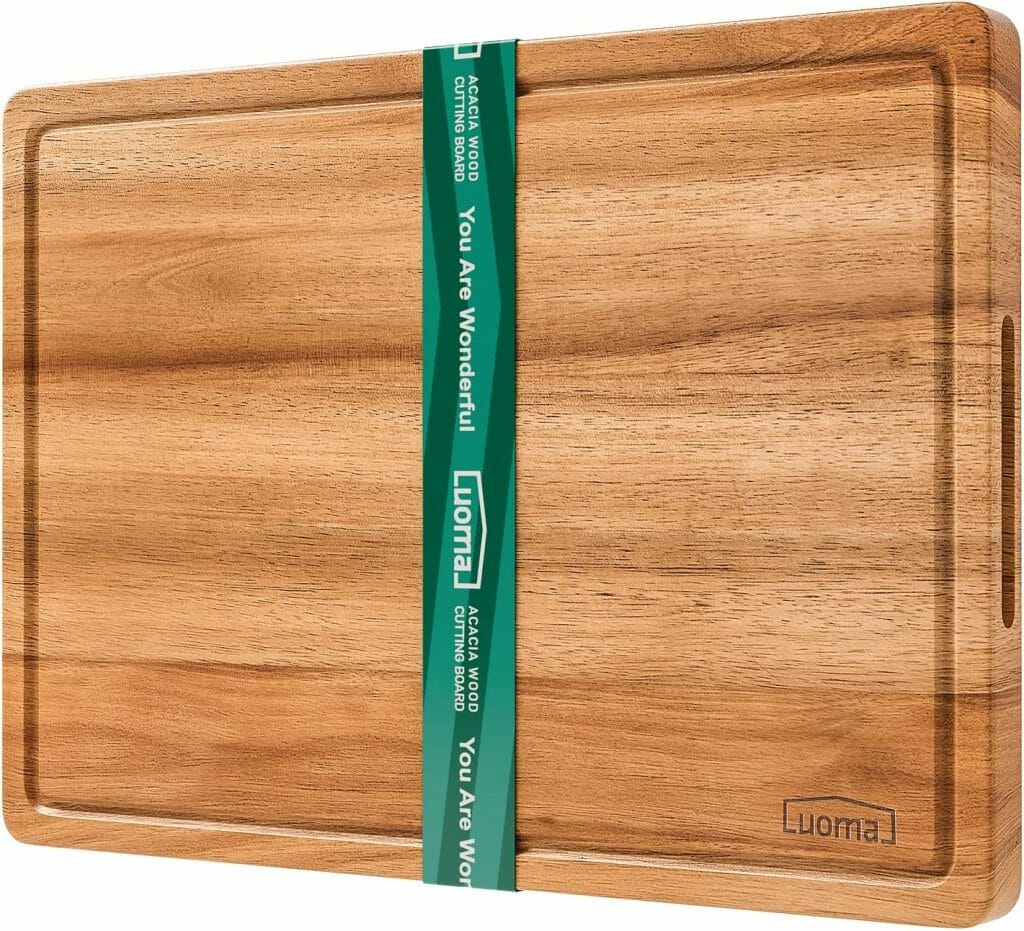 Crafted from stable and durable acacia wood, its unique smooth dark-grained wood surface adds a touch of elegance and rustic charm to your cooking space. This knife-friendly and reversible wood charcuterie board helps prevent your knives from dulling, extending their sharpness and efficiency. The reversible design allows you to use one side for meat and the other for vegetables, reducing cross-contamination between foods. Additionally, this wooden charcuterie board features an all-around juice groove that helps catch any excess juice from fruits, vegetables, or meats, keeping your meals fresh and palatable.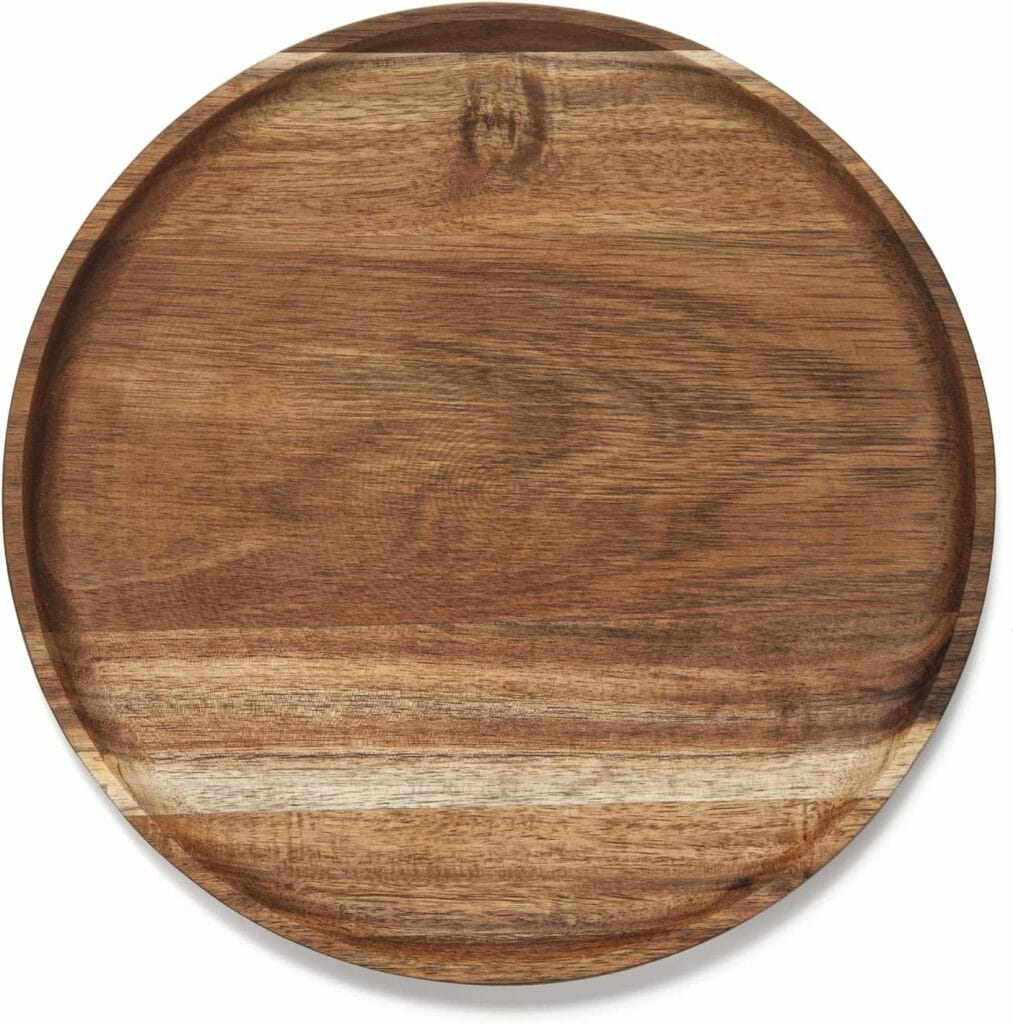 Crafted from natural acacia wood, this tray features a warm and comforting wood grain pattern and a well-sanded surface that provides a smooth and soft touch. It is lightweight yet durable, making it perfect for everyday use. Measuring 11.8 x 11.8 x 0.8 inches, this multifunctional design tray can be used as a kitchen tray, appetizer tray, charcuterie tray, and much more.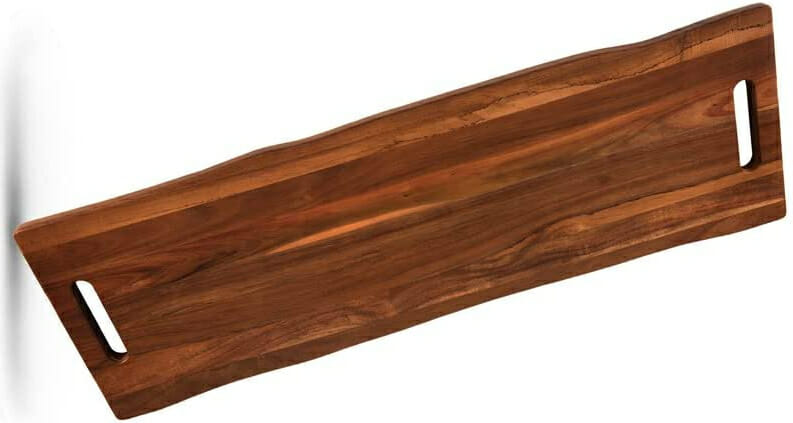 This rustic wood serving board measures 36 by 12 inches, providing ample space to serve fresh cheese, crackers, and appetizers, or share delicious steak, meat, or veggie options. Not only is it functional, but it is also a stylish addition to any party, dinner table, or kitchen, and can be used to serve small platters or tapas. The vintage woodgrain finish and small handles cut out on the edges of the board add to its charm and make it easy to carry. Made with high-quality all-natural acacia wood, it is food-safe, easy to clean, and moisture-resistant, making it an ideal choice for modern homes.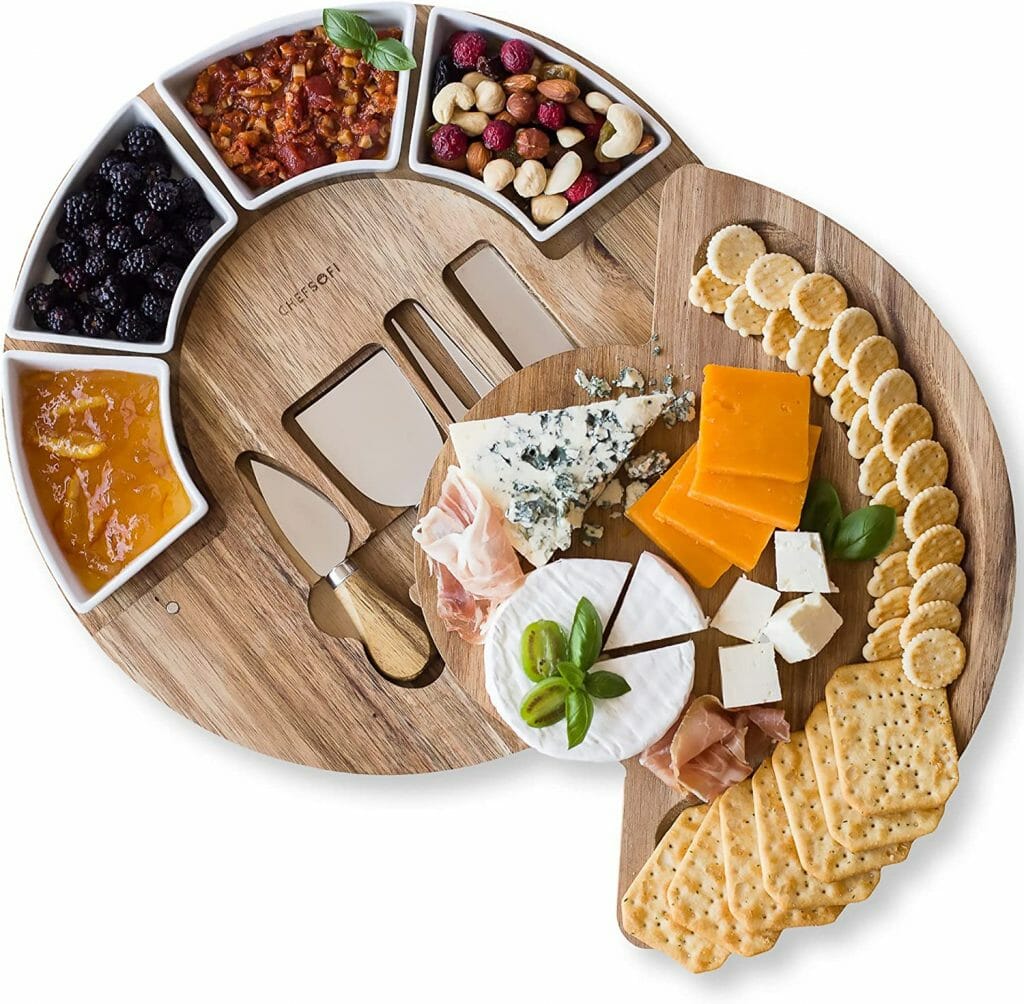 This acacia wood cheese board set is an original German design, meticulously crafted for upscale parties and lavish dinners. Designed and quality-checked in Germany, this set includes 4 bowls and 4 knives to hold and slice all kinds of cheese types and charcuterie. Its wide 13 inches diameter provides ample space for crackers, serving utensils, and cutlery for cheese and meat. The set also features 4 ceramic bowls to help you sort various kinds of side dishes, fruits, crackers, nuts, and meats while keeping them neatly arranged.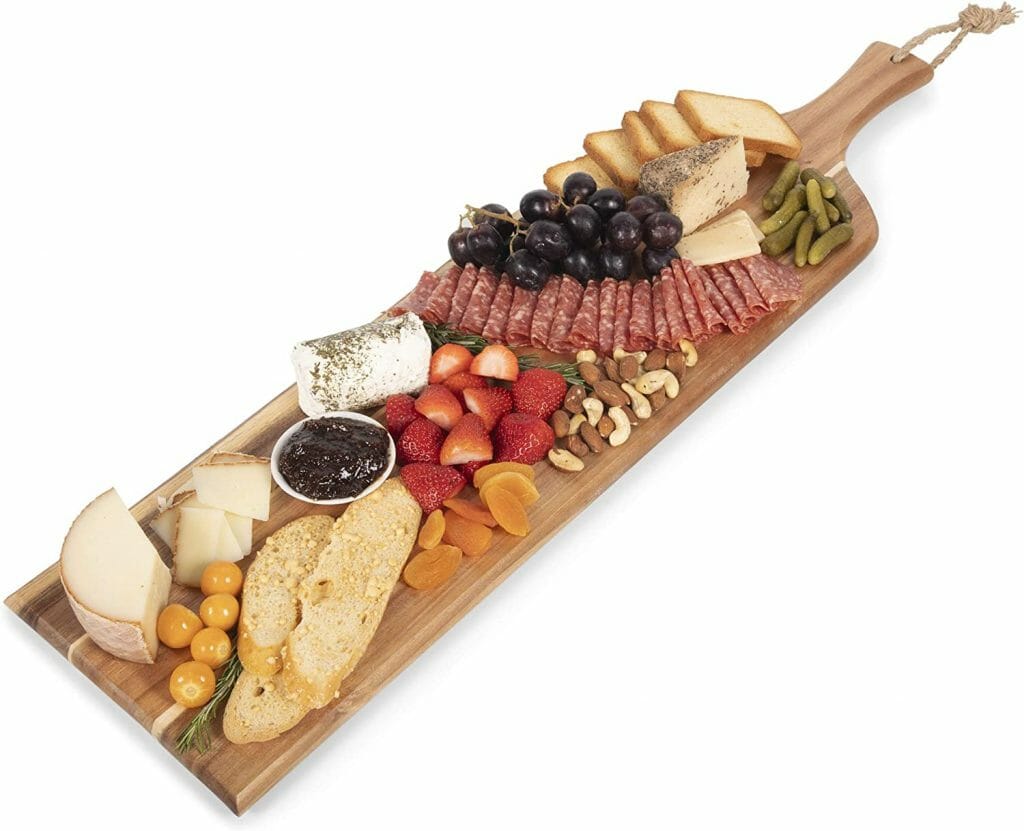 The Artisan Serving Plank by Toscana, a Picnic Time brand, is a versatile and unique charcuterie board that can also be used as a cutting board. Made of durable acacia wood, it is perfect for serving bread, cheese, and other appetizers. With a natural and raw bark edge and a hemp hanging loop, it is not only functional but also decorative. This large serving board comes with a lifetime guarantee from the Picnic Time Family of Brands, a family-owned business in California, ensuring its quality and longevity. It is the perfect addition to any home for rustic entertaining and display.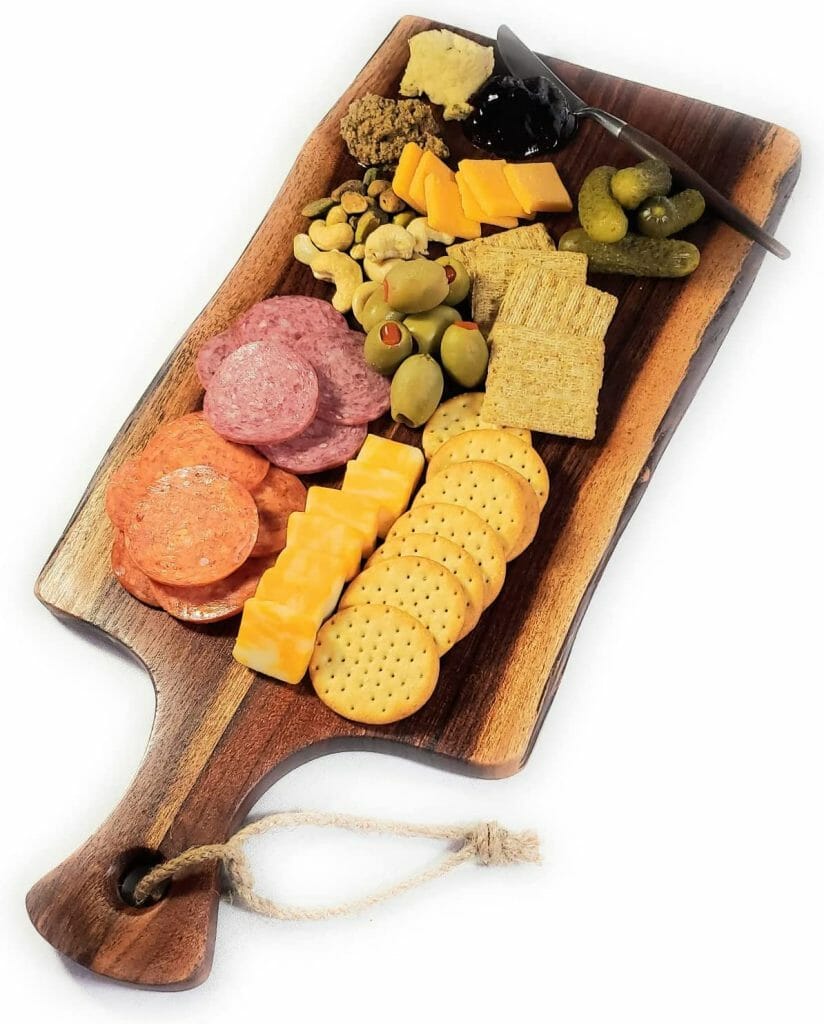 This cutting board boasts a rich grained dark wood and rustic elegance, making it a perfect gift for various occasions such as Christmas, weddings, bridal showers, anniversaries, Mother's Day, birthdays, and housewarming parties. It has been seasoned with all-natural, carefully selected olive oil, but please note that it does not protect against food-borne bacteria. Therefore, it is crucial to clean and wash the product thoroughly before and after each use. Made from natural acacia wood, each cutting board is unique with its own natural color and patterns. There are no dyes or stains added. Due to the live edge nature of the board, its size is approximately 18 x 8 inches.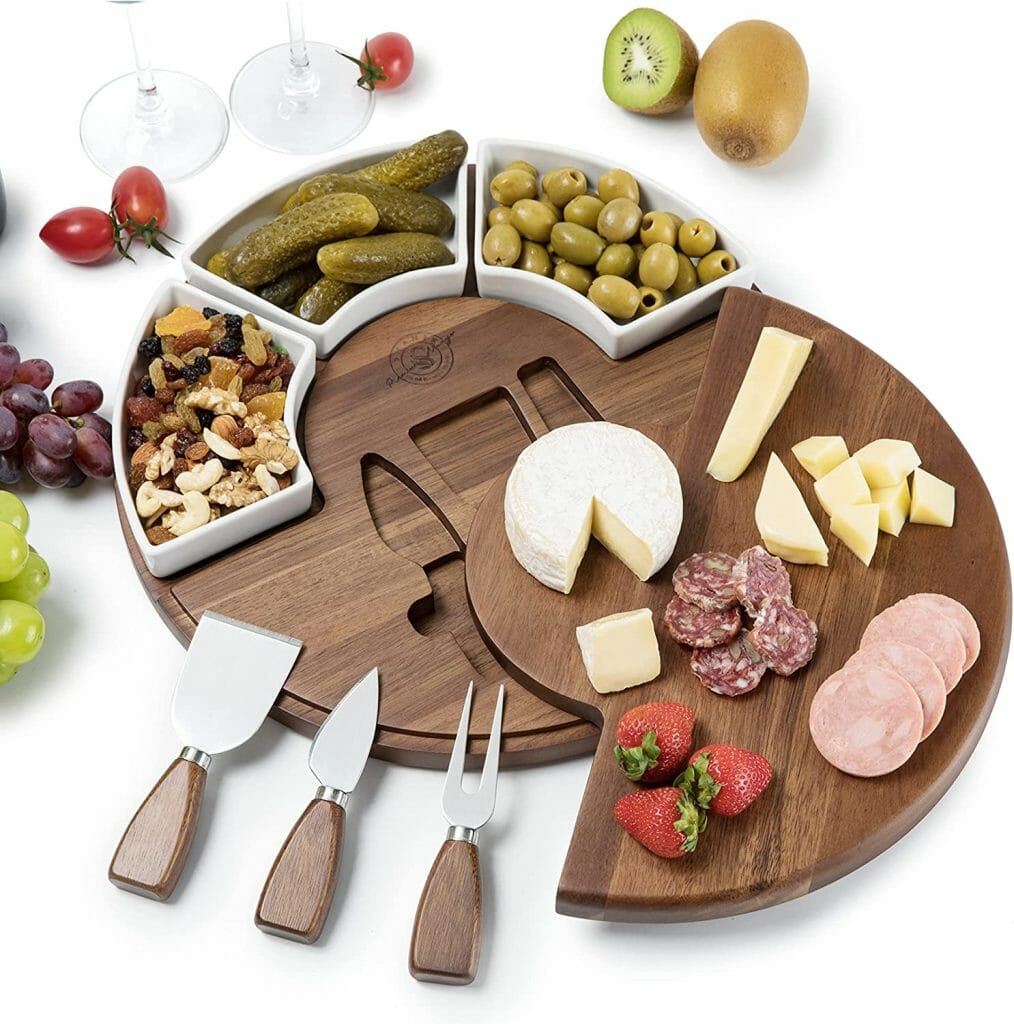 Crafted from highly durable and water-resilient Acacia Wood, the Shanik Cheese Board is designed to last for years to come. It features a unique and ergonomic design, with 3 oven-fired white ceramic bowls that can be used inside the board or separately to create additional compartments for your favorite snacks. The rotating design of the board allows you to easily access your desired treat while keeping your sleeves clean. The board also includes 3 stainless steel knives that are hidden under a rotating part of the board and presented in a safe and stylish storage system for easy cleanup and convenience.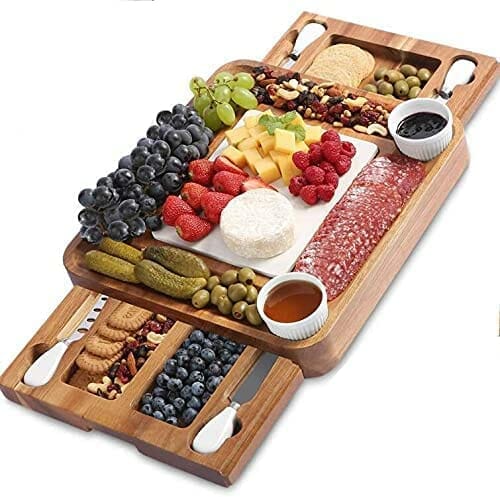 This cheese board set is made of high-quality Acacia wood, which is environmentally friendly, durable, and sturdy. It is the perfect gift for any cheese lover and is ideal for occasions like housewarming, birthdays, and more. The set comes with a generous sized cutting surface that includes a removable double-sided marble slab for cutting cheese and other snacks. The set also includes two slide-out drawers that store four free steel cheese knives with ceramic handles and two ceramic bowls for sauces.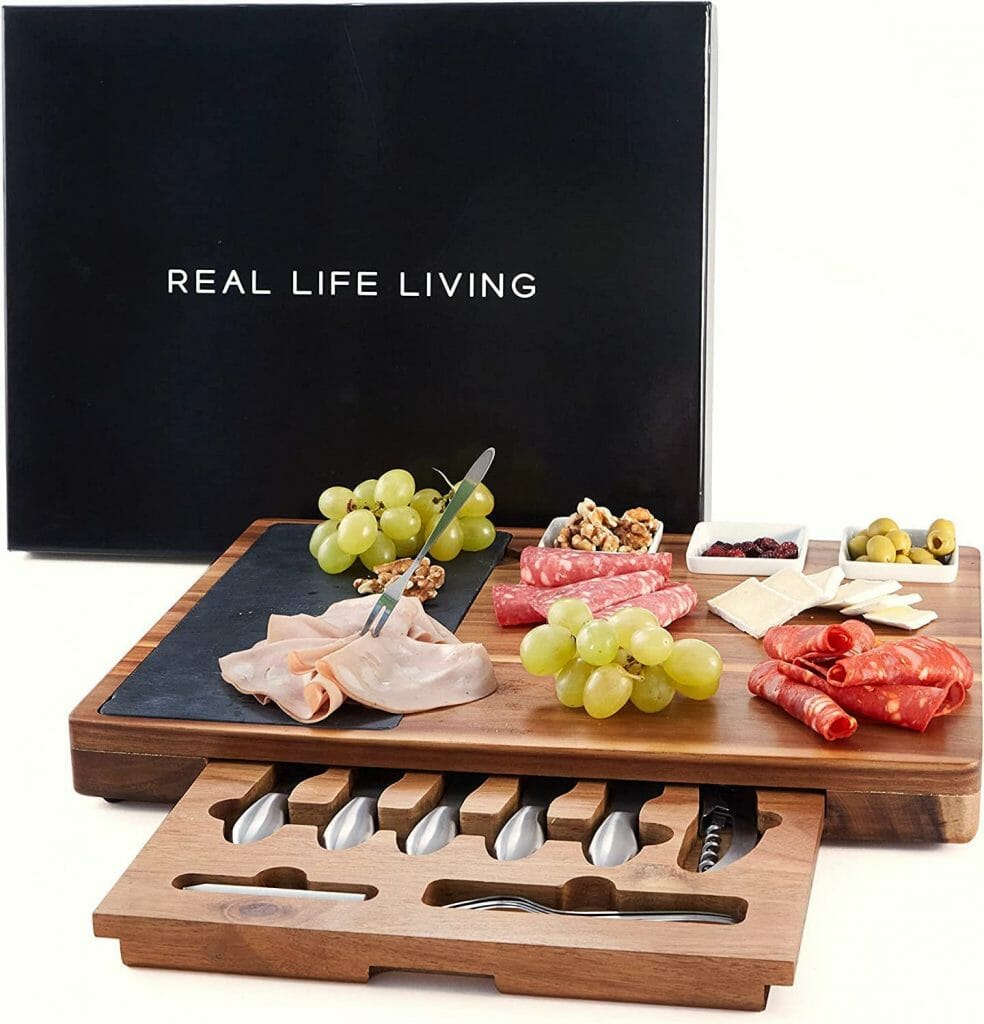 This vintage aristocratic style of the board will add an elegant touch to any kitchen and the magnetic edge of the box makes it perfect for storing the board. The set of stainless steel cheese knives and forks with ergonomic handles and the ramekins are dishwasher safe, making it easy to clean. The contemporary slate cheese board and accessory set that includes stainless steel knives, forks, and serving tools allows you to unleash your creativity and save time.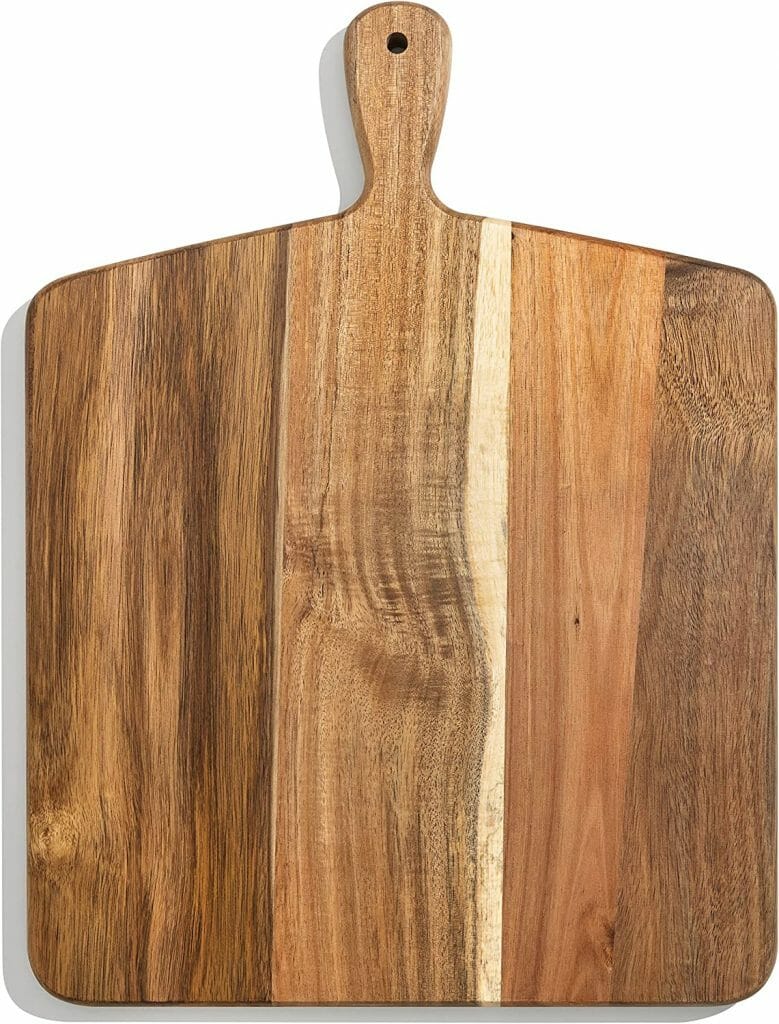 This versatile 2-in-1 acacia serving board is perfect for serving up delicious foods or appetizers to guests. Its long, ergonomic carry handle makes it easy to move between the kitchen, dining room, or patio. While the natural, heavy-duty acacia wood is strong, durable, and longer-lasting than other traditional serving boards. Its rustic farmhouse finish adds warmth to any kitchen, making it a great addition to farmhouse, modern, and boho style homes. This large cutting board also makes a great housewarming or wedding gift for friends and family, and is perfect for birthdays, anniversaries, and Christmas.
Wrapping It Up
In conclusion, using an acacia charcuterie board is a great way to elevate your charcuterie game. We have covered the various benefits of using an acacia wood board, including its durability, versatility, and aesthetic appeal. We have also discussed how to choose the right board based on factors such as size, shape, and design, and how to properly care for and maintain it to ensure longevity.
Finally, we encourage readers to take action and explore the world of acacia charcuterie boards. Consider visiting a particular brand's website to browse their selection, or sign up for a charcuterie board workshop to learn new techniques and recipes. Whatever your approach, we hope this article has inspired you to discover the joy of creating a beautiful and delicious charcuterie board using an acacia wood board.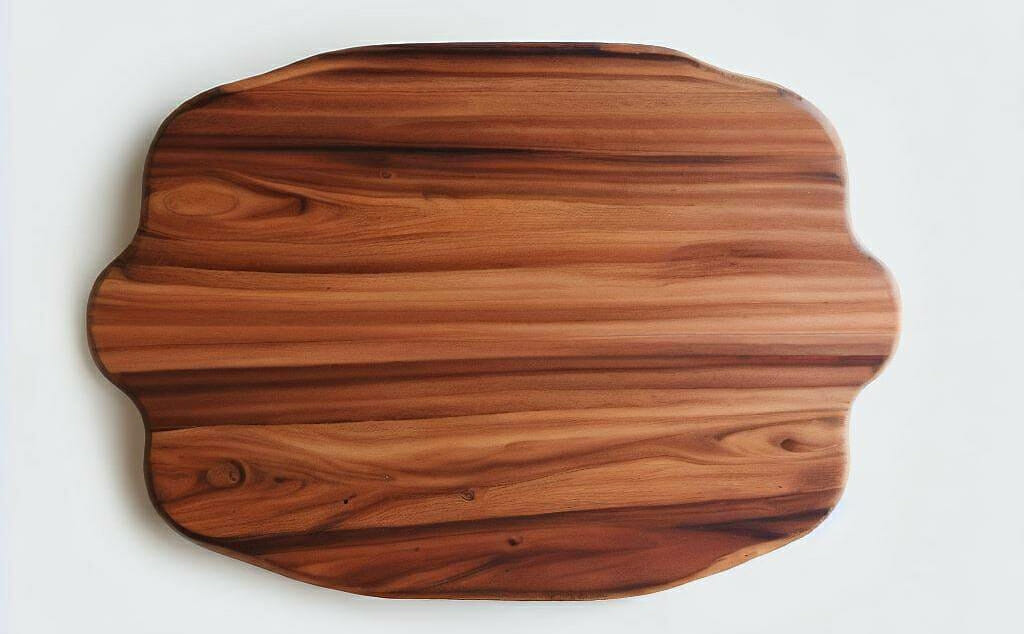 ---
Frequently Asked Questions
Is acacia wood good for charcuterie?
Yes, acacia wood is a great material for charcuterie boards. It is durable, resistant to water, and has natural antimicrobial properties that help prevent the growth of bacteria on the surface of the board. Additionally, acacia wood is known for its beautiful and unique grain patterns, making it a popular choice for charcuterie boards.
Is bamboo or acacia better for charcuterie boards?
Both bamboo and acacia are good materials for charcuterie boards, but they have different qualities. Bamboo is known for its durability and resistance to moisture, while acacia is known for its unique grain pattern and natural antibacterial properties. Ultimately, the choice between bamboo and acacia comes down to personal preference and intended use. Some people prefer the look of acacia, while others prefer the sturdiness of bamboo. It's important to consider the specific features and benefits of each material before making a purchase.
Is acacia wood safe for food?
Yes, acacia wood is safe for food. It is a popular material for kitchenware and tabletop items, including charcuterie boards, due to its natural antibacterial properties and durability. It is important to note that the safety of a charcuterie board also depends on how it is cleaned and maintained. Proper cleaning and seasoning of an acacia charcuterie board can help ensure its safety for food use.
Does acacia wood crack easily?
Acacia wood is a durable and strong material, so it generally does not crack easily. However, like any wood, it can be susceptible to cracking if not properly cared for. To prevent cracking, it's important to keep the acacia wood charcuterie board dry and avoid exposing it to extreme temperatures or humidity levels. Additionally, regularly oiling the board can help keep the wood moisturized and less likely to crack over time.
---
Share Your Creations:
We'd love to see the charcuterie boards you create using our guide! Feel free to share your own creations in the comments or on social media, and tag us for a chance to be featured. And if you have any other ideas or tips for creating the perfect charcuterie board, we'd love to hear them.
---